Photos on CD #1
Photos from the short-lived Bronx theme park
"Mommy, daddy, take my hand. Take me out to Freedomland!"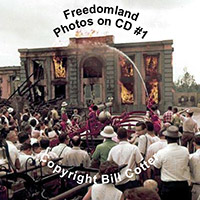 If you grew up in the New York City area in the early 1960s you might remember that slogan from the radio and television commercials for Freedomland, an ill-fated theme park constructed in the Bronx. I believe it was the first major theme park on the East Coast, opening on June 19, 1960. Freedomland was shaped like a giant map of the United States, with a variety of rides and live shows based on events from the American past. Guests could help fight the Chicago Fire, or travel through a Civil War battlefield. There were steam trains and Indians, mule rides and antique cars.
Sadly, Freedomland didn't fare too well, and on September 14, 1964 the owners filed for bankruptcy. Years later I had the opportunity to work with one of the builders, C.V. Wood, on a park project in Australia and asked him why he thought Freedomland had failed. He attributed it to mis-reading the New York unions, weather and the impact of the World's Fair. Instead of bringing visitors from outside the area to the park, the Fair instead diverted local sightseers who figured they could see Freedomland after the Fair had closed. The money ran out though before the Fair ended, and Freedomland was torn down for a housing project.
Terms of the sale: These photos are offered for your personal use only and cannot be resold, redistributed or used online in any fashion without prior written permission. They are copyrighted images and I retain the copyright. If you have any questions on this please let me know before buying.
The CD is $10. There is a flat fee of $10.20 for Priority Mail shipping, no matter how many CDs you order. Please note all prices are listed in US dollars. Shipping to other countries will be via Air Mail and may be higher in cost - please contact me for details.
You can build an online shopping cart and pay immediately through PayPal by clicking on the PayPal button. A new window will open and you can add/remove items from the cart before checking out and paying through PayPal. You can also click here for an order form - just print it out and mail it in with a check or money order.
---