Postcards of America: The 1939-1940 San Francisco World's Fair - The Golden Gate International Exposition
This series of postcards captures 15 images and the accompanying text from my book of the same name. As a postcard collector I'm thrilled the publisher selected my book for inclusion in this product line..
---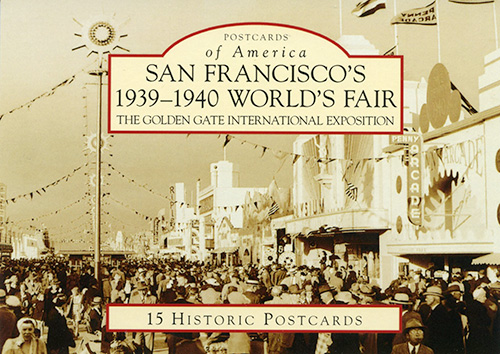 These mailable vintage-photograph postcards showcase the massive undertaking of the Golden Gate International Exposition (GGIE). The city of San Francisco had long looked for a site for a new airport to service the Pacific market, and the fair provided the impetus to build Treasure Island, a man-made island that would eventually service the massive seaplanes in use at the time. The GGIE also helped cement the Bay Area as a tourism and business center, competing directly with the 1939-1940 New York World's Fair. While New York centered more on the industrial side, the GGIE showcased the many natural wonders of the West, with expansive gardens and complementing architecture. The GGIE was a success on all counts, enticing millions of visitors to travel to the region. When the fair was over, Treasure Island became an important naval base during World War II.
Arcadia Publishing. Publication date: May 10, 2021. 128 pages, $21.99
---
The price is $7.99 plus $8.45 for Priority Mail shipping. International buyers should write for air mail rates as they vary by location.
Please let me know if you would like the book signed in any special way, just signed, or left unsigned.
The cards can also be ordered directly through Amazon.
Orders for the cards can also be combined with orders for my CDs of photos from any of the fairs on the site. There's just one shipping charge of $8.45 for any US order of books and CDs.
If you have any questions please drop me a note.