Photos on CD #1
UPDATED TO 4000 DPI SCANS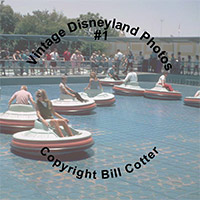 Over the years since Disneyland first opened there have been many changes to the Park, with periodic replacement of rides, shows and buildings. This auction is for a CD of vintage photos taken at Disneyland, many of which show things no longer with us. Some examples are the Flying Saucers, House of Tomorrow, Mermaids, Rainbow Ridge, Pack Mules, Submarine Voyage, Skyway, Art Corner, Hall of Chemistry and more, including the Bonekraft Store. Never heard of that one? Well, there's a picture of it here to help refresh your memory.
This CD is a collection of 149 photographs with a total size of 616 MB. An earlier version of this CD offered 2900 DPI scans - every image on this updated version has been newly scanned at 4000 DPI and completely digitally restored to produce some bright images of days long gone. Each of the original slides is listed below. You can see a thumbnail view of each set by clicking on the set name.
The CD is $10. There is a flat fee of $10.20 for Priority Mail shipping, no matter how many CDs you order. Please note all prices are listed in US dollars. Shipping to other countries will be via Air Mail and may be higher in cost - please contact me for details.
You can build an online shopping cart and pay immediately through PayPal by clicking on the PayPal button. A new window will open and you can add/remove items from the cart before checking out and paying through PayPal. You can also click here for an order form - just print it out and mail it in with a check or money order.
Terms of the sale: These photos are offered for your personal use only and cannot be resold, redistributed or used online in any fashion without prior written permission. They are copyrighted images and I retain the copyright. If you have any questions on this please let me know before buying.
---