Held on the Hannover Fairgrounds in Germany, Expo 2000 ran from June 1 to October 31, 2000. A total of 155 countries participated, with additional industrial exhibits. Unfortunately the event was poorly advertised and attracted only half of the projected 40 million guests, leading to a large financial loss. Despite its problems Expo 2000 was a photographer's delight with many fanciful pavilions.
This section of the site is under active development and more information and photos will be added shortly.
---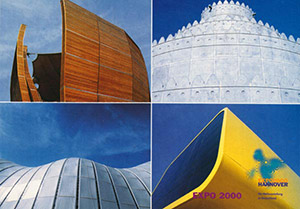 Tour Expo 2000 through a selection of vintage post cards.
---