Images of Modern America: Seattle's 1962 World's Fair
My first book on the fair sold so well the publisher asked for a new color version. This one is completely different than the original black-&-white version, with all new photos and text.
---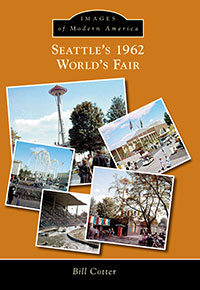 Here's how the publisher describes the book:
In the late 1950s, Seattle's civic and business leaders were worried about the city losing its dominant position as a trading partner with the lucrative Pacific Rim nations. Interested in showing off all that the city and state had to offer in the hope of gaining new business, their unlikely solution was a world's fair, the first to be held in the United States since 1940. Other cities across the nation also competed for the honor, but Seattle surprised them all with a thoughtful and well-financed plan that would forever increase the world's awareness of the "Emerald City." More than nine million visitors came to enjoy the soaring Space Needle, the futuristic monorail, and the dozens of colorful pavilions at the fair.
Arcadia Publishing. Publication date: October 21, 2015. 96 pages, $22.99
---
The price is $20.70 (10% off) plus $8.45 for Priority Mail shipping. International buyers should write for air mail rates as they vary by location.
Please let me know if you would like the book signed in any special way, just signed, or left unsigned.
The book can also be ordered directly through Amazon. It is also available for the Kindle and other e-book readers.
Orders for the book can also be combined with orders for my CDs of photos from any of the fairs on the site. There's just one shipping charge of $8.45 for any US order of books and CDs.
If you have any questions please drop me a note.