Images of America: Seattle's 1962 World's Fair
The first world's fair held in the United States after World War II, Seattle's "Century 21" was a massive undertaking for what was then a relatively small city. The fair was a complete success, drawing new attention, and business, to the area. The site is now a vibrant city park, one that should be a model for other fair organizers. This book captures some of the fun of the fair using never-before published photos that travel from the design and construction days through to six months of gaily colored pavilions and shows.
---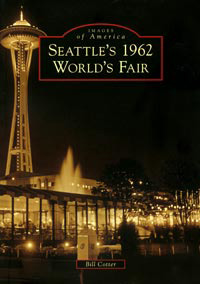 Here's how the publisher describes the book:
When the United States entered the 1960s, the nation was swept up in the Space Race as the United States and the Soviet Union competed for supremacy in rocket and satellite technologies. Cities across the country hoped to attract new aerospace companies, but the city leaders of Seattle launched the most ambitious campaign of all. They invited the whole world to visit for the 1962 Seattle World's Fair, and more than nine million people took them up on the offer. A colorful collection of exhibits turned 74 acres of rundown buildings into a futuristic wonderland where dozens of countries and companies predicted life in the future. The entire city was transformed with the addition of the soaring Space Needle and the futuristic monorail. When the fair ended, the site became a complex of parks and museums that remains a vibrant part of Seattle city life today.
Arcadia Publishing. Publication date: October 11, 2010. 128 pages, $21.99
---
The price is $20 (10% off) plus $8.45 for Priority Mail shipping. International buyers should write for air mail rates as they vary by location.
Please let me know if you would like the book signed in any special way, just signed, or left unsigned.
The book can also be ordered directly through Amazon. It is also available for the Kindle and other e-book readers.
Orders for the book can also be combined with orders for my CDs of photos from any of the fairs on the site. There's just one shipping charge of $8.45 for any US order of books and CDs.
If you have any questions please drop me a note.