A look at Expo '58
I hope to have a more detailed tour of Expo '58 available later, but wanted to get things started with this sample of original photos. The CD and Set numbers show which of the Photo CDs the picture is from.
When the 1939-40 New York Worlds Fair closed, things looked dark for the future of international expositions. World War II was actively underway in Europe, and almost two decades would pass before the climate was right for a fair. In 1958 the city of Brussels was host to the first post-war fair, titled Expo '58. Coming after the dark days of war and economic recovery Expo '58 was a welcome diversion for many Europeans. Due to the high cost of international travel it was not heavily attended by American visitors.
Like all good fairs, Expo '58 featured a memorable theme structure, which was called the Atomium. Designed by André Waterkeyn, the Atomium represents an iron molecule, magnified 150 thousand million times. Visitors could travel inside the structure for a look at the fairgrounds. The use of a giant atom was a fitting symbol for the times, for the world was still exploring the peaceful uses of atomic energy.
The Atomium was retained when Expo '58 closed, and was extensively refurbished in recent years. (Set 2 #3)
---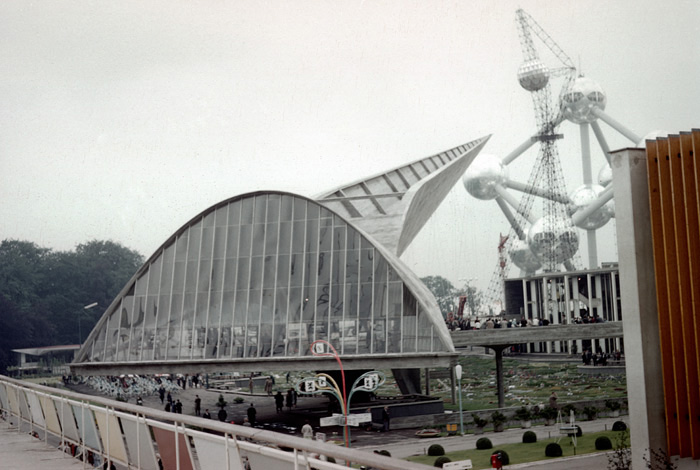 One of the more unusual structures was the Civil Engineering Pavilion, which featured a giant spire reaching over a three-dimensional map of Belgium. (Set 2 #18)
---
Many foreign countries exhibited at Expo '58. This imaginative exhibit was the Netherlands or Holland pavilion. The nautical theme was designed to showcase the Holland-America Line, a prominent shipping company. (Set 3 #4)
---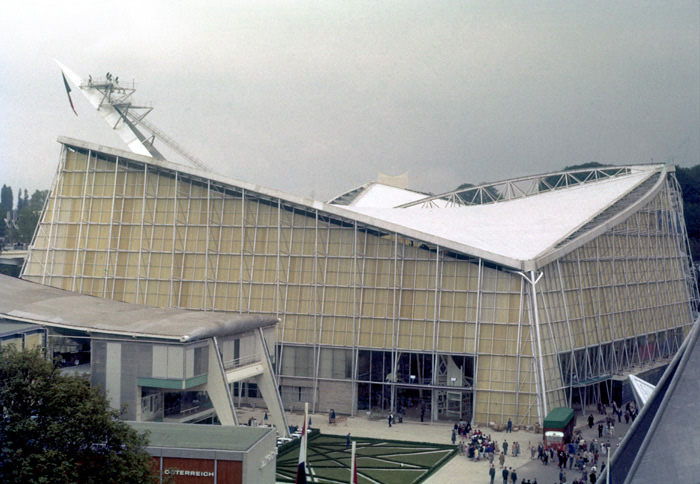 This imposing looking structure is the France Pavilion. The large tower on the left side of the picture actually supported most of the weight of the building, which was constructed without any interior support poles. (Set 3 #7)
---