The development of the HSST (a "floating" train) heralds a new and exciting chapter in transportation history. The "Expo '85", running along the edge of A Block, was developed by Japan Air Lines and Sumitomo Electric for Tsukuba Expo '85 and is operated by the Expo Association. It runs along 350 m of track at 30 km per hour, allowing its passengers to sample the benefits of leading-edge technology in a minimally polluting mobile environment.
The HSST's aeronautically designed streamlined body and its smooth, quiet, and comfortable ride are an example of how science and technology are working to build a better future for everybody. In this sense, the HSST is a particularly apt expression of the Expo theme as it applies to transportation.
The HSST Station is at the far junction of A Block and D Block, so you can enjoy giant pictures on the Sony JumboTRON while waiting for your chance to board.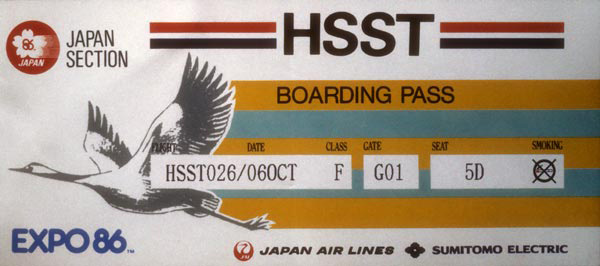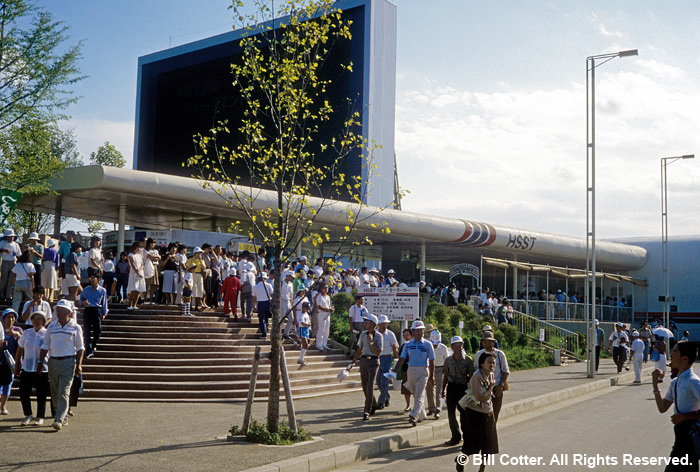 CD 5 Set 10 #7
The demonstration track was a popular exhibit at Expo '85, attracting long lines of visitors wanting to experience the futuristic ride for themselves. The Sony JumboTRON is visible behind the HSST station. HSST, by the way, stands for "High-Speed Surface Transport".