Jamaica lies about 1,000 km south of Miami, and is easily accessible by plane. The mountain range you see set back in the shade of tropical trees, inside the pavilion, is Blue Mountain, familiar through the coffee of the same name. The most beautiful place in all Jamaica, however, is probably Montego Bay, whose acclaimed sunsets are often said to be the most spectacular in the world. In the native language, Jamaica means "the land of trees and water," and indeed one-fourth of the island is covered by forest, and it is laced with beautiful rivers. Jamaica is also blessed with a varied and often stunning coastline.
Ruled by Great Britain for over 300 years, Jamaica gained independence in 1962. It adopted a form of government with Queen Elizabeth II as the symbolic head, and the politically stable country is represented by the governor general, based on the 1962 Jamaican constitution. The official language is English.
The population is 2.2 million, including Africans, West Indians, Asians, and Europeans, with Jamaican Africans in the majority. Public education up through college is free. Most Jamaicans are Christian, though the constitution assures religious freedom. Jamaican wood­carving continues to flourish, and the music, particularly reggae, is known throughout the world.
Jamaica has the world's largest reserves of bauxite, the raw material for aluminum and alumina, and is the leading producer of the ore. Sugar, bananas, and coffee are also major exports, but industry is being diversified to achieve greater eco­nomic growth—a goal the whole country is actively striving toward.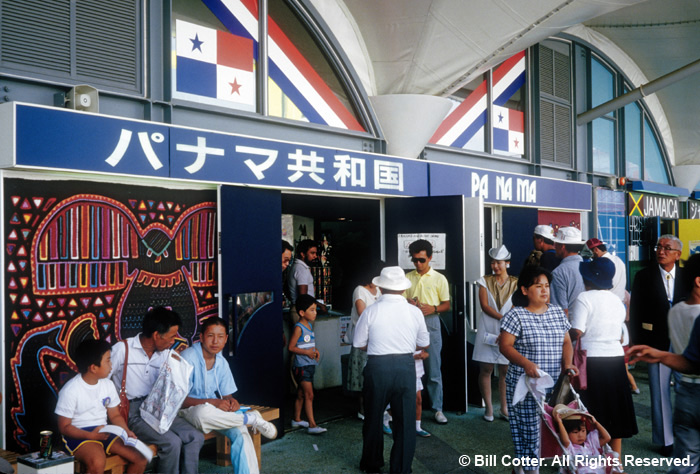 CD 5 Set 10 #24
The Jamaica Pavilion was a small one, and was tucked in next to Panama.