Electronics is now part of our lives, and a partner in our world. The Toshiba Pavilion will try to show you how electronics – the most human of technologies – will permeate our lives in the future, how it will help us, and what its potential is. The entire pavilion is full of surprises. The theater where you can experience the spectacular world of the Showscan® system and all of the other displays will make the world of electronics seem a little closer, and will give you an optimistic look at life in the near future.
THE SHOWSCAN® THEATER As you wait, you will be watching one of the largest X/Y plotters in the world draw a colorful and enjoyable mural. Right after a countdown show of light and music in the entrance hall, the doors to the theater open..
A Japanese boy, Hiroshi, visits a research center and is conducted through it by a scientist friend and an intelligent robot, Pal. Hiroshi encounters many frontier technologies being pursued for the benefit of mankind: ocean engineering, the world as seen through an electron microscope, and a simulator. Hiroshi makes up his mind to become a scientist himself. This is the first time in Japan the super-reality film process Showscan® has been employed. Pictures are projected on a large, 11-m x 24-m screen through this system. The pictures, projected at a speed 2.5 times greater (60 frames per second) than conventional motion pictures, are surprisingly clear and realistic. In addition, 23 speakers provide the sound, with overwhelming power. These are 17 minutes packed with unforgettable dreams.
ELECTRO-PLAZA This exhibition is divided into five sections where you can come into contact with sophisticated electronic technology you would not usually meet in everyday life. The principal attractions are: (1) A high-definition color TV with double the number of scanning lines, creating a strikingly clear picture and making the transmission of large amounts of information possible. (2) The pattern-recognition machine, Sensor Bill, which can distinguish minute and subtle differences in cards with amazing speed. (3) Six industrial robots manipulate spinning tops, actually making them walk a tightrope, a sword, and more. (4) Various technologies to see right inside the human body. They include a magnetic resonance imaging system and ultra-sound diagnostics, and an X-ray CT scanner. (5) Space stations, space factories, and tele-operators, based on NASA's space station concept, are presented using multi-image slides. (Joint display by Toshiba and IHI.)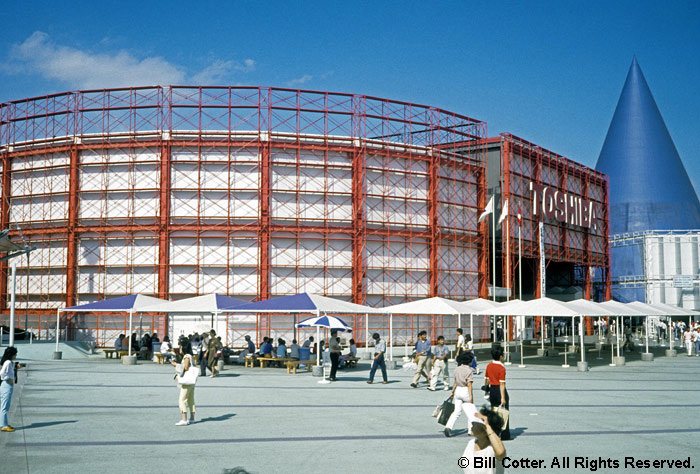 CD 5 Set 10 #11