Images of America: The 1984 New Orleans World's Fair
As I was restoring and cataloging my photos of the Fair I came to realize there wasn't a great deal of information available about it. I was thrilled when Arcadia Publishing agreed that a book was needed to tell the story of the last world's fair held in the United States.
---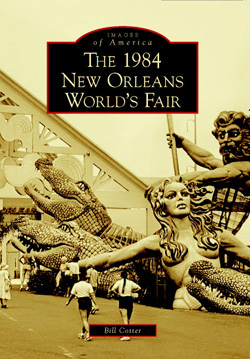 In 1984, the city of New Orleans hosted the last world's fair held in the United States. Conceived as part of an ambitious effort to revitalize a dilapidated section of the city and establish New Orleans as a year-round tourist destination, it took more than 12 years of political intrigue and design changes before the gates finally opened. Stretching 84 acres along the Mississippi River, the fair entertained more than seven million guests with a colorful collection of pavilions, rides, and restaurants during its six-month run. While most world's fairs lose money, the 1984 New Orleans World's Fair had the dubious distinction of going bankrupt and almost closing early. However, the $350-million investment did succeed in bringing new life to the area, which is now home to the city's convention center and a bustling arts district.
Author Bill Cotter is a longtime fan of world's fairs, an interest that started with his first visit to the 1964–1965 New York World's Fair. He has been fortunate enough to attend several fairs around the world and capture these fleeting experiences on film. His early days at the 1964 fair started him on a career that includes working with the Walt Disney Company, Warner Brothers, and Universal Studios.
The Images of America series celebrates the history of neighborhoods, towns, and cities across the country. Using archival photographs, each title presents the distinctive stories from the past that shape the character of the community today. Arcadia is proud to play a part in the preservation of local heritage, making history available to all.
Arcadia Publishing. Publication date: December 31, 2008. 128 pages, $21.99
---
The price is $19.80 (10% off) plus $10.20 for Priority Mail shipping. International buyers should write for air mail rates as they vary by location.
Please let me know if you would like the book signed in any special way, just signed, or left unsigned.
Orders for the book can also be combined with orders for my other books or CDs of photos from any of the fairs on the site. There's just one shipping charge of $10.20 for any US order of books and CDs.
The book can also be ordered from me by mail.
If you have any questions please drop me a note.