Postcards of America: The 1984 New Orleans World's Fair
This series of postcards captures 15 images and the accompanying text from my book of the same name. As a postcard collector I'm thrilled the publisher selected my book for inclusion in this product line.
---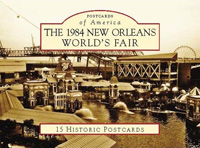 In 1984, the city of New Orleans hosted the last world's fair held in the United States. Conceived as part of an ambitious effort to revitalize a dilapidated section of the city and establish New Orleans as a year-round tourist destination, it took more than 12 years of political intrigue and design changes before the gates finally opened. Stretching 84 acres along the Mississippi River, the fair entertained more than seven million guests with a colorful collection of pavilions, rides, and restaurants during its six-month run. While most world's fairs lose money, the 1984 New Orleans World's Fair had the dubious distinction of going bankrupt and almost closing early. However, the $350-million investment did succeed in bringing new life to the area, which is now home to the city's convention center and a bustling arts district.
This set of 15 postcards captures some of the best images from the companion book in the "Images of America" series.
Arcadia Publishing. Publication date: December 31, 2008. $7.99
---
The price is $7.99 plus $10.20 for Priority Mail shipping. International buyers should write for air mail rates as they vary by location.
Orders for the cards can also be combined with orders for my other books or CDs of photos from any of the fairs on the site. There's just one shipping charge of $10.20 for any US order of books and CDs.
The book can also be ordered from me by mail.
If you have any questions please drop me a note.