Bayou Plaza
Cross the Wonderwall again, and you are in Bayou Plaza, near the Bridge Gate, a world of water. Stop in this neighborhood for the thrills and chills of hair-raising amusement rides such as the Sky Lab, Rainbow Ride, Ferris Wheel, CycloTower, or the Shoot-the-Shoot.

Cajun Walk, a covered promenade winds its way along the border, and crosses over a bayou which features an exhibit of Louisiana native plants. Located here is the Watergarden, a fabulous and fun area devoted to unusual water toys such as a Kid Wash, Jukebox Fountain, and Water Curtain Maze - you're invited to come on in and take the plunge!

On the other side of Cajun Walk is the Coca-Cola Aquacade, a 3500 seat area featuring a musical revue called 'America Swims' Daredevils dive from twin 94' towers, beautiful girls perform intricate water ballet routines, and everything moves to syncopated music, fountains, and flames.

Just beyond is the multi-million dollar pentastar Chrysler Pavilion, which showcases the automotive industry in a display of high technology robotics involved in the modern auto assembling process; the Union Pacific Pavilion, "Rivers of Steel;" tracing the history of America's railroads, and featuring the last steam engine, No. 8444; and the Conergy Exhibit, demonstrating the ways and means of building a water-saving, energy efficient home.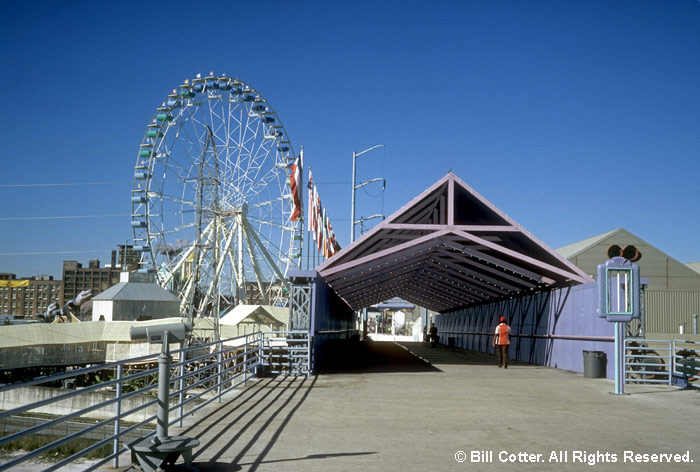 Bayou Plaza was home to the Giant Wheel, the tallest Ferris wheel in America at the time, reaching 178 feet high. A total of 320 people could be seated in its 40 gondolas, which offered some of the best views of the fair. The Giant Wheel was completed just days before the fair opened. (CD #1 Set 2 #26)
---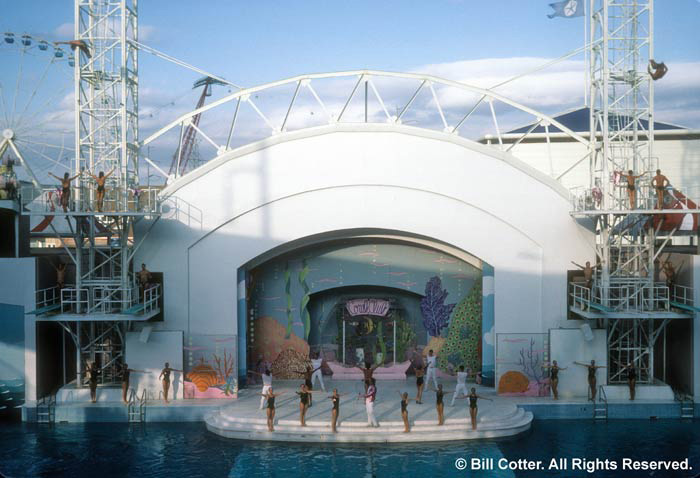 The Coca-Cola Aquacade featured "America Swims", a water show that would have been right at home in the 1939-1940 New York World's Fair with its synchronized swimmers. Here a group of divers prepares for a high dive act, as other performers entertain on stage. (CD #5 Set 12 #29)
---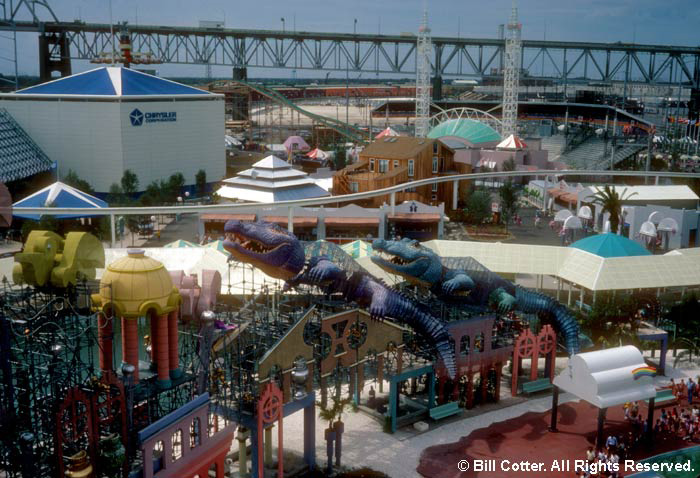 The financial woes of the fair were responsible for the half-finished alligators on top of the Wonderwall. When the money ran out during construction they were left this way for the run of the fair. Happily most visitors were probably unaware of the reason behind the incomplete alligators and likely attributed it all to an artistic design. The Chrysler Pavilion is seen in the rear. (CD #4 Set 8 #2)
---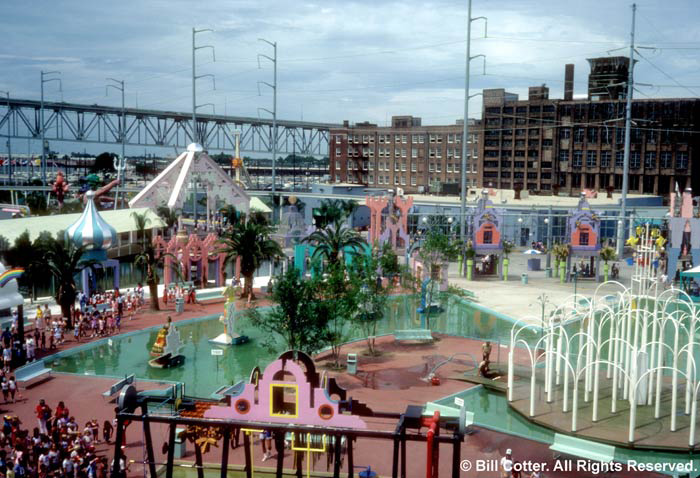 The bright colors of Bayou Plaza were a striking contrast to the walls of former factory buildings in the background. This section of the plaza was the Watergarden, a collection of 14 fanciful fountains that built upon the fair's rivers theme. (CD #4 Set 8 #1)
---
Tour menu