Centennial Plaza
Located just inside the City Gate, Centennial Plaza is a tribute to the 1884 New Orleans Cotton Exposition and a time when Cotton was King and New Orleans was the Queen City of the South.

Set like gems along tranquil Centennial Lagoon are seven seemingly random pavilions, but when they are viewed from the proper perspective, they "snap" into position to form the gracious Main Hall of the 1884 Cotton Exposition. During its day, the Main Hall was the largest building in the world.

Framing the lagoon is the delicately detailed Empress Walk, a covered timber promenade reminiscent of the ancient Summer Palaces of Peking. Alongside the lagoon is the century-old carousel, and the Frey Gazebo, a shady spot devoted to gentler times and barbershop quartets, tea dances, and park bands. Further on is one of three designs selected in the International Water Sculpture Competition, "The Source;" created by Claude and Francois-Xavier Lalanne of France.

Presiding over the Plaza is the Petroleum Industries Pavilion, an actual offshore oil rig that features a 50,000 gallon salt water aquarium alive with aquatic flora, fish, and deep sea divers.

The double domes nearby house the American Electrical Energy Exhibit, "Rivers of Electricity;' where robots direct you through the tunnel of progress and into a 200 seat theater.

It is in Centennial Plaza that the City of New Orleans has its exhibit, "Rain;" and the tower of the MART Gondola rises majestically and begins its climb 380 feet in the air, whisking passengers across the Mississippi River in just minutes. Here, too, is one of three Monorail Stations, where you can board a sleek train and get a swift overview of the entire Fair site.

Throughout this, and every neighborhood, are food and beverage concessions offering everything from Creole gumbo and spicy fried chicken to frozen drinks and ice cold sno-balls. Shop the neighborhoods of the Fair and the world, and select souvenirs and merchandise from Pakistan, China, Korea, Hawaii, France, and many other places.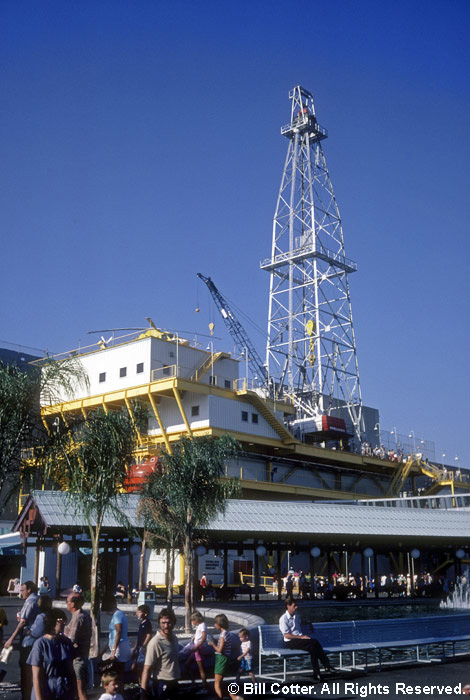 One of the most visible structures in the area was the Petroleum Industries pavilion, a full-size oil drilling platform. Visitors could climb through the structure for a lesson on the importance of off-shore drilling, one of Louisiana's major industries. (CD #2 Set 3 #8)
---
The fountains of Centennial Lagoon leap into the air in front of the Centennial Pavilion, with the MART gondola system rising into the sky in the background. The fountains could be programmed to entertain visitors with several different shows which were set to a variety of music. (CD #3 Set 5 #9)
---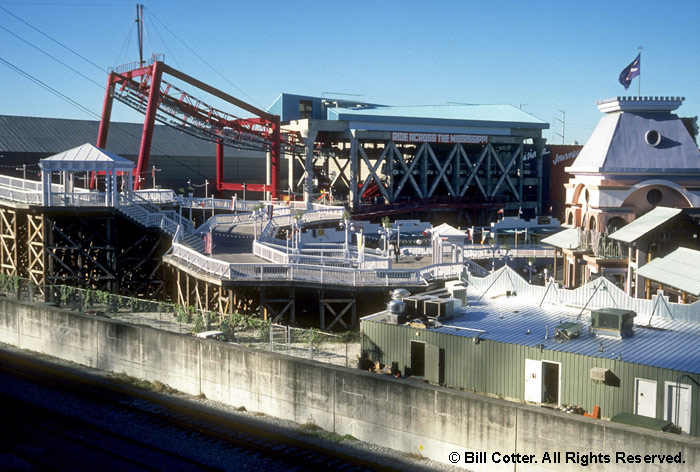 MART stood for "Mississippi Aerial River Transit." Fairgoers could board a gondola for a trip high across the river. Like the smaller Sky Transpo in the International Riverfront section, MART was based on a system designed for ski resorts. This is the station on the fair side, and a similar one was in the Algiers section of the West Bank across the river. (CD #2 Set 4 #9)
---
The cables of the $8 million MART system rise steeply into the sky behind the fountains and facades of Centennial Plaza. The lift towers were the tallest ever built for a gondola system, standing 358 feet high. The roof of the Empress Walk is seen on the left, with the Centennial Pavilion at the end of the lagoon. (CD #5 Set 11 #16)
---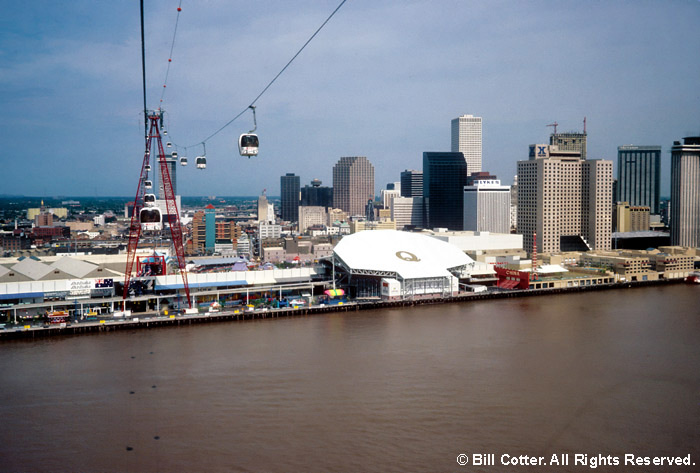 MART rose 300 feet above the Mississippi River, carrying up to 2,000 passengers per hour on the four minute ride. The system was intended to remain in use after the fair, and fair officials tried to compare it to other world's fair legacies such as the Eiffel Tower and the Space Needle. (CD #6 Set 13 #19)
---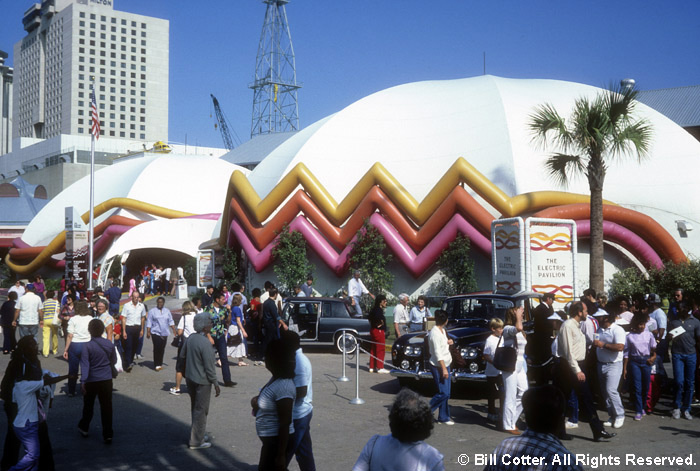 Many of the fair buildings were rather bland, for they were either older warehouses or parts of the new convention center. America's Electric Energy Exhibit, also known as the Electric Pavilion, helped make the area more interesting with its two unusual shaped domes, which had air-filled tubes in contrasting shapes and colors. (CD #3 Set 5 #28)
---
Tour menu