Festival Park
Just beyond Fulton Street is Festival Park. True to its name, it is a festive area that celebrates the good life! In Cajun, that means, "Laissez les bon temps rouler!"

At the center of Festival Park is the massive Federal Fibre Mills Building, an historic warehouse where the Miller Beer Garden is located, as well as Jed's Riverview. On the first and second floors of the building is the Louisiana Folklife Pavilion, an on-going festival of food and music - ranging from Texas swing and Cajun Zydeco to Creole Gumbo and hot boudin!

Nearby is the 1200 seat blue and green Jazz and Gospel Tent, where a revolving stage features the non-stop rhythms of jazz, blues, gospel, Cajun, bluegrass, and rock 'n roll. A short distance away is the American Showcase Tent, one of fifteen performing areas at the Fair, where marching bands, baton twirlers, theatrical companies, and dancers from around the world and across the nation perform daily.

Festival Park's Italian Village is a huge area that recreates the romance and atmosphere of Venice. An open piazza, filled with tables and gaily striped umbrellas, is alive with opera singers, flag twirlers, strolling musicians, and puppeteers. Within the four restored warehouses that border the piazza are craftsmen and chefs plying their trades and preparing their specialties such as delicate Italian pastries and ices, hearty pasta and pizza, Venetian glassblowing and Florentine leather works.

"Rain Towers," a monumental water sculpture by Helen Escobedo of Mexico is also located here, as is the second Monorail Station.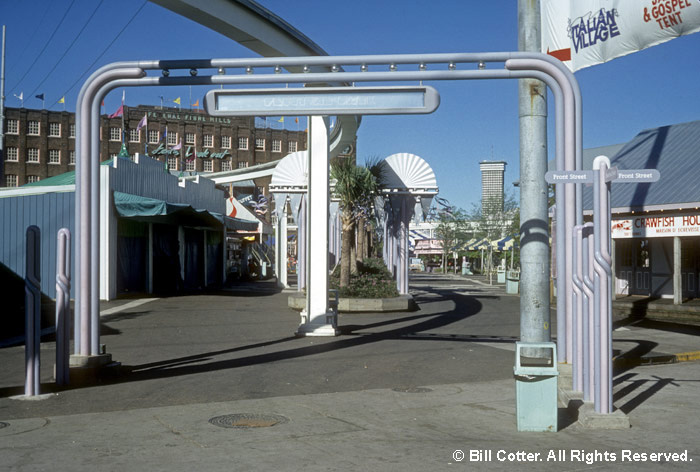 Like the Fulton Mall area, Festival Park was a strange mixture of styles. Visitors had to reconcile varying design elements such as this futuristic walkway with older structures such as the historic Federal Fibre Mills Building in the background. In this case there was more open area, and thus the design was somewhat more successful. (CD #1 Set 2 #33)
---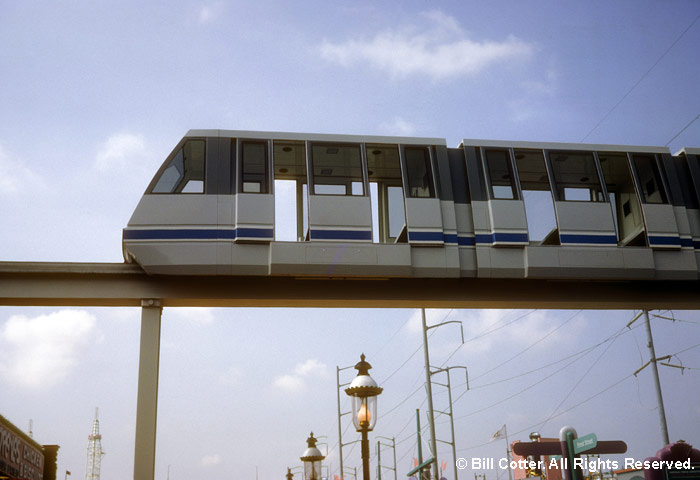 The air-conditioned monorail was a popular way to see the fair. Each train consisted of 10 cars that traveled on a 1.6 mile beam which crossed much of the grounds. Computer controlled, the monorail operated without human drivers. The doors would not normally have been open outside the stations as seen in this picture of a train undergoing maintenance. After the Fair ended the system was sold to Miami's Metrozoo, where it remains in operation today. (CD #3 Set 6 #32)
---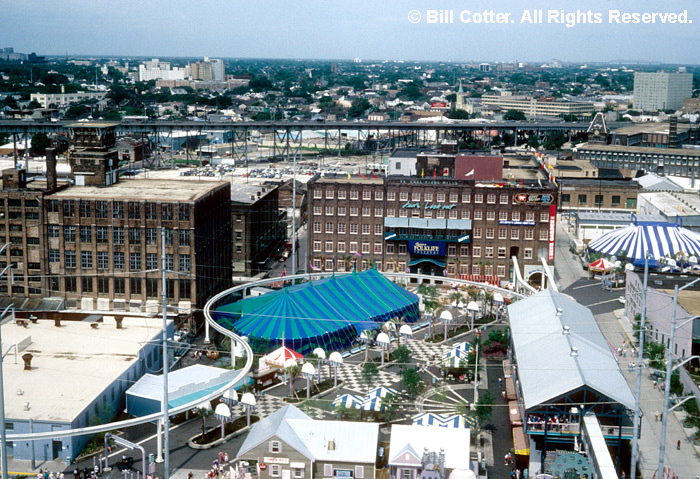 The Federal Fibre Mills Building stands at the rear of Festival Park. Built in 1904 and added to the National Register of Historic Places in 1983, the building was originally used as a rope factory. For the fair, it housed art exhibits, snack bars, shops and a beer garden. (CD #6 Set 13 #57)
---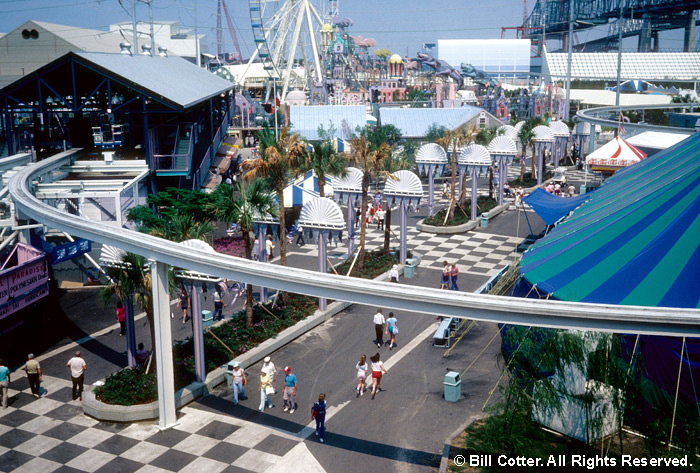 Festival Park was another one of the stops on the monorail system. The checkerboard pattern on the ground between the monorail station and the Jazz and Gospel Tent brightened up the area and was a definite improvement over the blank concrete expanses found in much of the fair. (CD #6 Set 13 #29)
---
Tour menu