Fulton Street Mall
Across from Centennial Plaza, on the other side of the WonderwalI, is Fulton Street Mall. Lined with historic, restored warehouses, Fulton Street is an inviting, spacious pedestrian mall celebrating New Orleans as a mecca for international shopping, food, and music. When the rest of the Fair site closes every night, Fulton Street will still be going strong into the wee hours.

Pete Fountain's Reunion Hall is a non-stop hot spot featuring the food and music of New Orleans and Louisiana. Sheilah's is an authentic Australian pub, and the Seafood Warehouse really cooks with the taste of fresh Louisiana seafood and the hot sounds of Jazzman Al Hirt. And don't miss the Hurricane Saloon!

All along the mall are inviting shops and restaurants. Sample Greek food, Creole waffles, gourmet lunches, fine ice creams, or a superb bottle of wine. Shop for Tunisian goods, jewelry, leather, Christmas ornaments, and much more. After you feast your palate, feast your eyes.

The Vatican Pavilion anchors the far end of Fulton Street, and features the exhibit, "Treasures of the Vatican;' which presents rare works of art by masters such as El Greco, Caravaggio, Raphael, and Giotto In the adjacent gallery, see a film about the Shroud of Turin, and several other unique and interesting displays.

Twice daily, in true New Orleans fashion, a parade complete with floats, marching bands, and dancing figures will roll along the mall, creating a festive and fascinating atmosphere.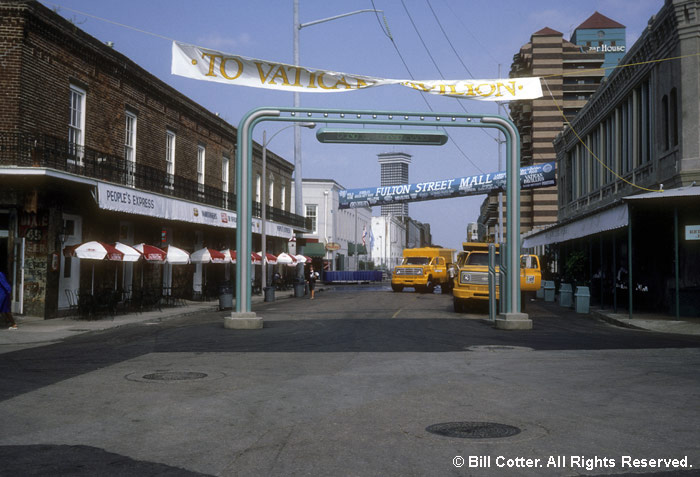 The older buildings of the Fulton Street Mall were a marked contrast to the newer structures erected for the rest of the fair. New signage and informational arches were added to make the area look livelier. (CD #3 Set 6 #23)
---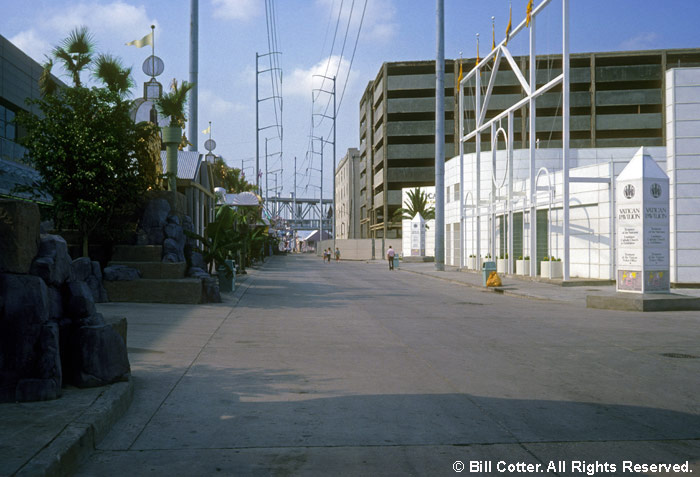 There wasn't much that could be done to camouflage this city street that bisected the mall area. The Vatican Pavilion filled a notch in the site plan, but the office building behind it shows how the reality of the city intruded at times on the fantasy setting common to most world's fairs. (CD #3 Set 6 #27)
---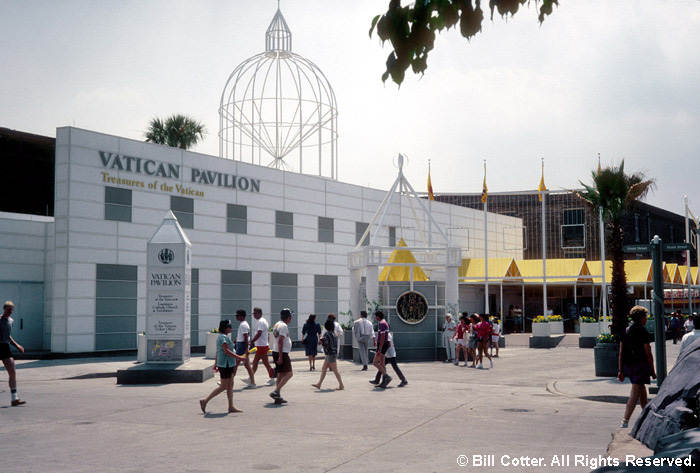 The Vatican Pavilion was unique in that it charged $5 for admission, the only pavilion with a separate entrance fee. Despite the fee, it was one of the most popular attractions at the fair, and art scholars and journalists praised the number and quality of the exhibits. (CD #6 Set 13 #11)
---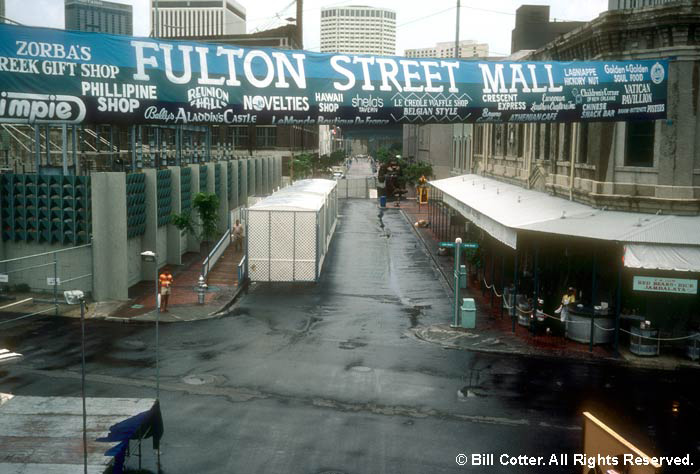 The Fulton Street Mall certainly didn't look like a typical world's fair setting. The original industrial nature of the site can easily be seen here, for the awnings and flags didn't do much to brighten up the site. While the area did look somewhat better at night, the designers had few options due to preservation laws. (CD #5 Set 10 #2)
---
Tour menu