The Great Hall
Between Bayou Plaza and Centennial Plaza is the Great Hall, a 15 acre covered facility that houses an intriguing variety of pavilions, exhibits, and services.

Step into its cool, shady interior and visit the Louisiana Pavilion, a 14 minute boat ride that takes you along a river road, through the eye of a hurricane, and into the merriment of Mardi Gras. Nearby is the Great River Roads Exhibit, a permanently berthed steamboat that features a theater and live entertainment.

ARTWORKS 84, a comprehensive multi-faceted program, features showings by respected Louisiana artists and presentations by New York's finest video artists.

In the center of the Great Hall is the Water Course, a refreshing spot to rest and watch as five unusual barges drift to and fro. Located around the Water Course are the exhibits of Ochsner Foundation, I've Known Rivers, Church of Christ, the Federation of Churches, National Park Service, Bureau of Reclamation, Wildlife and Fisheries, WDSU-TV's working studio, and a "Taste of Louisiana" restaurant featuring specialties of the state.

At the far end of the Great Hall is the Mississippi Pavilion, which features 7-20' screens and an audio/visual presentation of the many aspects of the state, an entertainment stage, and an art display. Nearby is the Preservation Resource Center's 1835 Creole Cottage, a typical New Orleans architectural style. Providing information, exhibits, and services are Lipton Tea, Gerber Foods, Delta Airlines, First National Bank of Commerce, AT&T's International Calling Center, and the International Business Center.

Also located in the Great Hall is the "Bronze Wave;" a water sculpture by Lynda Benglis of Louisiana, many unusual merchandise concessions, and an amusement ride called the Magic Room.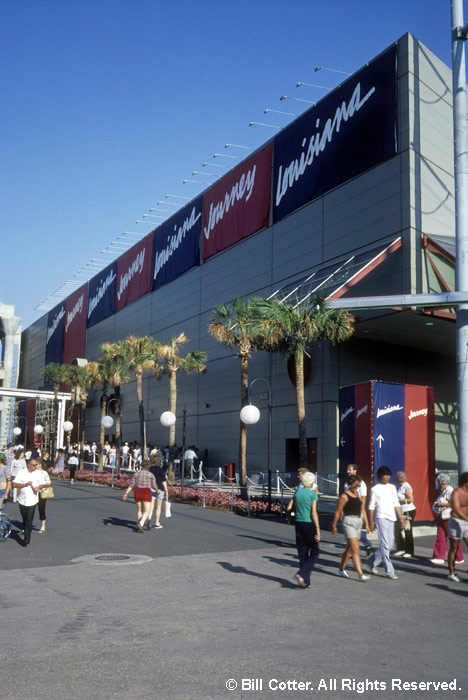 The main attraction side the Great Hall was the Louisiana Journey. The air conditioned boat ride through simulated swamps and bayous was a big hit during the hot summer months of the Fair. (CD #2 Set 3 #3)
---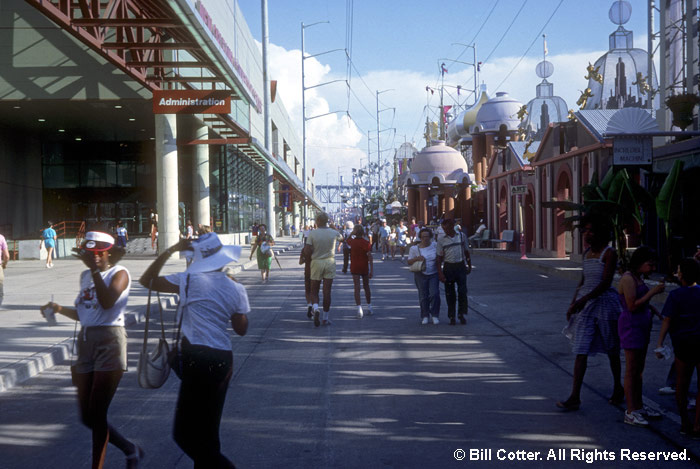 This street scene shows some of the incongruity that was the 1984 World's Fair. The angular shape of the new convention center building clashed with the fanciful shapes of the Wonderwall, but since the fair had been launched to help fund the center in the first place there was little the organizers could have done to mask the building's utilitarian design. The Great Hall was later incorporated into the New Orleans Convention Center, which became infamous during the chaos following Hurricane Katrina. (CD #2 Set 3 #1)
---
Here the monorail winds its way through the cavernous interior of the Great Hall. The square structure in the center of the picture was the largest souvenir stand at the fair, and next to it is one end of a canal system called the Water Course. (CD #4 Set 9 #3)
---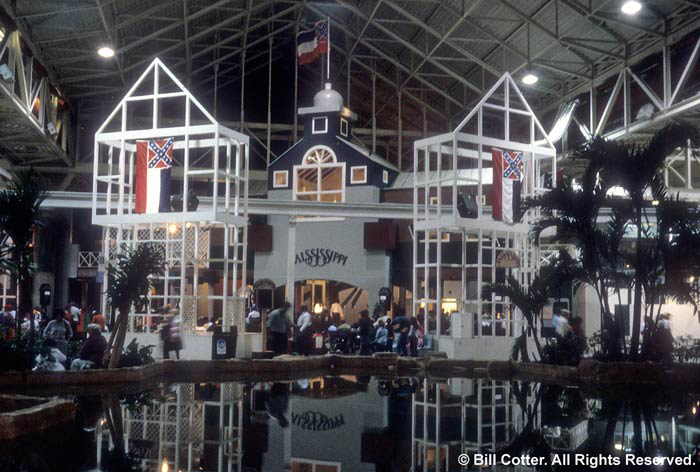 The entrance to the $2 million Mississippi display illustrates the vastness of the Great Hall and shows how it was well suited for later use as an exhibit center. The pavilion designers were able to make a relatively small structure look much larger through innovative features such as the building frameworks on either side of the main entrance. (CD #4 Set 9 #35)
---
Tour menu