Aerial Tower Ride & Waffle Restaurant
Food on land and gaily colored gondolas in the sky are the twin features of a typically European eat-and-ride attraction. The outdoor restaurant, which serves dishes prepared in the Belgian tradition, specializes in Bel-Gem Waffles - waffles served with combinations of powdered sugar, whipped cream and fresh strawberries. In the middle of the restaurant area four elegantly upholstered gondolas, each with a capacity of 15, majestically rise on cables to the top of a 120-foot tower. The smooth, slow ride provides a magnificent view of the Fair and lasts three to five minutes.
Possibly one of the tackiest exhibits at the Fair, the Aerial Tower Ride was a steel tower topped by four ungainly arms, each of which supported a basket for would-be passengers. While most of the other attractions at the Fair appeared to be futuristic or fanciful, this one was strictly functional in design. (CD #4 Pana Vue #641Z1)
---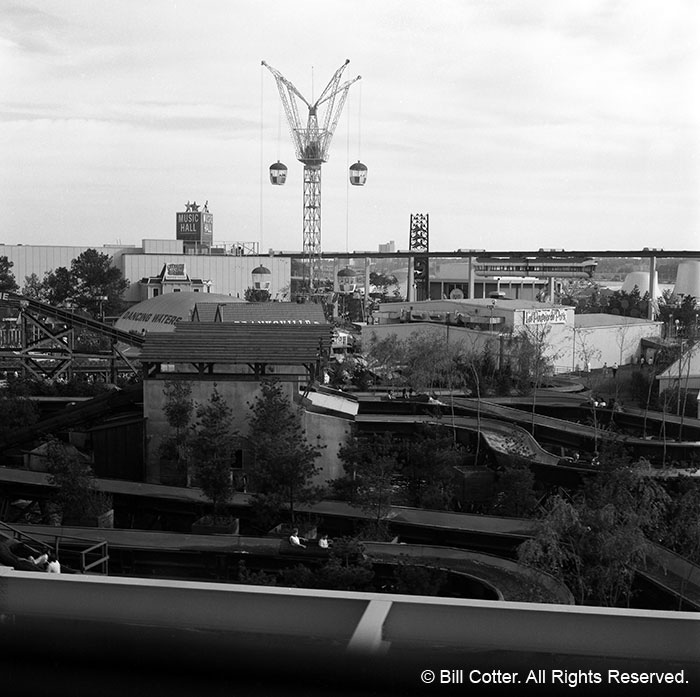 While certainly not an elegant ride, the Aerial Tower did offer some nice unobstructed views of the surrounding exhibits. After the Fair ended it became the Crows's Nest attraction at Pirate's World, a now-vanished theme park in Florida that also purchased the Fair's Log Flume ride.
Surprisingly, more than 40 years after the Fair ended there would be a patent battle of the ride design when a new ride in Europe was said to have infringed on the Aerial Tower design. It is unclear how the issue was resolved. (CD #TBD Set 452 #3)
---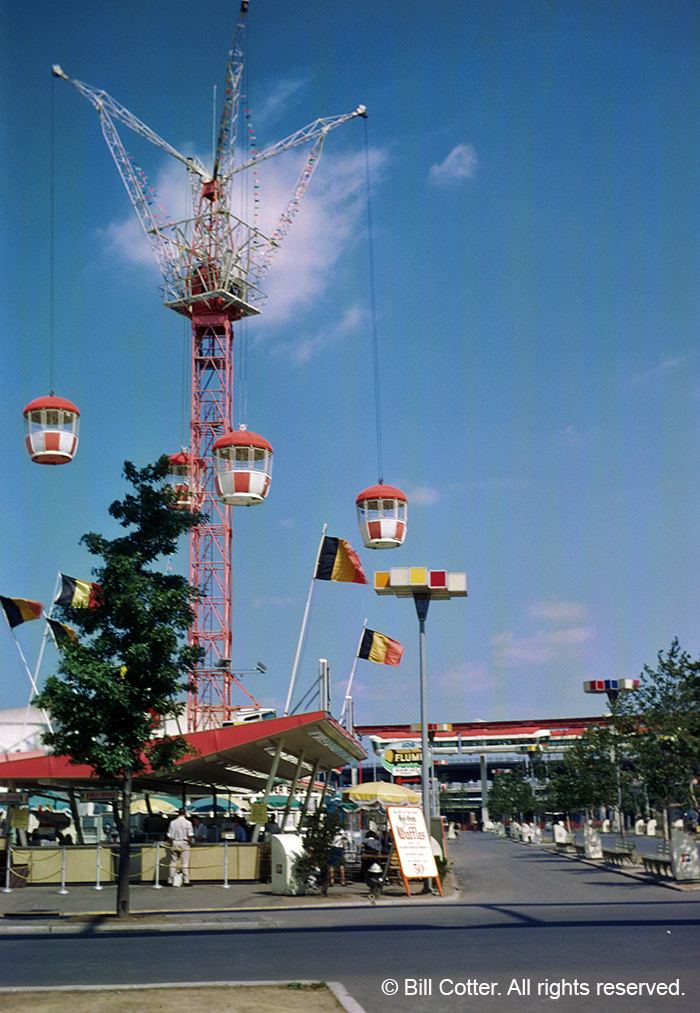 While the Aerial Tower portion of the attraction was less than inspiring, the waffle restaurant did have a lasting contribution to American memories and menus. Bel-Gem Waffles were one of the undisputed hits of the Fair, and are one of the first things people mention when they start reminiscing about their visit to the Fair. The restaurant, seen here at the bottom of the tower, was not much to look at, but the waffles more than made up for the lack of architectural interest. (CD #TBD Set 836 #TBD)
---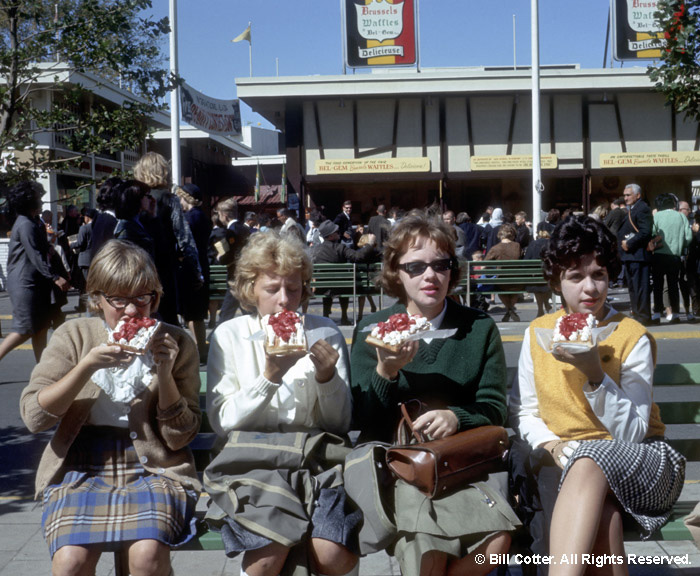 The unexpected success of the waffles led to numerous other stands opening across the Fair site. The most popular were those also operated by the company behind the original one at the Aerial Tower Ride; the taste of a real Bel-Gem waffle simply could not be duplicated. (CD #23 Set 123 #9)
---
Want more information on the Aerial Tower Ride?

7-3-64 - 12 Trapped on Aerial Ride at World's Fair
---
Lake Amusement Area pavilions