Images of America: The 1964-1965 New York World's Fair
My thanks to my co-author, Bill Young, for all of his hard work on this book. If you aren't familiar with his outstanding website on the fair, www.nywf64.com, be sure to visit it and check out the amazing amount of information he has collected on the Fair. It was great working with Bill on this book, but it was tough trying to figure out which photos would best represent the many pavilions and shows from the Fair. However, it was fun looking through them as we prepared the book, and I hope that you'll enjoy them as much as we did. Thanks also to the folks at Arcadia for all of their help.
---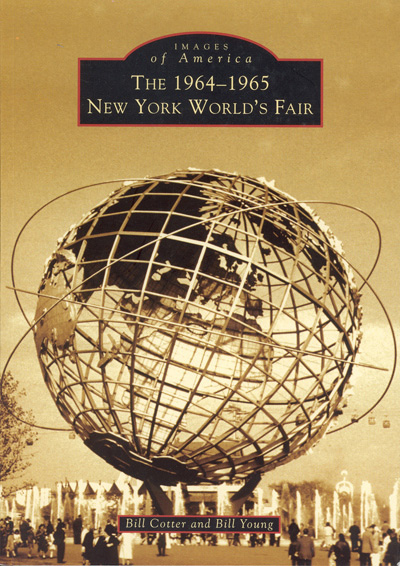 The 1964-1965 New York World's Fair was the largest international exhibition ever built in the United States. More than one hundred fifty pavilions and exhibits spread over six hundred, forty-six acres helped the fair live up to its reputation as "the Billion-Dollar Fair." With the cold war in full swing, the fair offered visitors a refreshingly positive view of the future, mirroring the official theme: Peace through Understanding. Guests could travel back in time through a display of full-sized dinosaurs, or look into a future where underwater hotels and flying cars were commonplace. They could enjoy Walt Disney's popular shows, or study actual spacecraft flown in orbit. More than fifty-one million guests visited the fair before it closed forever in 1965. The 1964-1965 New York World's Fair captures the history of this event through vintage photographs, published here for the first time.
Bill Cotter and Bill Young are longtime members of the World's Fair Collectors Society. Cotter's many visits to the fair as an adolescent inspired him to become a submarine designer for the United States Navy and later an entertainment executive. Young hosts a prominent website that explores the history of the fair and its space-age attractions. Both are avid collectors of world fair memorabilia.
The Images of America series celebrates the history of neighborhoods, towns, and cities across the country. Using archival photographs, each title presents the distinctive stories from the past that shape the character of the community today. Arcadia is proud to play a part in the preservation of local heritage, making history available to all.
Arcadia Publishing. Publication date: July 27, 2004. 128 pages, $21.99
---
The price is $19.80 (10% off) plus $8.45 for Priority Mail shipping. International buyers should write for air mail rates as they vary by location.
Please let me know if you would like the book signed in any special way, just signed, or left unsigned.
| | You can order from me using PayPal |
| --- | --- |
| | All three 1964-1965 books for $50 |
Orders for the book can also be combined with orders for my other books or CDs of photos from any of the fairs on the site. There's just one shipping charge of $8.45 for any US order of books and CDs.
The book can also be ordered through Amazon, or from me by mail.
If you have any questions please drop me a note.