Continental Circus (1964)
A European-style one-ring circus has been assembled beneath a white and yellow plastic structure that seats 5,000 and has poles that do not obstruct the view. The complete performance lasts an hour and 20 minutes. A circus museum with historical exhibits provides an added attraction at no extra charge.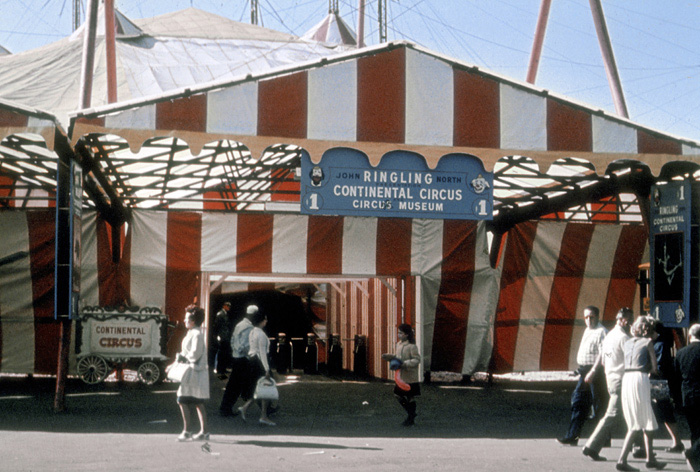 Unfortunately for the backers of the Continental Circus, Fair guests were looking for something a bit more exotic or futuristic than a circus. Attendance was low and the circus closed at the end of the 1964 season. (CD #30 Photolab #77)
---
Dressed as a clown, a barker does his best to get the attention of those passing by. Traditional shows like the circus had little chance to lure in visitors who could instead see a roaring dinosaur or an underwater city - especially when those other shows were free and the circus was not.
A visitor to the site wrote to say that the clown was Ernie "Blinko" Burch, a longtime Ringling circus clown and inductee of the International Clown Hall of Fame. Blinko was prominently featured in Cecil B. DeMille's The Greatest Show on Earth. (CD #65 Set 263 #36)
---
When the Fair re-opened in 1965 the circus was gone, leaving only a large empty plot to the left of the AMF Monorail station as seen in this photo from the New York State observation towers. (CD #14 Set 70 #12)
---
Want more information on the Continental Circus?

Souvenir Program and Museum Guide
---
Lake Amusement Area pavilions