Hall of Education (1964)
Demonstration Center (1965)
Hall of EducationThe changing goals, methods and tools of education in America are the concern of the exhibitors in this pavilion - for the most part businesses associated with education. Visitors may see a school of tomorrow, hear prominent Americans discuss problems of the day, listen to classroom exercises and watch modern teaching machines at work. The large building also has a playground area, an audio-visual demonstration center and a public restaurant.
It's hard to imagine what the builders of this pavilion were thinking. How many people, especially children, would be likely to want to spend part of their summer vacation in a pavilion about schools? (CD #30 Photolab #20)
---
Demonstration Center Everything from shoes to school equipment is on view in this modernistic structure. A New York newspaper samples public opinion on important issues, a Bible society shows a color film. A futuristic scale model predicts the design of schools in the year 2000, and new developments in food, furnishings, art and electronics are displayed. There are also a children's "adventure playground," a cafeteria, a kosher restaurant and a dining terrace.
As it turned out not many people were interested in the offerings of the Hall of Education, and in 1965 the building was re-opened as the "Demonstration Center", which was used to showcase products from a variety of vendors. Most of the displays were quite tacky, and the second year was also a failure. (CD #6 Set 30 #9)
---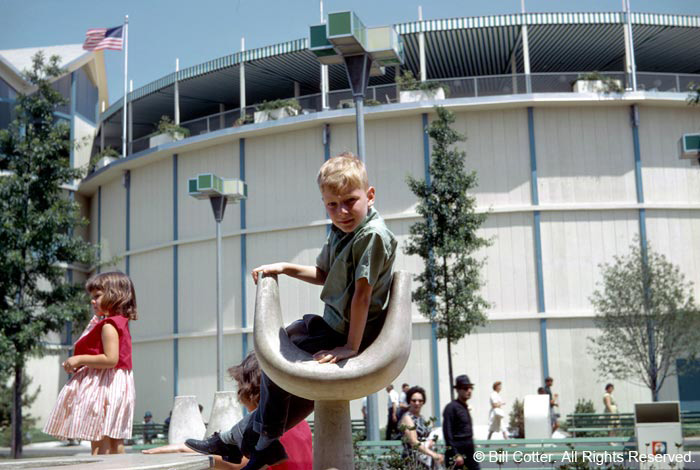 Adventure Playground. Children are invited to play on a number of futuristic climbing structures in the playground. (CD #27 Set 149 #9)
---
Want more information on the Hall of Education/Demonstration Center?
1-28-62 - Architect's Model
2-14-63 - Groundbreaking booklet
4-15-64 - School Peeks at 3 R's in A.D. 2000
Dialogues in Depth
Lovable Quotient Tests
Information Request Card
---
Industrial Area pavilions