Pavilion of Fine Art. Sponsored by the Long Island Arts Center, this pavilion displays the work of 250 American artists. In all, 150 painters, 50 sculptors and 50 graphic artists are represented in the exhibit.
This building was originally intended to be the Argentine Pavilion. When the building shell was completed the developers ran out of money and were unable to complete the interior. The unfinished structure was turned over to the World's Fair Corporation, which turned it into the Pavilion of Fine Art. Opening in June 1964, the building was very low key and generally went unnoticed by Fairgoers. (World's Fair Corporation publicity photograph)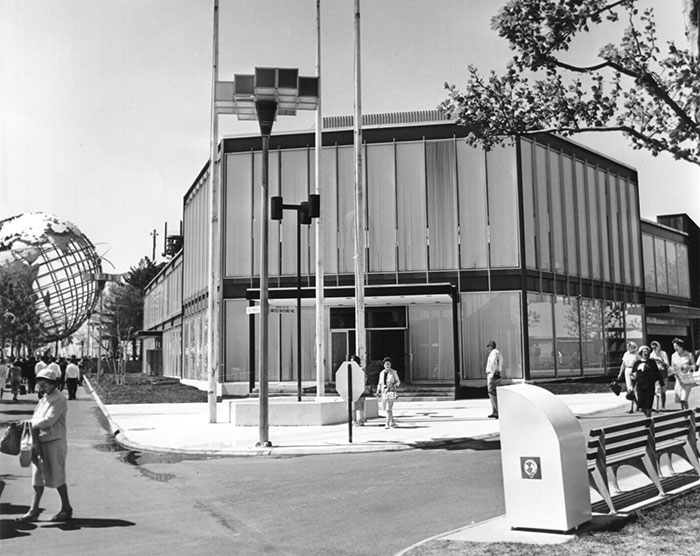 Bargreen Buffet. An outside terrace with tables and umbrellas flanks this bar, buffet and cafeteria. Inside this large restaurant 600 persons can sit and enjoy typical American food served in an international atmosphere. Outside, a take-out bar offers seafood and draft beer for diners on the terrace.
For 1965 the Fair was planning on using the building to house the Samuel Pryor Doll Collection, which was described as one of the largest collections of its kind. Negotiations between Pryor and the Fair collapsed in March 1965 and the building was turned over to developer Howard Bargreen for use as a restaurant facility. (CD #19 Set 98 #8)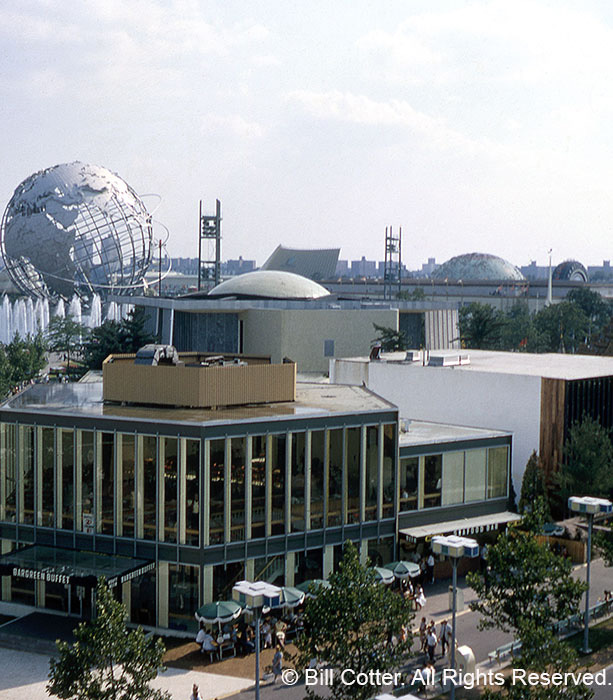 WORLD'S NEWEST MUSICAL PRODUCT PLAYS AN INTERNATIONAL ROLL AT THE CANADIAN BEER PARLOR. Here the new and unique Portable Piano Player, manufactured by Dynavoice, Inc., Plymouth, Michigan, is playing a Heintzman Piano, manufactured in Canada, to provide constant piano background music at the Canadian Beer Parlor at the World's Fair. This unique Player is the latest development in the world of music, and will convert any piano into a player piano in just a few seconds by simply setting it on the piano keyboard.

Here, Mr. Lou Karzan, United States Representative for Heintzman Piano Company, Paul E. Richards, President of Dynavoice, Inc. in Plymouth, Michigan and inventor of the Portable Piano Player, and Howard Bargreen, originator and owner of the popular Canadian Beer Parlor at the Fair, pose as they set up their unique "International Musical Atmosphere."
In addition to the facility's main buffet restaurant, the complex also included the Canadian Beer Garden and a Seafood Bar with sidewalk seating. (World's Fair Corporation publicity photograph)