Florida
A 110-foot tower topped by a giant plastic orange rises over the palm trees and carrousel-shaped structures of "Fabulous Florida." The other buildings in the tropical setting at Meadow Lake include a large State Exhibit Hall decorated in an appropriate motif (the state seal, maps, etc.); a Porpoise Pool and Stadium, seating 1,600 and covered by a suspended sun- and rain-proof roof made of plastic; a homesite area on the shore, including model houses, reached by a "Bridge to the Keys" boardwalk. Shops and refreshment stands are located about the area.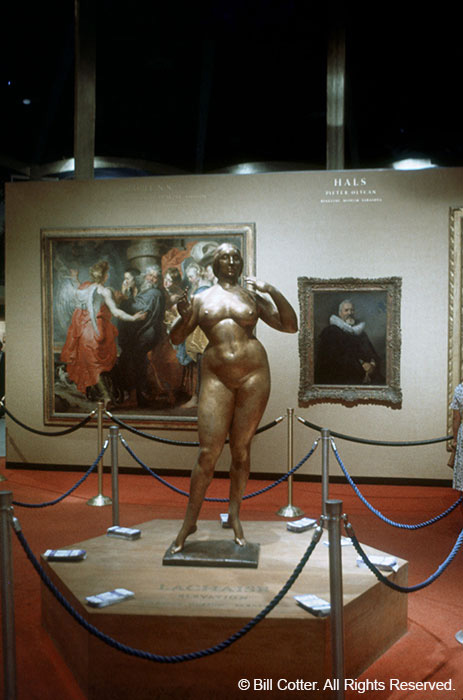 Sampling the Sunshine State. In the State Exhibit Hall are displays of priceless objects of art on loan from public and private Florida collections, and exhibits relating to Florida communities, industry, agriculture, sports and education. A series of scale models tells the story of the U.S. space program. (CD #10 Set 50 #40)
---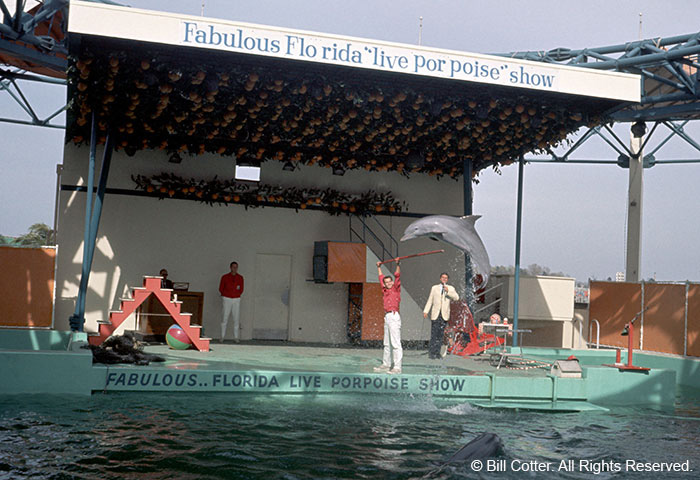 Porpoises and Bands. A troupe of the "second-smartest mammals" in the world plays basketball and "sings," dances and clowns in the daytime shows at the Porpoise Pool and Stadium. A nearby tank contains several frolicking sea lions. (CD #17 Set 89 #13)
---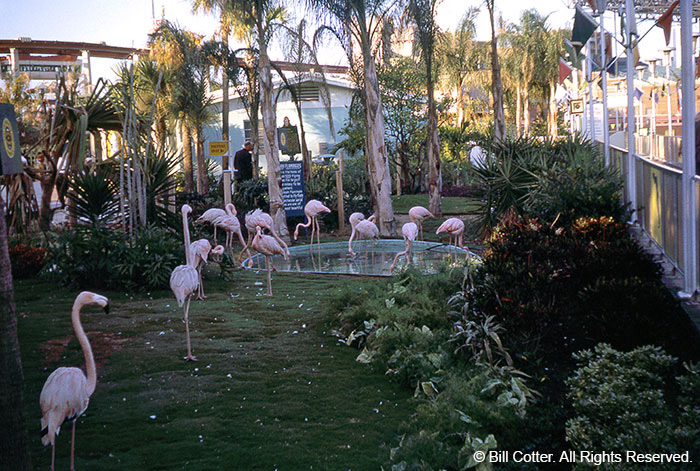 Flamingo Isle. Beautiful flamingos strut in an enclosed pool, providing a natural display of brilliant colors. (CD #39 Set 194 #30)
---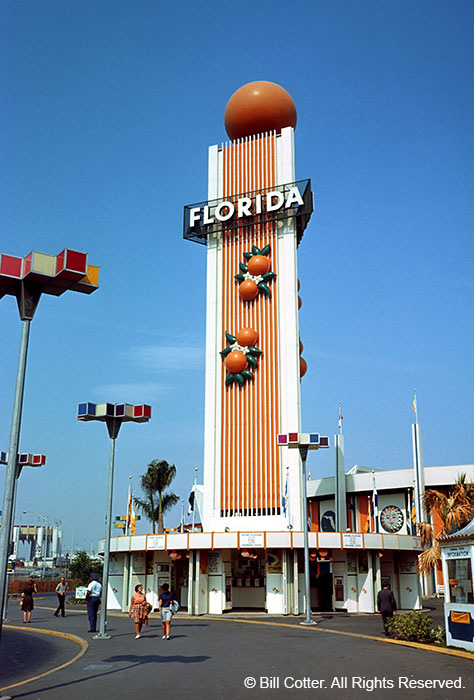 A large tower topped with a giant orange made it easy to spot the Florida pavilion. A stand at the base of the tower served up free samples of fresh Florida orange juice. (CD #TBD Set 361 #33)
---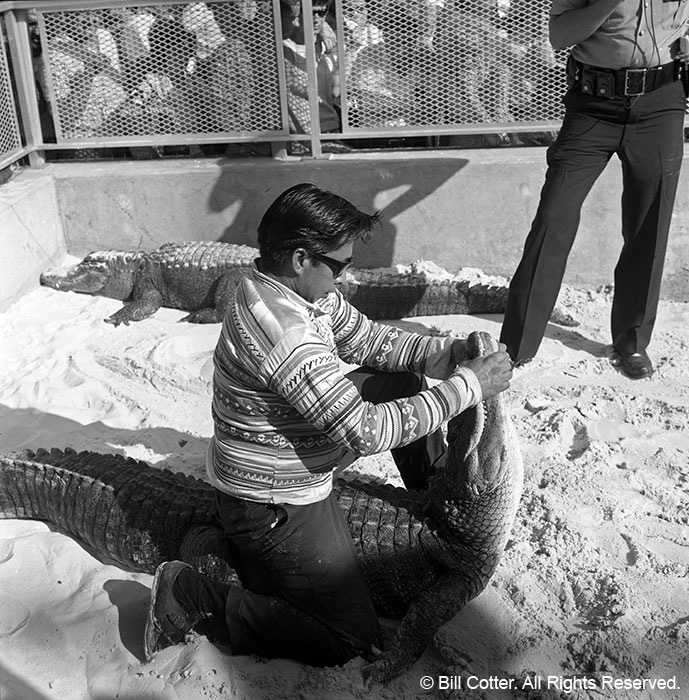 A Florida State Trooper can be seen standing by in case something goes wrong with this demonstration of alligator wrestling. The troopers were actually called into action when one of the alligators escaped from the pavilion and had to be captured. (CD #TBD Set 452 #1)
---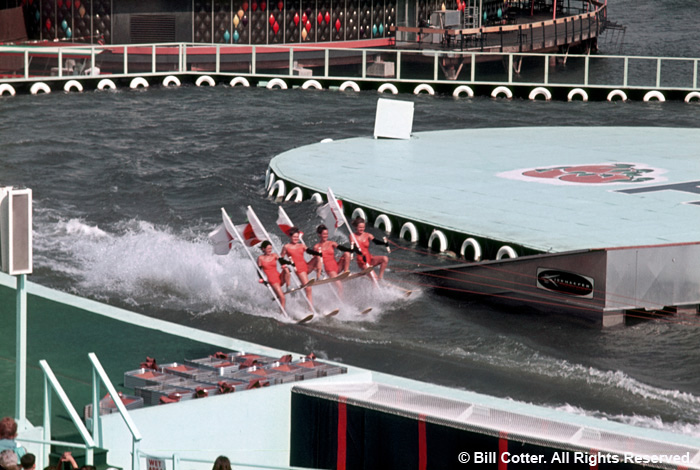 Florida Citrus Water Ski Show. In a show sponsored by the Florida Citrus Commission, teams of performers water ski behind fast boats, doing intricate acrobatics, formations and jumps, four times every day between noon and 6 p.m. A highlight of the Seattle Century 21 Exposition, the show is staged on a specially constructed, doughnut-shaped pool in the Amphitheater first used at the 1939/1940 Fair.
The 1965 season saw a major expansion for the Florida pavilion. The failure of an elaborate stage show had left the Amphitheatre, located next to the Florida pavilion, empty and unused for the latter part of the 1964 season. The facility was completely rebuilt to hold the "Florida Citrus Water Ski Show," which quickly became a hit with fairgoers who thrilled in the acrobatic feats and comedy routines. (CD #11 Set 57 #34)
---
Want more information on Florida at the Fair?

6-24-63 - Florida Citrus Tower - Dedication booklet
Business Screen magazine
6-10-65 - Florida Citrus Water Ski Show adds night performances
2-18-66 - They're Closing Down the Fruit Stand
---
Lake Amusement Area pavilions