Festival of Gas
A puppet movie, a magic show, cooking demonstrations and product displays have been assembled by the gas industry in a pavilion of light, airy architecture in a pleasant garden. A white roof, raised high on two columns, shelters most of the area. Beneath, an arrangement of trees, shrubs, ponds and paths leads the flow of visitors to the exhibits and a restaurant.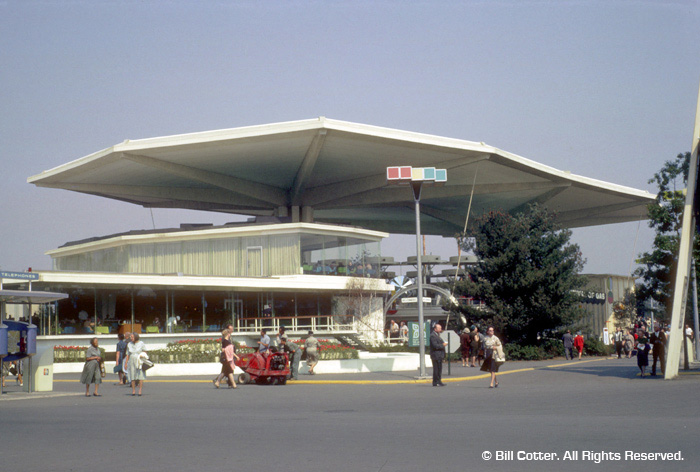 The large canopy of the Festival of Gas pavilion covered a variety of exhibits, with a VIP lounge on top of a restaurant. (CD #23 Set 122 #8)
---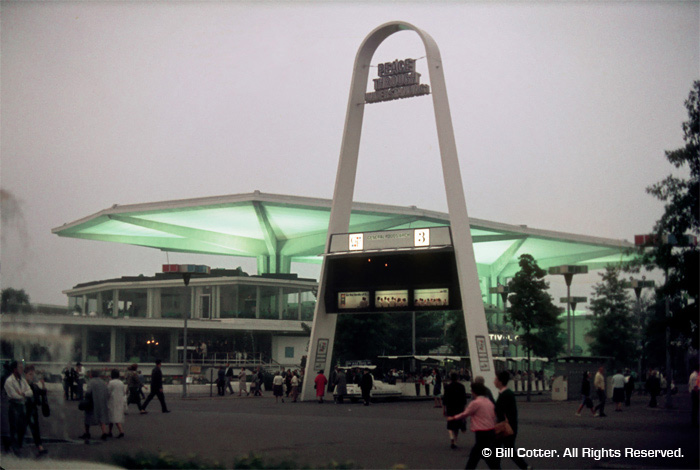 Viewed at dusk, the pavilion shows off its attractive lighting design. That's General Foods Arch #3 in the foreground. (CD #11 Set 58 #26)
---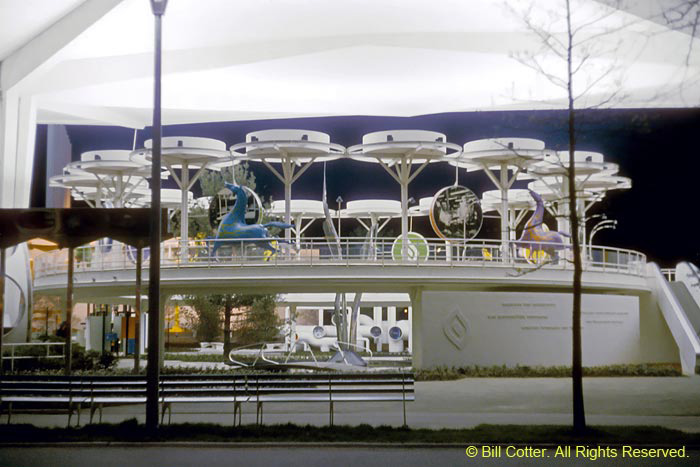 Carousel Preview. A giant carousel, 12 feet off the ground, slowly revolves in the exhibit area and permits riders to view the displays they are about to visit. A complete turn takes about five minutes. (CD #58 Set 245 #7)
---
Theater of Cooking. Six to eight times a day, in a 150-seat amphitheater, leading chefs give demonstrations in the fine art of cooking. (CD #TBD Set 344 #3)
---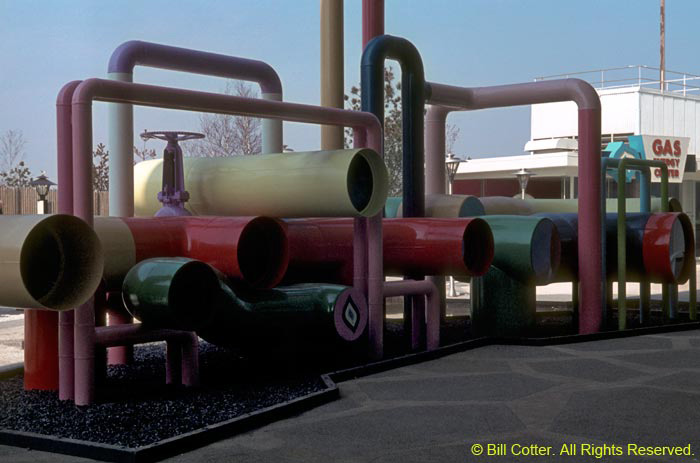 Machines at Work. The gas turbine, generators and coolers actually being used to heat, light and cool the pavilion are shown and explained in a landscaped area called the Garden of Giants. (CD #TBD Set 344 #1)
---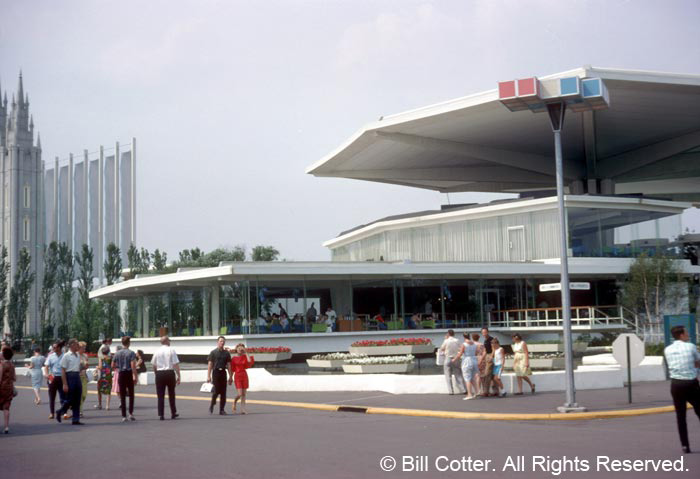 Restaurant. "Festival '64 - the American Restaurant" has walls of glass and cascading greenery, and features American regional dishes. Much of the food served in this restaurant is prepared right at the table.
Originally the restaurant was to have been an open-air venue, with "air curtains" to provide heating and cooling, but the designers eventually went with the glass walled design seen here. (CD # 15 Set 75 #14)
---
Want more information on the Festival of Gas pavilion?
Business Screen magazine
7-16-64 - Fare Ladies Go to the Fair
Step Into Tomorrow With Norge
Why Gas Energy Was Chosen
---
Industrial Area pavilions