Illinois
The state that Abraham Lincoln called home displays the largest collection of Lincolniana ever assembled for an international exposition, including copies of every known photo of the 16th President, and an original manuscript of the Gettysburg Address. In addition, Walt Disney has created a life-sized animated figure that looks, acts and speaks like Lincoln. It performs in the 500-seat Lincoln Theater where, from time to time, national and international personalities are scheduled to discuss the influence of the prairie President. Other special events are also planned.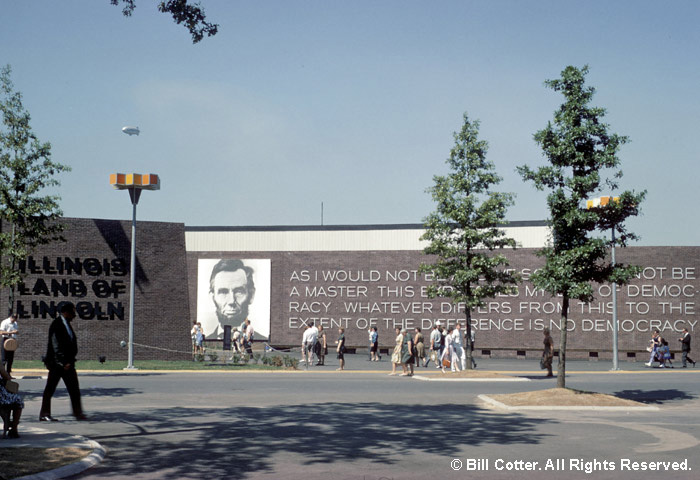 A large portrait of Abraham Lincoln and a quote from one of his speeches drew eyes towards the Illinois pavilion, one of the most popular at the Fair. (CD #28 Set 150 #83)
---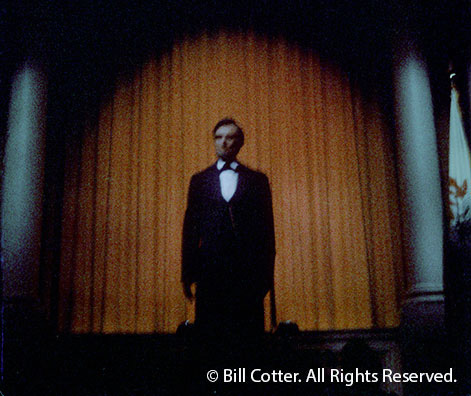 Disney's Lincoln. With mannerisms characteristic of the great Civil War President, the animated figure recites excerpts from Lincoln's speeches on liberty, civil rights and freedom. Dimensions for the figure duplicate the physical statistics found in biographies; the facial features were taken from Lincoln's life-mask. The figure is capable of more than 250,000 combinations of action, including smiles, frowns and gestures. The program, called "Great Moments with Mr. Lincoln," will be suspended when special events are held in the theater.
Before each show audiences were asked not to take flash pictures. Back in 1964 and 1965 people actually obeyed such instructions, making pictures of the Lincoln figure in action very hard to find. This picture will be replaced by a more suitable when once it is restored. (CD #31 Set 161 #5)
---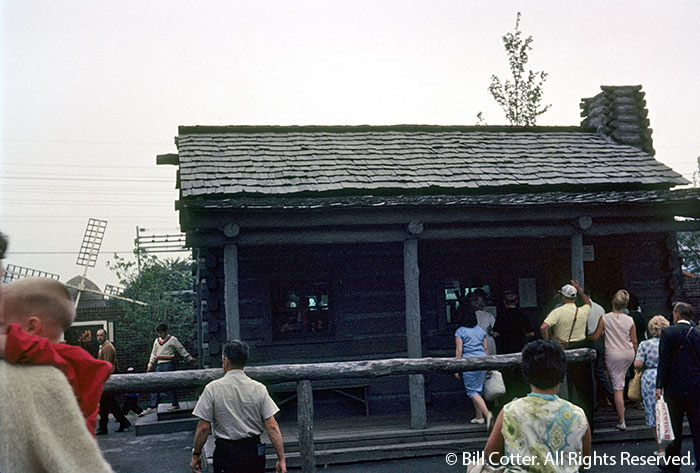 The Years of Lincoln. A restoration of the Lincoln-Berry store in New Salem, Lincoln's first Illinois home town, is located in the pavilion area. Among the other displays are a head of Lincoln by the great sculptor Gutzon Borglum, a new statue of Lincoln on horseback and many documents and papers. A historical reference library is available for visitors to use.
The store pictured was actually a recreation, not a restoration as stated in the guidebook. (CD #47 Set 210 #5)
---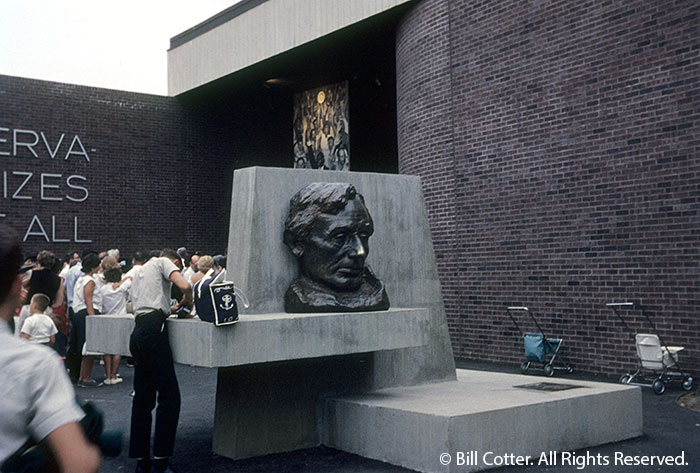 For some reason there is a legend that rubbing Lincoln's nose will bring good luck. So many visitors joined in that the patina was rubbed away.(CD #47 Set 210 #4)
---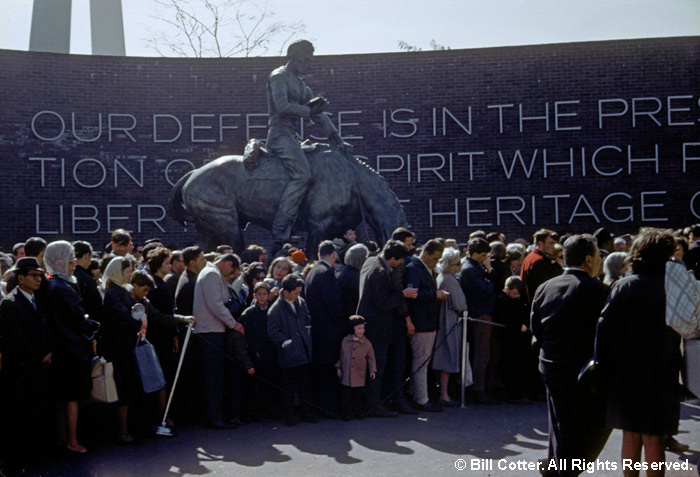 Long lines were the norm for this very popular pavilion. The Disney figure of Lincoln amazed audiences, with many skeptical guests convinced it was a live actor on stage and not a mechanical man. (CD #25 Set 137 #13)
---
Want more information on the Illinois pavilion?
Illinois Pavilion Information
Press Information
Profile - "Great Moments With Mr. Lincoln"
Speech Presentation from "Great Moments With Mr. Lincoln"

---
Federal and State Area pavilions