Jaycopter Ride
The sensations of a real helicopter flight are simulated in this high-flying machine, attached by a long boom to a tall tower. The pilot spins, drops, hovers and reverses flight at the request of his 16 passengers. First developed by Jaycopters Ltd. to train helicopter pilots, this electric-powered cab has a ceiling of 100 feet and a circular flight path 125 feet in diameter. For those who want to try their hand at piloting, there are 20 small models that carry no passengers, operated on the ground by controls like those in the real machine.
Although the Jaycopter had been designed as a military training device in the hope of reducing training accidents and injuries, it failed to attract the needed governmental attention. After the Fair ended the company built a number of smaller versions for arcade use but they also failed to gain wide-scale acceptance. This photo shows the Jaycopter in 1964; for the second season it sported a bright yellow paint scheme. (CD #30 Pana-Vue #641Y2)
---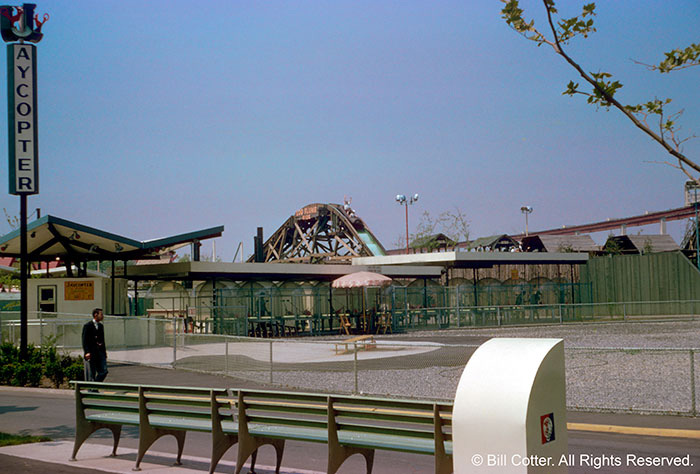 The small-scale Jaycopters, dubbed Baby Jays, were located under the bubble-topped booths stretching along one side of the Jaycopter site. One of these Baby Jay models survives today at the Aviation Museum in Edmonton, Canada. In 2006 it was reported that the full-size 16-passenger Jaycopter was stored disassembled in Wetaskewin, Alberta, Canada. (CD #34 Set 175 #3)
---
Want more information on the Jaycopter?

Alberta Inventors and Inventions
1968 Jaycopter model - Arcade version
---
Lake Amusement Area pavilions