Louisiana/Bourbon Street
New Orleans' famed Bourbon Street is reconstructed in this big pavilion. Jazz is the theme, and many well-known musicians perform in the picturesque buildings that line the 200-yard thoroughfare. A musical revue, "America, Be Seated!" is presented; there are jazz concerts, dancing at a teen-age center and miniature Mardi Gras parades. The market area contains specialty shops, while a large exhibition hall is devoted to historical and industrial displays.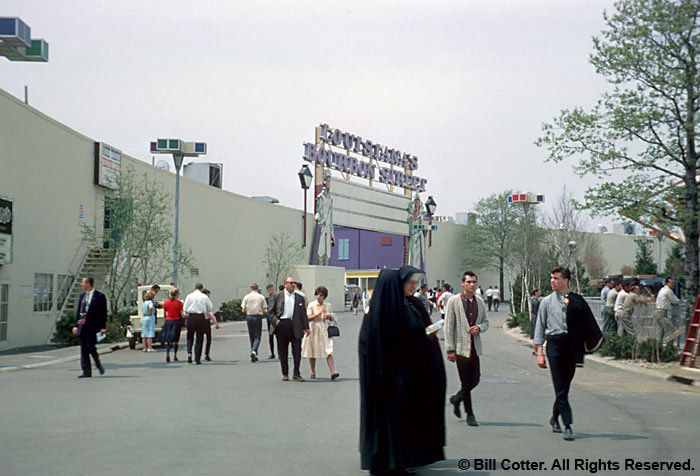 It doesn't look like the nuns studying their map are being tempted by the charms of the Louisiana pavilion. As this view shows, the exterior was a rather bland and unattractive wall, with little to entice Fairgoers to drop by. The sign over the entrance lost the world "Louisiana" during 1964 as part of a dispute with the original financial backers, and the area soon became just "Bourbon Street". (CD #1 Set 2 #12)
---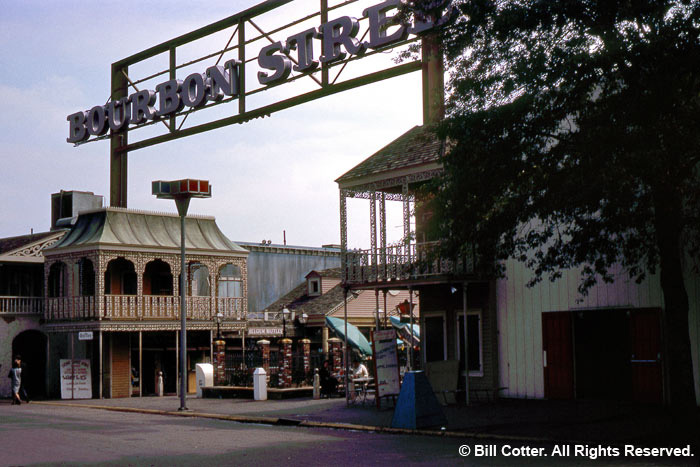 By the end of the 1964 season the entrance had a more appealing look. Gone were the giant figures and bland wall, replaced instead with facades reminiscent of New Orleans architecture. Gone also was the sign area originally intended to list star performers appearing at the pavilion, as sadly, this concept proved to be unsuccessful from the first days of the Fair. (CD #35 Set 179 #39)
---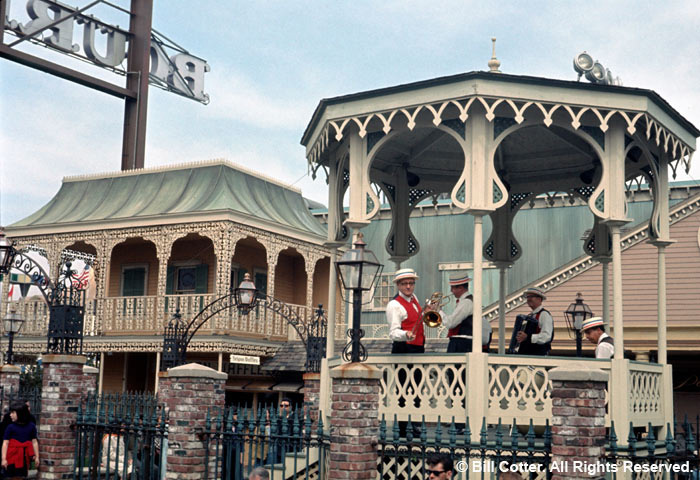 One of the first live shows to close in 1964 was "America, Be Seated!", a lavish production from showman Michael Todd, Jr. Todd had originally set out to create shows for the Mississippi River Steamboat, which had been planned as a cruising attraction on Meadow Lake. When the riverboat plans fell through, he moved the show to the Louisiana pavilion. Unfortunately there was little there to attract guests to his show and it quickly folded. After that the entertainment would be far more modest, such as this group of musicians seen in 1965. (CD #17 Set 89 #4)
---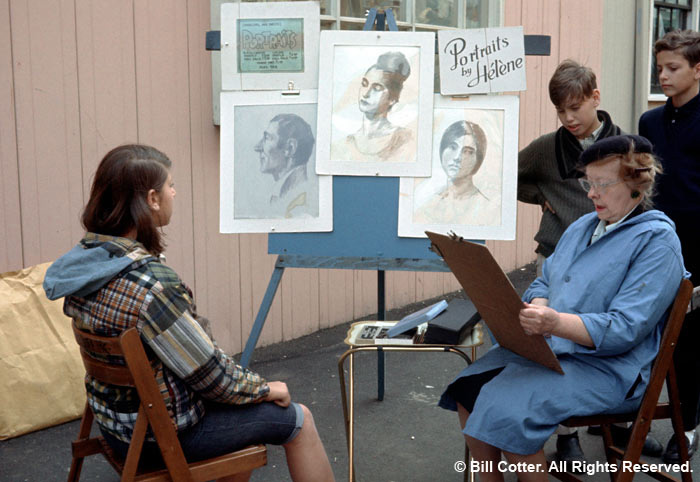 A young visitor sits for her portrait. Black and white profile $3, color $5 - full face slightly extra. (CD #17 Set 89 #3)
---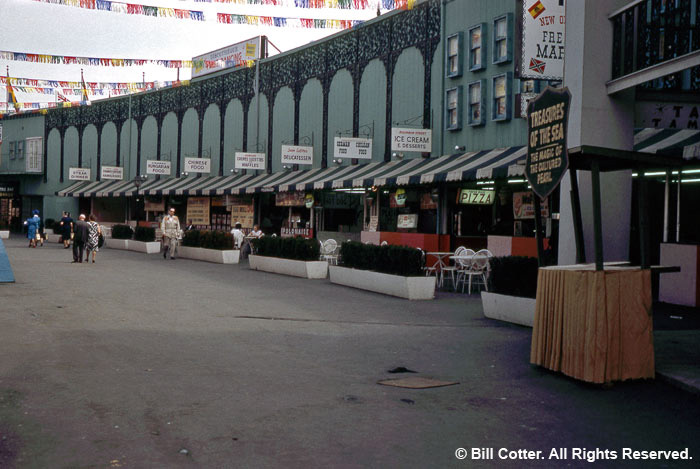 The main attraction at the Louisiana Pavilion was a variety of snack bars, restaurants and bars. The latter made the area especially appealing at night. (CD #35 Set 179 #37)
---
Want more information on the Louisiana pavilion?
---
Federal and State Area pavilions