Minnesota
This unusual pavilion is a colorful, many-sided structure encircled by a waterway. Visitors may fish or take canoe rides. There is a restaurant on the ground floor. The main exhibit area – which focuses attention on the state's industries – is on a second level, reached by ramps.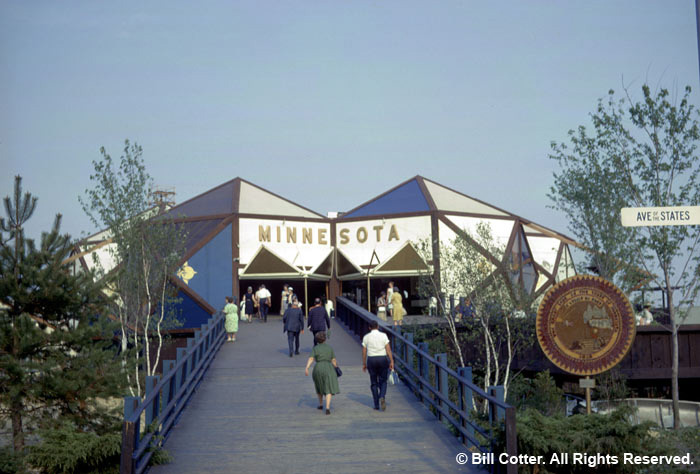 From the front the Minnesota Pavilion had a rather tranquil look, with a gently sloping wooden ramp rising through a small grove of trees. (CD #29 Set 151 #15)
---
A side view shows a more gaudy view of the pavilion. Added for the 1965 season, the large Viking warrior is Big Ole, representing the claim by some that Vikings had visited North America well before Christopher Columbus. The 28-foot tall statue can now be seen in Alexandria, Minnesota. (CD #15 Set 78 #5)
---
Water Sports. The stream is stocked with trout for visitors to catch. The aluminum canoes are self-propelled, but require steering.
This was one of the things at the Fair that has had me wondering "What on Earth were they thinking of?" for years. Just imagine the fun of catching a trout then carrying it around in the New York heat all day. I doubt anyone near you would have appreciated what a great angler you were. (CD #TBD Set 361 #68)
---
Want more information on the Minnesota pavilion?
4-22-63 - Groundbreaking booklet

---
Federal and State Area pavilions