The Pavilion. A white cloud, visible for a great distance, hovers around three towers - replicas of the east towers of Salt Lake City's famed Mormon Temple. It is illuminated by colored lights at sunset. A gilded statue of the angel Moroni is placed atop the center spire. A reflecting pool stands in front of the building.
The artificial cloud mentioned in the guide book was an attempt to block the view of a large sign outside the Fair grounds. The plans called for cloth panels behind the pavilion towers, but despite the best efforts of the designers, they were no match for the New York winds. Here we see the pavilion with the empty poles for the artificial cloud panels - but with some real clouds to make up for it. (CD #21 Set 109 #33)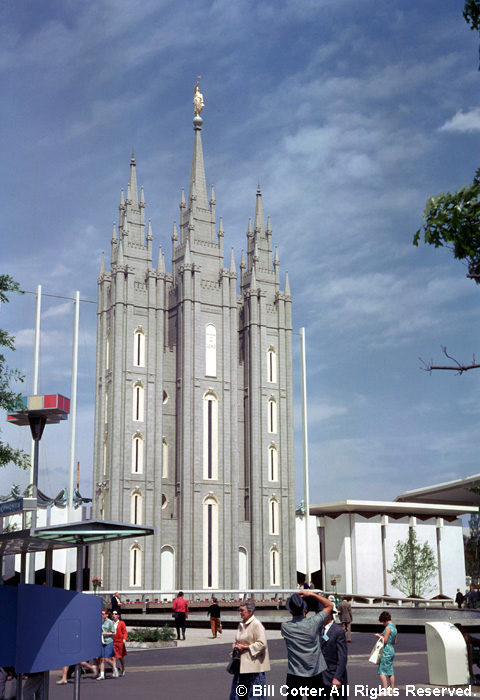 The Art. A nine-ton replica of Bertel Thorvaldsen's famous statue, The Chrstus, stands in one wing. Two 110-foot murals tell the story of Christ and of The Latter-Day Saints. In addition, other works of art are located about the pavilion.
Inside the pavilion, visitors were treated to a series of giant murals depicting milestones in Mormon history. The Christus statue, seen at the rear of this photo, is now located at the Mormon temple in Los Angeles. (CD #18 Set 93 #4)