New Mexico
A pueblo of five adobe buildings represent New Mexico, bringing to the Fair the sun-baked walls, Indian handicraft and hot enchiladas that art part of the state's Mexican and Indian heritage. Displays emphasize resources, research and recreation. A tourist center supplies travel information and shows a color movie of state scenes. Mountain trout from the state's streams swim in a pool. The Trading Post has Indian pottery, blankets and other products for sale. The largest building is a restaurant.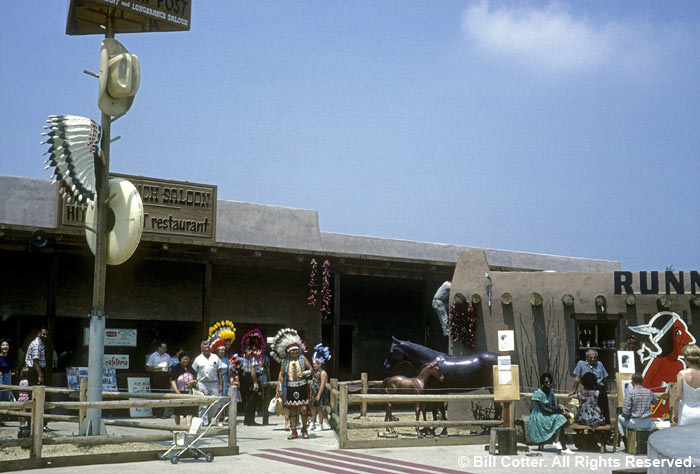 There was a lot going on at the New Mexico pavilion when this photo was taken. As a sketch artist works in front of the trading post, an Indian offers a variety of headdresses to guests outside the restaurant. Inside, diners were being entertained by Indian dancers and musicians. (CD #37 Set 185 #6)
---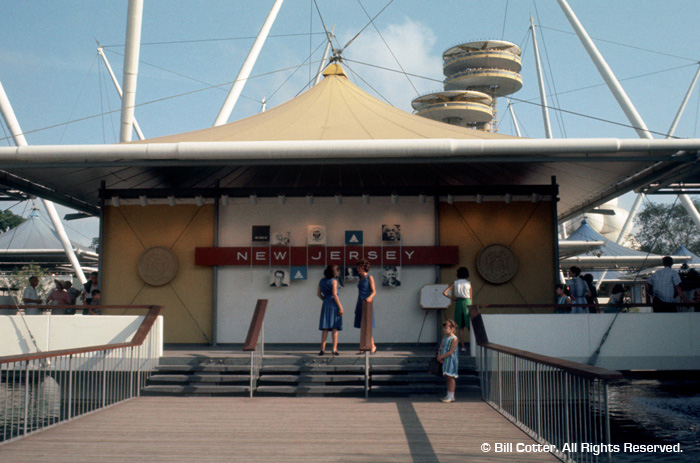 The Restaurant. Specialties include tamales, enchiladas, tacos and barbecued dishes of all kinds.
Diners were frequently entertained by visits from the pavilion's Indian dancers. (CD #20 Set 107 #32)
---
Want more information on the New Mexico pavilion?
5-16-62 - World's Fair Corporation welcome to New Mexico delegation
5-16-62 - Press release for New Mexico delegation visit
---
Federal and State Area pavilions