Oregon
A carnival of timbering is staged along a stretch of the Flushing River by a troupe of 25 men and women from the Northwest, with much climbing, chopping, birling (log-rolling), jousting from logs, double-bladed ax throwing and clowning. Spars of Douglas fir 120 feet tall are set on the bank and used for many of the feats; wear and tear requires the replacement of these great masts every two or three days. Bleachers seat 1,250; under them visitors will find a display of Oregon industries and a souvenir shop.
Mighty Woodsmen. Carnival acts are changed monthly and it is not hard to see why: A 74-year-old Finn climbs up a spar by means of two planks; two loggers drop their hats from the top, then beat the hats down, and other acts are equally rugged.
Oregon didn't end up in the Federal and State Area as might be expected due to the setting on the Flushing River for the log rolling demonstrations. Here a lumberjack chops away as logs in the river wait for one of those shows. (CD #13 Set 64 #17)
---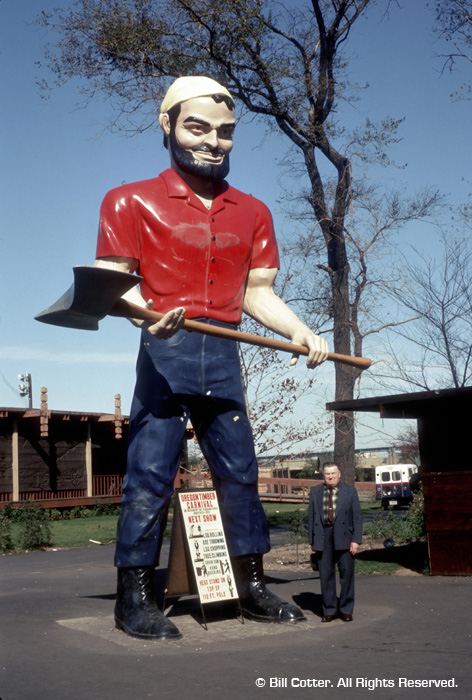 A gigantic Paul Bunyan stands guard at the entrance to the Oregon pavilion. After the Fair closed Paul moved to Lake George, NY where he can still be seen today. (CD #23 Set 123 #26)
---
Want more information on the Oregon pavilion?
---
Industrial Area pavilions