Paris
Sidewalk cafés, shops along the Rue de la Paix and a Parisian-style restaurant carry out the theme of this pavilion: joie de vivre. Flags of the French provinces fly from the walls of the white, blue and gold building. Within the privately sponsored pavilion are many aspects of contemporary France: the arts; industry; scientific research; tourism. In a simulated wine cellar, visitors may, for a fee, compare French wines under the direction of a master wine steward.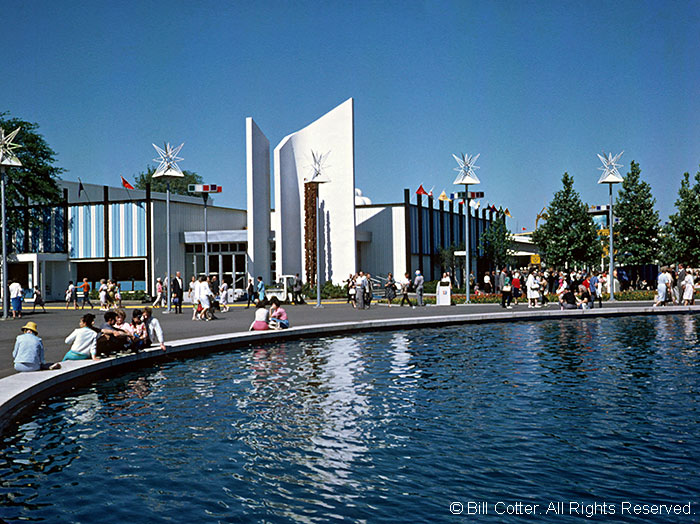 The Pavilion of Paris is seen here to the right of the Astral Fountain. It was originally to be known as the France Pavilion but was renamed shortly before the Fair opened. The 1964 guidebook still listed it under the original name.
This was another disappointing pavilion. A victim of the BIEE boycott of the Fair, the pavilion was sponsored by French business and not the government. The initial design called for imaginative architecture and entertaining displays, but as potential participants decided not to sign up for the Fair the budget was continually cut. The resulting building was little more than a typical warehouse with small shops and stalls that didn't attract much attention at all.
After the Fair ended the building was moved to East Stroudsburg, Pennsylvania where it serves as a bowling alley and restaurant. (CD #TBD Set 825 #17)
---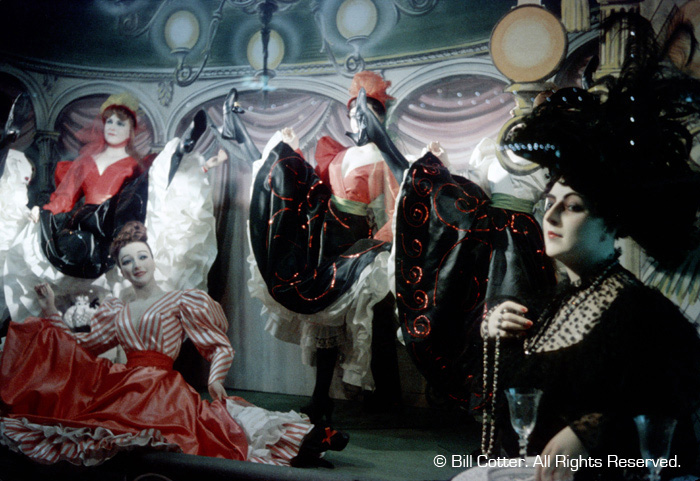 Mannequins demonstrate the Can-Can, a dance once considered so daring it was illegal to perform. This was about as exciting as things got in the Paris pavilion. (CD #18 Set 93 #12)

---
Want more information on the Paris pavilion?
2-20-61 - Won't Display at Fair
2-25-63 - Groundbreaking booklet
---
International Area pavilions