Parker Pen
The launching of a million international friendships is the primary aim of this pavilion, which offers visitors the names of pen friends from other nations. Ninety writing desks equipped with pens, postcards and stationery are available for this (or any other) correspondence. An exhibit traces the 75-year history of Parker handwriting implements; another displays photographs of various historic occasions when Parker pens were used.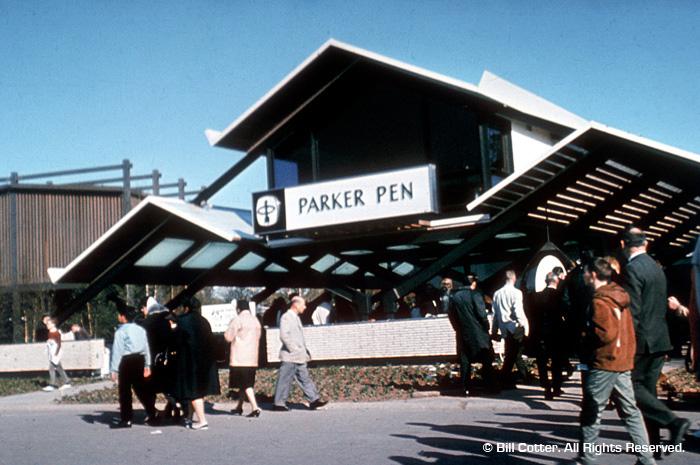 At first glance the Parker Pen building could have been misidentified as a ski lodge. The structure was basically of an open-air design, with exhibits underneath the large canopies. A VIP room was upstairs behind the sign. After the Fair ended the building was moved to the Lodge of the Four Seasons resort in Lake of the Ozarks, Missouri, where it was enclosed for use as offices. (CD #4 Pana-vue)
---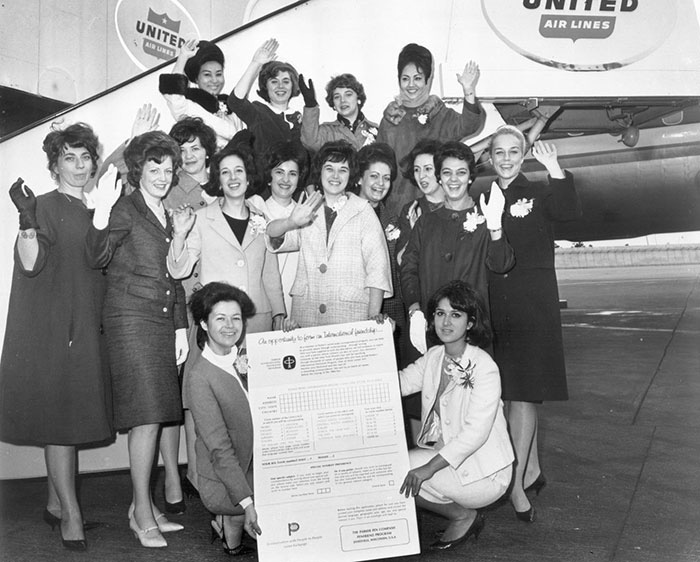 International Pen Friends. Furthering the Fair's theme of Peace through Understanding, and in cooperation with People-to-People Inc., headed by former President Eisenhower, the company supplies any interested visitor with a form on which he may fill in his name, address, age and his interests. A computer matches this information with the data on participants abroad, and within seconds supplies the name and address of a foreign pen friend on a special overseas mailer. Parker expects to supply more than a million names during the Fair's two years.
The computer matching was quite a novelty back in 1964. Those unlucky enough to not get to the Fair could sign up by mail, and Parker Pen launched a nationwide campaign promoting the service. Here we see the 1964 crew of hostesses, who were dubbed "Penettes," in a publicity shot for the campaign. Stories surface every few years about people who became pen pals from filling out the forms and who are still in touch today. Parker Pen publicity photo)
---
Want more information on the Parker Pen pavilion?

3-4-64 - Machine Makes Friendships
5-17-64 - Pen Pals At The Fair
8-11-65 - Fair Computer Picks Its Millionth Pen Pal
---
Industrial Area pavilions