Santa Maria
A full-sized replica of the flagship of Christopher Columbus' discovery fleet is moored at the end of a 15th Century-style floating Spanish wharf. Termed by the exhibitors "Space Ship – 1492," this Santa Maria is the product of a distinguished intercontinental collaboration that insured authenticity. Her architect was José Maria Martínez-Hidalgo, curator of the Maritime Museum of Barcelona, Spain; his consultant was Colonel Howard I. Chapelle, Chief of the Naval and Transportation Section of the Smithsonian Institution in Washington.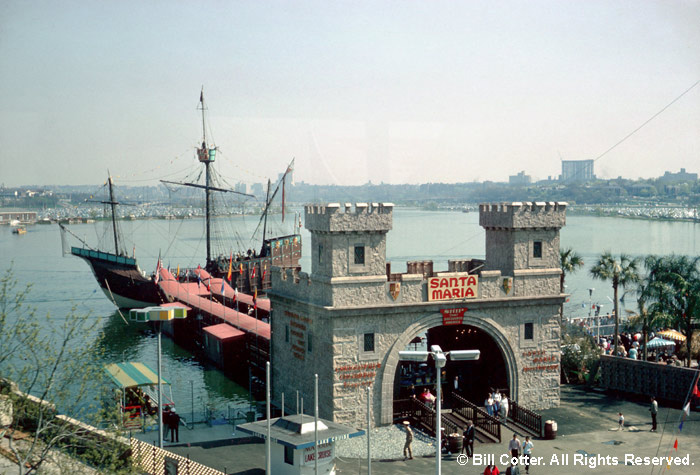 Good pictures of the Santa Maria are hard to find as the entrance building blocked most views of the ship. This one was taken from the AMF Monorail. (CD #17 Set 90 #29)
After the Fair the Santa Maria was purchased by the city of St. Louis and moved there. It was later destroyed in a series of accidents.
---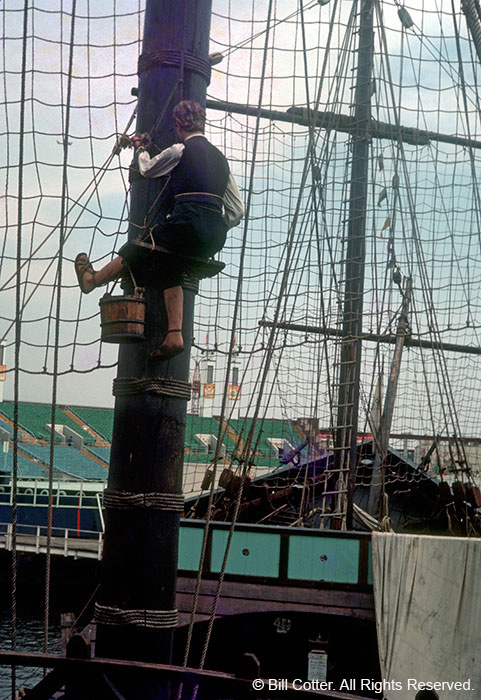 Mannequins were used to show some of the crew members at work. There were also exhibits about Columbus and his historic voyage aboard the ship and onshore at the entrance area. (CD #33 Set 172 #2)
---
Want more information on the Santa Maria?

1-27-64 - Santa Maria Finds Channels Narrow in Queens on Her Way to the Fair
1-28-64- Santa Maria Temporarily "Becalmed" in New York
10-5-64 - Santa Maria, Space Ship

Souvenir Booklet
---
Lake Amusement Area pavilions