Sinclair
Life as it existed 165 million years ago is authentically and vividly re-created in "Dinoland," a large paleontological display bounded by a decorative wall and a partly concealed L-shaped exhibit building. Life-sized dinosaur replicas were created by the distinguished animal sculptor, Louis Paul Jonas.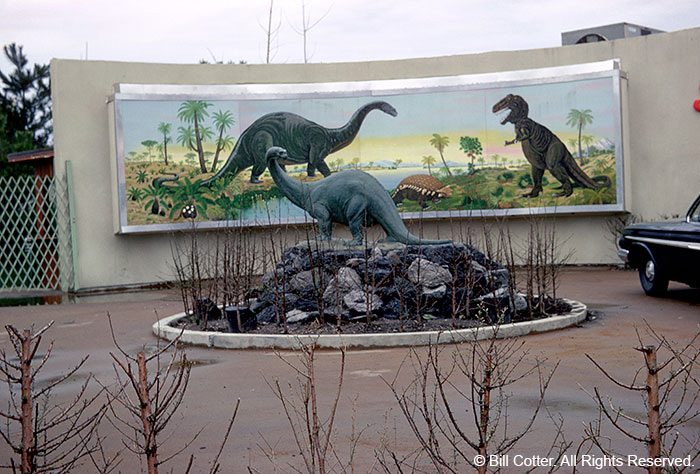 Dinosaurs in Motion. Nine Fiberglas dinosaurs are displayed, three of them moving figures, each set in the terrain and flora of its own geological period.
Dinosaurs were a very popular commodity in 1964, appearing at several of the Fair's pavilions. The biggest and most popular dinosaur show, by far, was Sinclair's Dinoland. Sinclair had exhibited several dinosaur figures at the 1933 Chicago World's Fair, but they were fairly crude and unpolished. For this show they recruited talented sculptor Louis Paul Jonas, who built the life-sized figures at his studio in upstate New York. The dinosaurs made quite a spectacle when they were barged to the Fair site. This small brontosaurus at the entrance to Dinoland gave an exciting hint of what was waiting inside. (CD #29 Set 151 #7)

---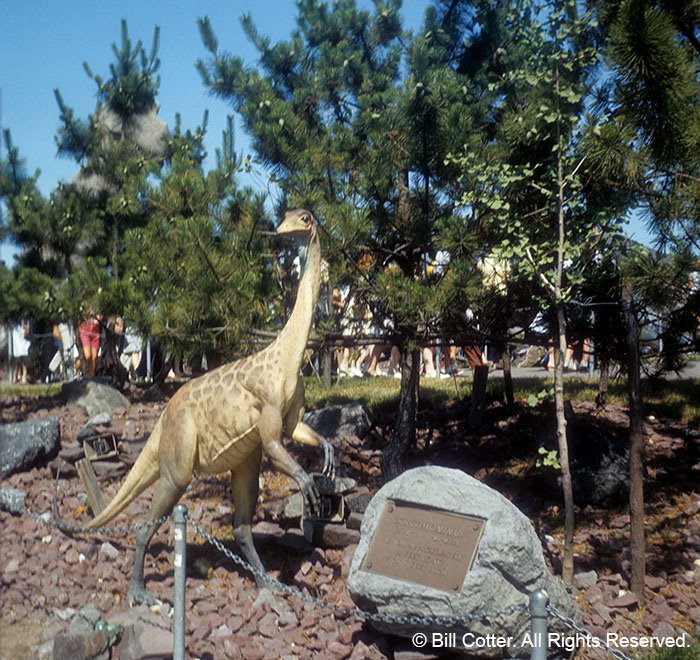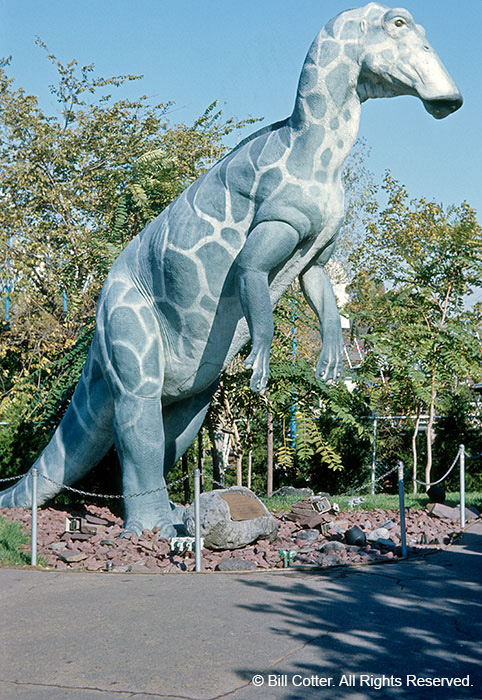 Visitors follow a winding path through this garden to meet ostrichlike Struthiomimus, 6 feet long, then the ponderous Trachodon, 38 feet long and 16 feet high. (Struthiomimus CD #14 Set 67 #13; Trachodon CD #TBD Set 305 #8)

---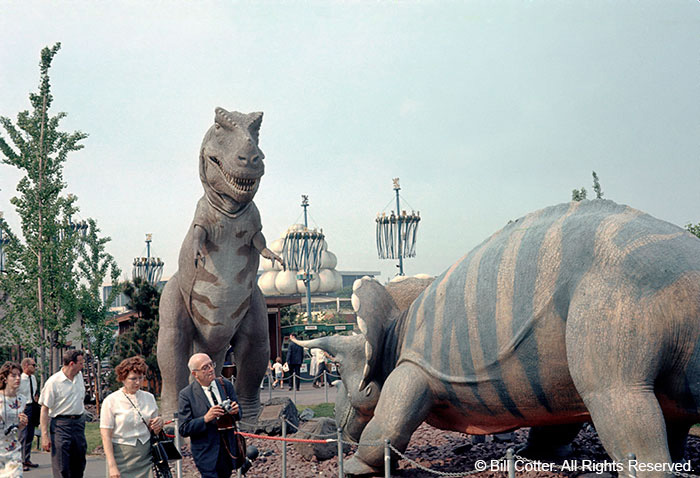 Tyrannosaurus Rex, a meat eater, is shown attacking Triceratops, a plant eater. (CD #21 Set 114 #13)

---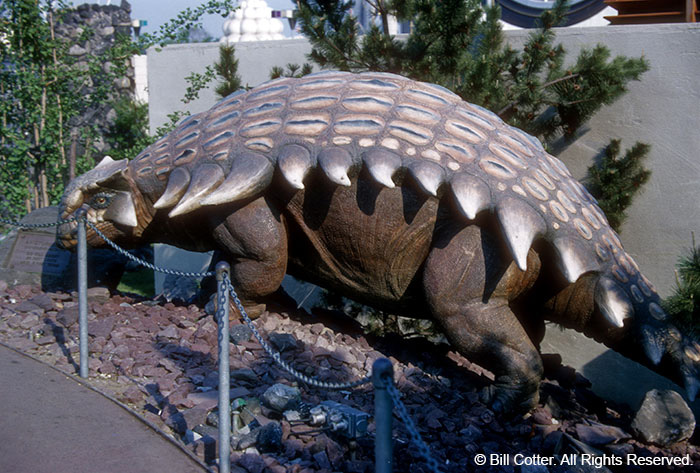 Nearby is the walking fortress, Ankylosaurus, and farther along the duck-billed Corythosaurus in its natural habitat, a lagoon.
Pictures of the Corythosaurus at this angle are easy to find as it was featured on a nearby Kodak Picture Spot sign. The water in the pool was usually clear, but pranksters from another pavilion often tossed soap into it as seen here. (Ankylosaurus CD #11 Set 56 #9; Corythosaurus CD #25 Set 137 #9)

---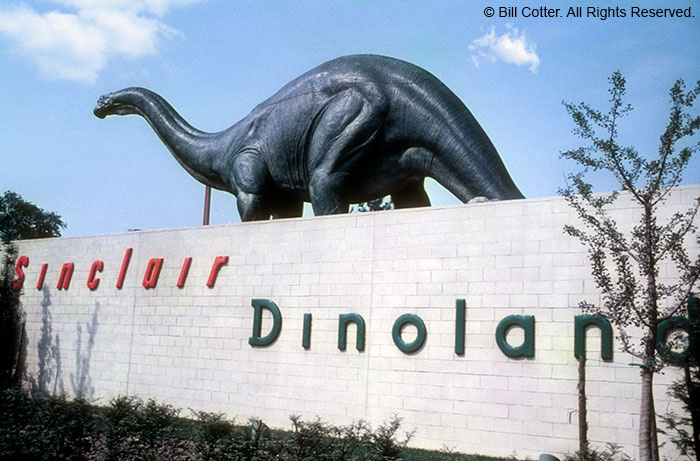 On the pavilion roof stands giant Brontosaurus, 27 feet tall and 70 feet long, its head swinging back and forth as it peers down at traffic on the Grand Central Parkway. (CD #13 Set 63 #38)

---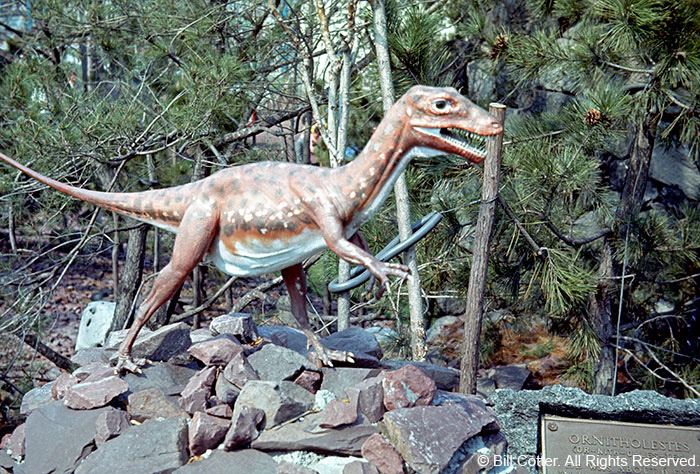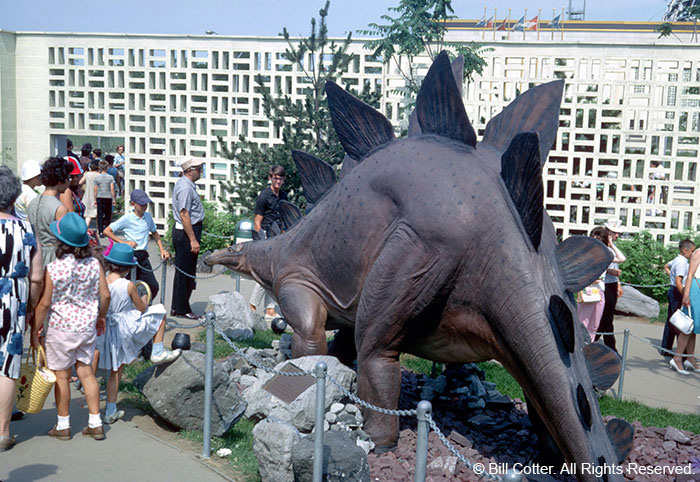 On the path beyond the pavilion stands tiny Ornitholestes, and finally, Stegosaurus with a double row of fins and four long spikes on its tail. (Ornitholestes CD #31 Set 163 #34; Stegosaurus CD #21 Set 109 #54))

---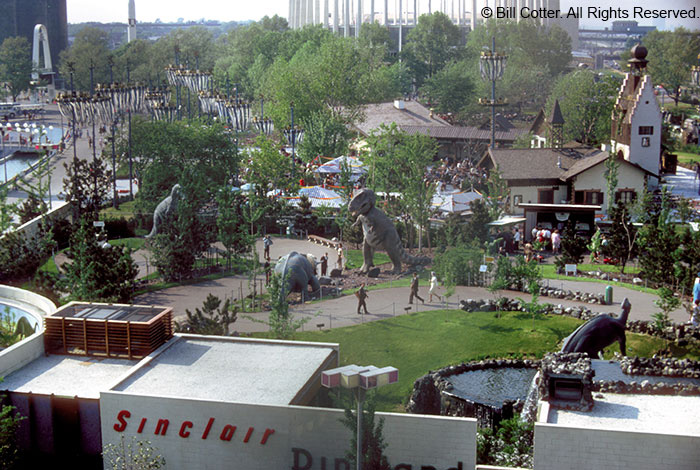 This view shows how the dinosaurs were located along the winding path described in the guide book. Off to the right side is a series of small covered booth holding Mold-a-Rama machines that allowed lucky buyers to make their very own dinosaur. The machines injected liquid plastic into molds and formed a dinosaur right on the spot. Many of them would end up being damaged while being played with, making them popular items with those wishing to recapture memories of the Fair today.(CD #11 Set 56 #17)

---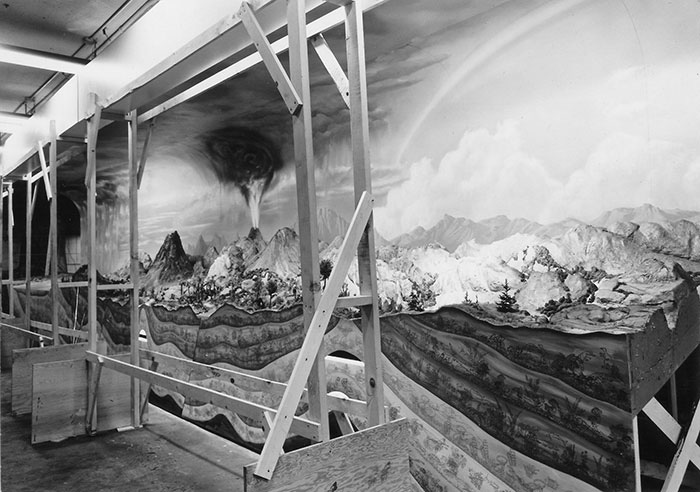 THE EVOLVING EARTH. Within the building is a 45-foot-long exhibit with erupting volcanoes, flashing lightening and bubbling streams. This display shows the earth at various stages of its growth: its birth 4.5 billion years ago, the appearance of marine life and formation of oil 600 million years ago, the early dinosaurs 200 million years ago. Large color pictures and dioramas show Sinclair's operations and a view of the company's role in the future.
The exhibit is seen here under construction shortly before the Fair opened. (Sinclair publicity photograph)

---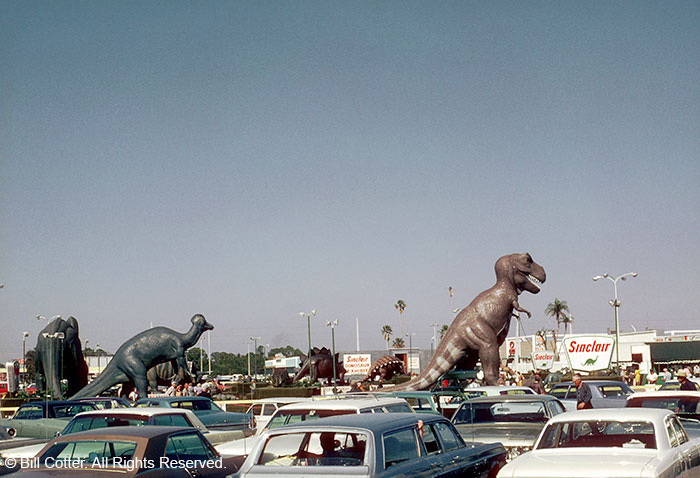 After the Fair ended Sinclair took their famous dinosaurs out on the road, with appearances at shopping centers and other events across the country. The travelers are seen here at one stop in Florida in 1968. In 1970 the caravan was ended and the dinosaurs were dispersed to museums in several states.(CD #13 Set 63 #38)

---
Want more information on the Sinclair pavilion?

8-14-62 - Model Unveiling booklet
10-14-63 - Giant Dinosaurs Seen on Hudson Headed For City
10-16-63 - Perfectly Beastly
6-30-65 - 2 Fair Dinos Stolen; Sinclair Pretty Saur
6-30-66 - To Be Shown at Randhurst
7-7-66 - 200,000 See Dinosaurs
8-25-66 - Holy Dinosaur!
4-4-67 - Ad for Sinclair dinosaur tour
7-14-70 - Glen Rose State Park Due Dinosaur Replicas

---
Transportation Area pavilions