Walter's International Wax Museum
Nearly 250 authentically dressed lifelike figures, ranging from Lady Godiva on her horse to five U.S. Presidents, make up the largest collection of full-sized wax statues in the United States. The figures, grouped in 48 tableaux valued at two million dollars, are taken from art, history, mythology, movies and television. The largest scene is a 20-by-30-foot copy of Leonardo da Vinci's "The Last Supper". Other groups include the Declaration of Independence, "My Fair Lady" and the Court of Louis XV.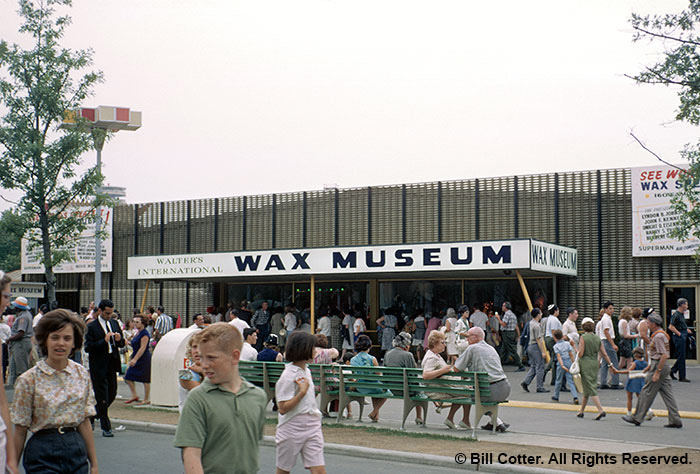 The Wax Museum was housed in a rather bland building, which looked out of place compared to the other fanciful pavilions of the Fair. (CD #xx Set 328 #3)
---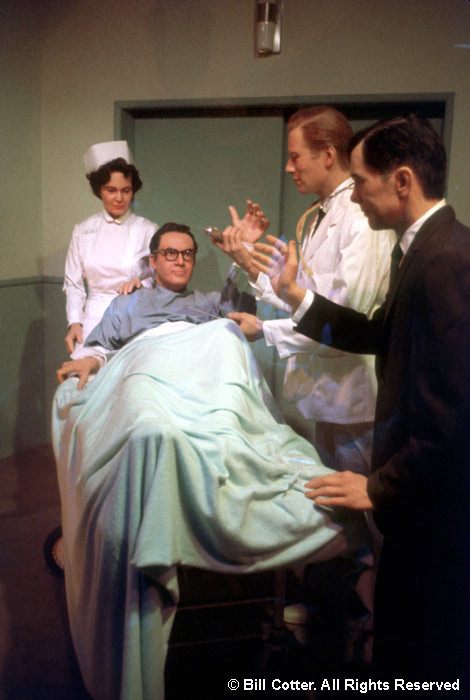 Inside the building guests were treated to scenes like this one from television's "Dr. Kildare". (CD #8 Set 37 #18)
---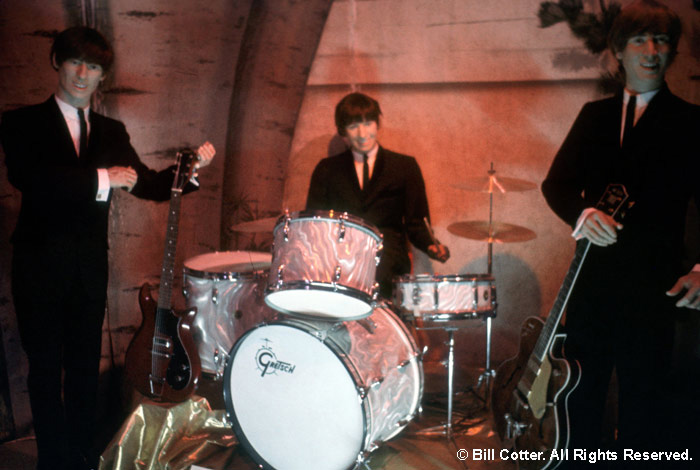 With the huge success of The Beatles a display of their figures was added to the show. For some reasonthe figure of what appears to be Paul was posed here as if he was playing the guitar, but the instrument was placed on the drum set, making it look like he was doing the Twist. John Lennon and Ed Sullivan were also part of the display but didn't make it into the picture. (CD #8 Set 37 #4)
After the Fair ended it was announced that the museum would be moving to 1850 S. Harbor Blvd., Buena Park, California, where it was reopened in 1966 as the "Wide World in Wax." New paper covers were added over copies of the guidebook that were left over from the Fair.
The venture was a failure and the museum closed in 1967. It is believed that the collection was broken up at that point and the figures dispersed to new owners.
---
Want more information on the Wax Museum?

10-1-63 - Dedication Booklet
5-23-65 - Wax Works Will Locate in Anaheim
Souvenir booklet

Press releases
Creation of Wax Tableaux is Exacting, Expensive
History of Waxworking
Interesting trivia
List of Tableaux
Location
Lou and Manny Walter
Million-Dollar Wonderworld of Wax on View at New York World's Fair

---
Lake Amusement Area pavilions