Westinghouse
A gleaming torpedo-shaped Time Capsule, suspended by stainless steel wires over a reflecting pool, is the heart of this exhibit. Packed with artifacts of our times and accounts of the eventful history of our days since 1938, it will be deposited in a 50-foot tube and buried in tar and concrete on the next-to-last day of the Fair, there to remain as a message to the future 5,000 years hence. Ten feet south of this tube is Westinghouse's first Time Capsule, containing a report on civilization as it stood prior to the 1939 World's Fair. Three open-sided circular pavilions in the area are each devoted to a different epoch in time.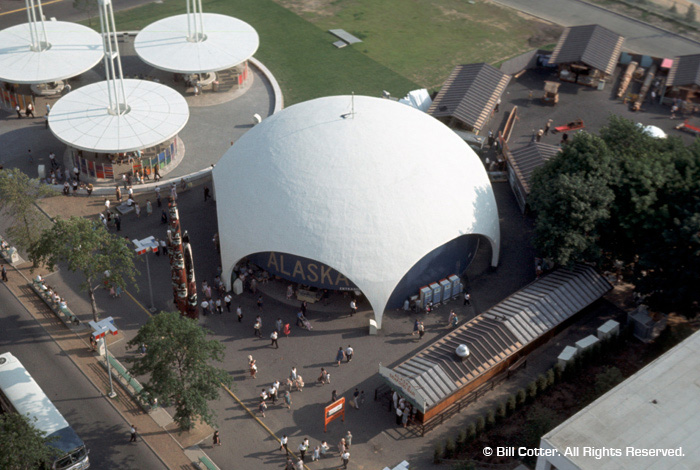 The three discs of the Westinghouse pavilion are seen next to the Alaska pavilion in this shot from the New York State observation tower. Westinghouse was mixed in with the state pavilions instead of bing in the seemingly more suited Industrial Area as this was the site for the 1939 time capsule. (CD #9 Set 40 #9)
---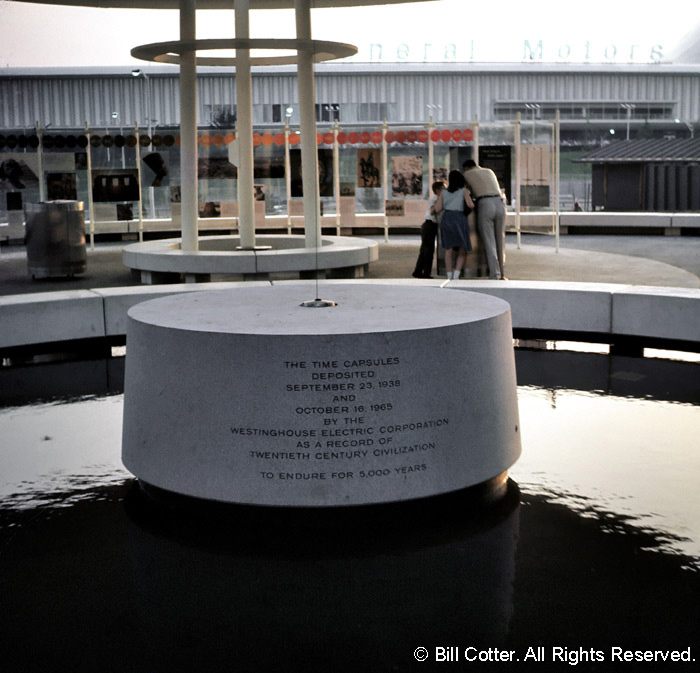 A granite marker was placed over the site of the 1939 time capsule; the 1964 version would actually be buried a few yards away. The text explains what is buried below:
THE TIME CAPSULES
DEPOSITED
SEPTEMBER 23, 1939
AND
OCTOBER 16, 1965
BY THE
WESTINGHOUSE ELECTRIC CORPORATION
AS A RECORD OF
TWENTIETH CENTURY CIVILIZATION
TO ENDURE FOR 5,000 YEARS
Based on the results of other time capsules of much shorter lives, it would be interesting to see if anyone could find these 5,000 years from now, and if they did, what may have survived. (CD #2 Set 11 #2)
---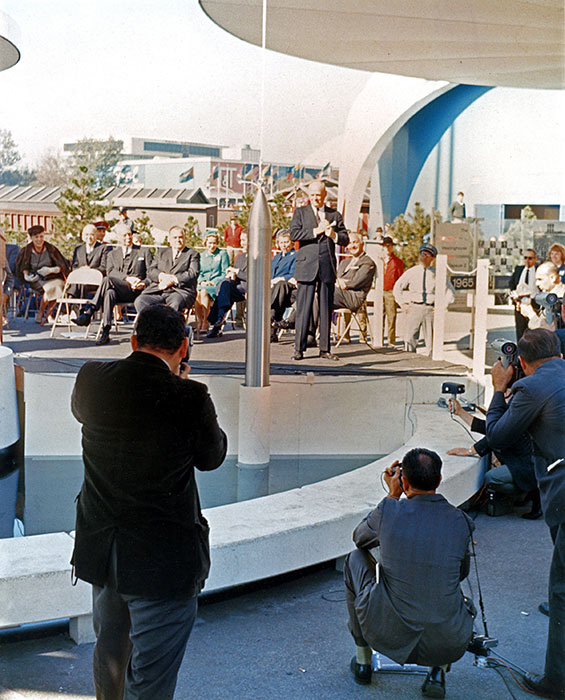 October 16, 1965. The time capsule is lowered into the ground to await future discovery. The granite marker over the 1939 capsule can be glimpsed at the far left side. (World's Fair Corporation publicity photo)
---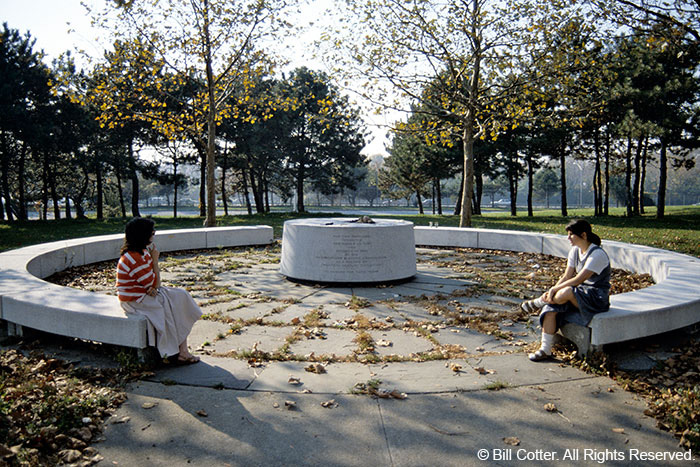 This marker for the time capsules is still visible in Flushing Meadows Corona Park today. It is one of the few visible reminders of the great Fairs that once took place there. (CD #2 Set 8 #63)
---
Want more information on the Westinghouse pavilion?
6-14-63 - Groundbreaking booklet
---
Federal and State Area pavilions