Wisconsin
The Indian heritage of the Badger State provided the inspiration for the modern tepee that houses this exhibit. The displays tell the stories of Wisconsin's farms, industries and great outdoors. Outside the pavilion, experts demonstrate fishing and archery techniques. A 17-ton cheese, said to be the world's largest, is displayed on a huge, air-conditioned van, protected by chromium and glass. A cafeteria and a beer garden are located in the area, which is set amid pine trees.
The striking central portion of the pavilion, seen here, was moved to Wisconsin after the Fair and is now the home of a radio station. (CD #18 Set 91 #23)
---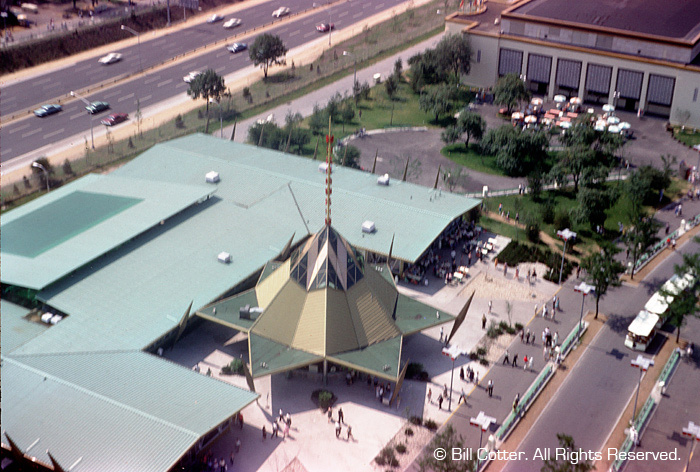 The full size of the Wisconsin pavilion can be seen in this view from the New York State observation tower. (CD #20 Set 108 #17)
---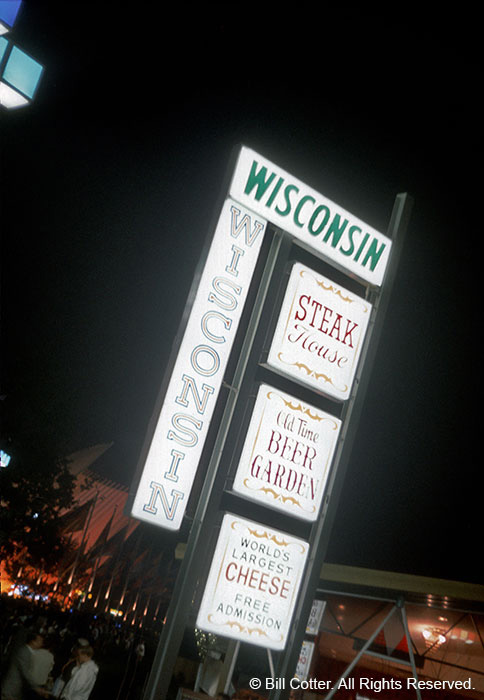 Restaurants. Flame-grilled steak is served in the Gay '90s cafeteria. Banjo players and an old-fashioned nickelodeon provide music in the beer garden, where the menu offers a typical Wisconsin knackwurst lunch.
A hamburger stand was also added for 1965. (CD #TBD Set 361 #6)
---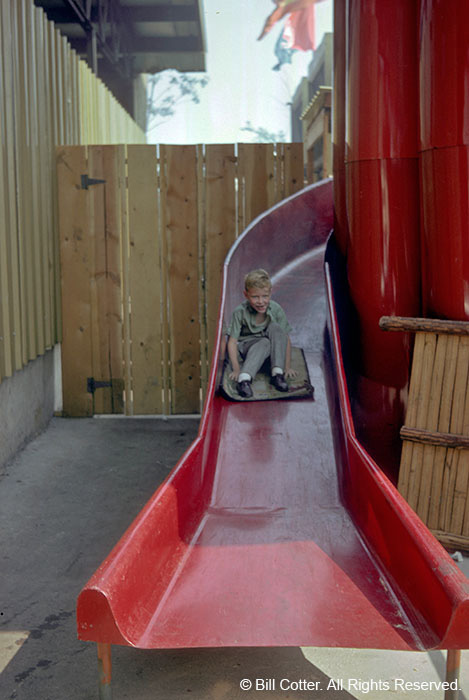 There was also a play area in the rear of the pavilion, including this slide from a silo in a barn-yard setting. (CD #29 Set 155 #10)
---
Want more information on the Wisconsin pavilion?

3-26-64 - Cheesedom's Biggest Cheese At World's Fair
3-22-65 - Wisconsin Pavilion expansion

---
Federal and State Area pavilions