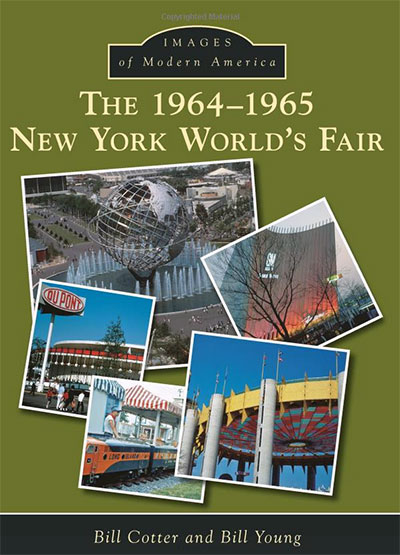 NEW YORK, NEW YORK
Advertised as the "Billion-Dollar Fair," the 1964–1965 New York World's Fair transformed a sleepy park in the borough of Queens into a fantasy world enjoyed by more than 51 million visitors from around the world. While many countries and states exhibited at the fair, the most memorable pavilions were built by the giants of American industry. Their exhibits took guests backward and forward in time, all the while extolling how marvelous everyday life would be through the use of their products. Many of the techniques used in these shows set the standard for future fairs and theme parks, and the pavilions that housed them remain the most elaborate structures ever built for an American fair. The 1964–1965 New York World's Fair showcases the beauty of this international spectacular through rare color photographs, published here for the first time.
PUBLISHED BY ARCADIA
$22.99
96 pages
I'm thrilled that Arcadia asked us to write the first book in their new color series "Images of Modern America." The first two books were a lot of fun, but it hurt having to convert the photos into black-and-white. Happily this new book is in color, featuring completely different photos than the earlier volumes. It was fun to go through my collection of photos and find new ones for this project. There are 160 color photos in all, along with more information from our ongoing research.
The book is $20.70 (10% off) plus $7.15 for Priority Mail shipping. International buyers should write for air mail rates as they vary by location.
Please let me know if you would like the book signed in any special way, just signed, or left unsigned.
Checks or money orders can be sent to:
Bill Cotter
17242 Van Gogh Street
Granada Hills, CA 91344
| | |
| --- | --- |
| You can also order through PayPal through this link: | |
| | |
| --- | --- |
| Special Offer: All three 1964-1965 New York World's Fair books for $50 plus postage. | |
Orders for the book can also be combined with orders for my CDs of photos from the Fair. There's just one shipping charge of $7.15 for any US order of books and CDs.
The book is also available from Amazon.
If you have any questions please click here to send me an e-mail.
Bill Cotter
December 15, 2015