Postcards from the Fair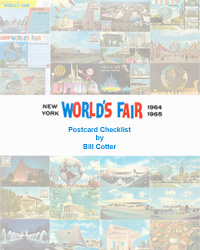 Do you collect postcards from the Fair? If you do, then you need this detailed (40+ pages) checklist of all of the cards from the Fair. It includes the official Dexter cards, unofficial Plastichrome and others, give-aways and more. There is detailed information on variants, publishers, etc.
$10 plus shipping (no additional shipping needed if purchased with CDs or books)
You can also order a copy through the mail. Total cost with Priority Mail in the United States is $17.65. International postage is higher - please ask for details.
---