RCA
The RCA pavilion, looking from the outside like a cluster of white and copper drums, has several exhibit sections and a TV studio that serves as the Fair's official Color Television Communications Center. The Center is linked via closed circuit to over 250 color TV sets located around the fairgrounds; a completely equipped color mobile unit supplies coverage of news and special events. Televised over the network are official announcements and ceremonies, film clips filled with facts about the Fair and a "living guidebook" of six-to-eight-minute visits to points of interest on the grounds. In addition, lost children are brought to the studio and put on television so parents can find them by watching the TV receivers elsewhere on the grounds.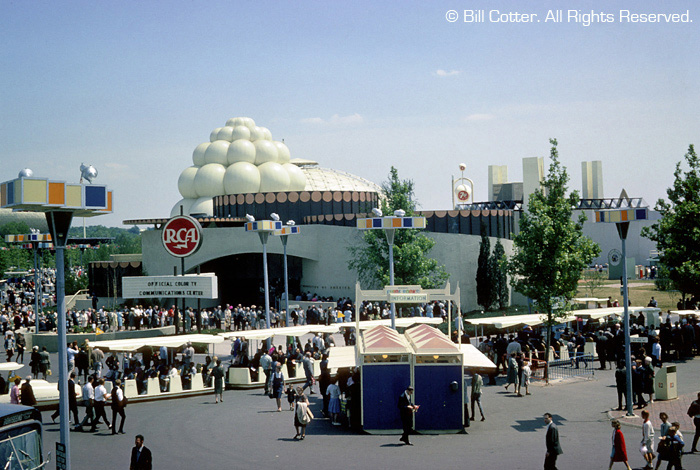 The RCA Pavilion viewed from the Gotham Plaza entrance, with a Greyhound Glide-a-ride tram passing by a stand selling souvenir guide books. (CD #24 Set 129 #28)
---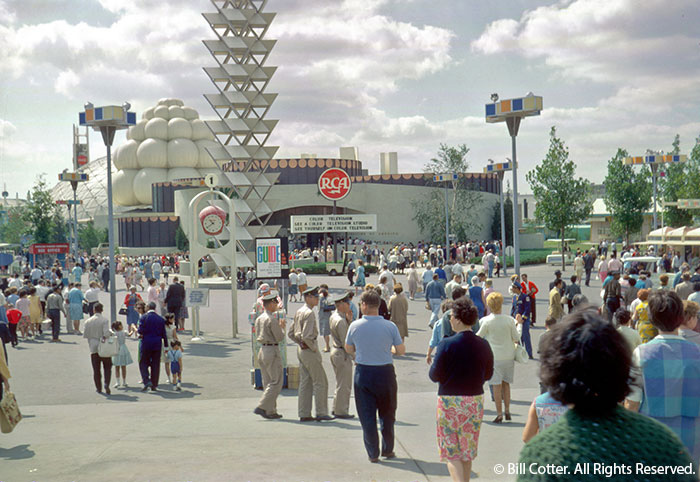 RCA had one of the best locations at the Fair. It was the first pavilion guests saw as they entered the Gotham Gate, which was the main entrance for those coming to the Fair by subway or the Long Island Rail Road. (CD #21 Set 111 #1)
---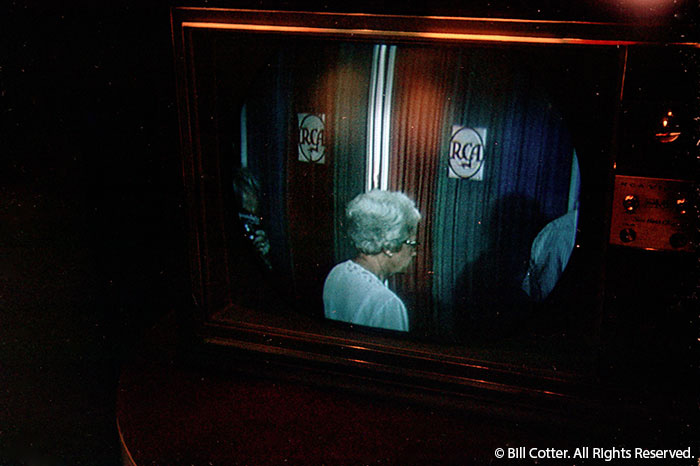 The Public on TV. People entering the pavilion can walk by a camera and see themselves in color on monitor sets.
It may be hard to believe today, but in 1964 the thrill of seeing yourself on television was a big deal. And in color it was even more unique! (CD #20 Set 105 #10)
---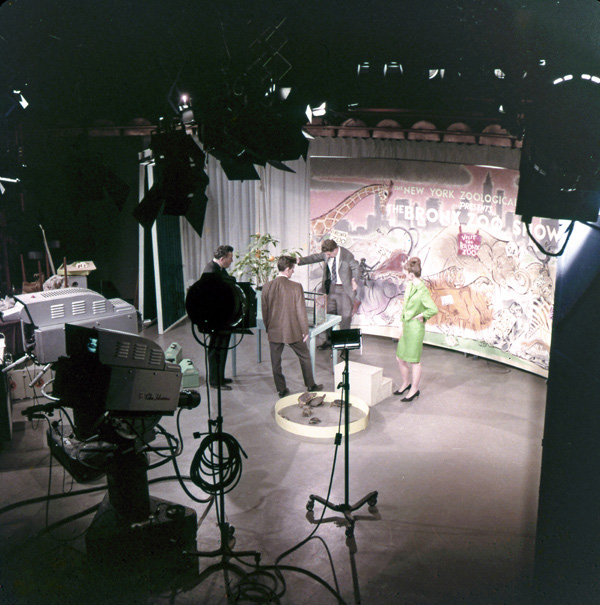 Programs in the Making. A ramp leads to the second floor and a glass wall through which the color television studio can be seen below. There is something taking place at all times: a show being broadcast live, a taping, a rehearsal or a stage being set. Monitors show how the activities in the studio appear on the screen. The ramp also passes directly above the control room, where a director, aided by technicians, may be watched at work.
Visitors could watch the production of shows like this one that showcased animals from the Bronx Zoo.(Pana-Vue 641Q4)
---
Want more information on the RCA pavilion?

Business Screen magazine
5-9-65 - Frequently Televised at Fair
---
Industrial Area pavilions