Simmons
On the first floor of the blue and white Beautyrest pavilion, five whimsical displays follow man's progress from rock pillow to comfortable mattress in his effort to obtain a good night's sleep. On the upper floors, visitors can lie down in small, private rest alcoves, rented by the half-hour.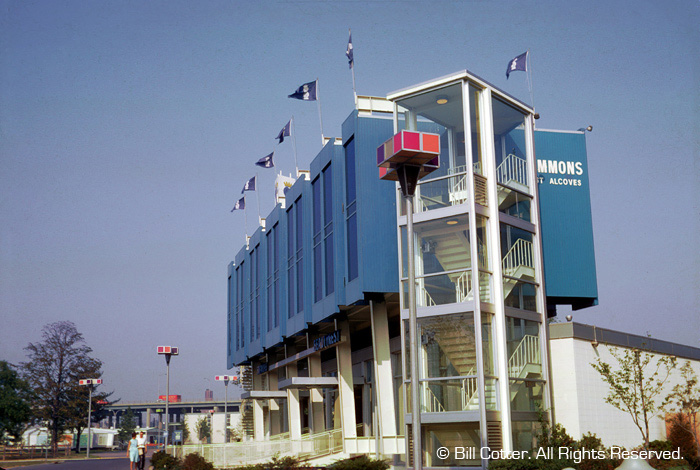 And So Off to Bed. Uniformed attendants escort visitors to their rest alcoves, set a timer outside and rouse them gently if they sleep beyond the half-hour limit. Each alcove is carpeted and furnished with bed, shelf and full-length mirror; a nap robe is provided. For the insomniac, floor-to-ceiling windows offer an excellent view of the fairgounds.
It's hard to imagine that any pavilion in a modern fair would offer private alcoves unless they had very strict chaperones. (CD #20 Set 105 #6)
---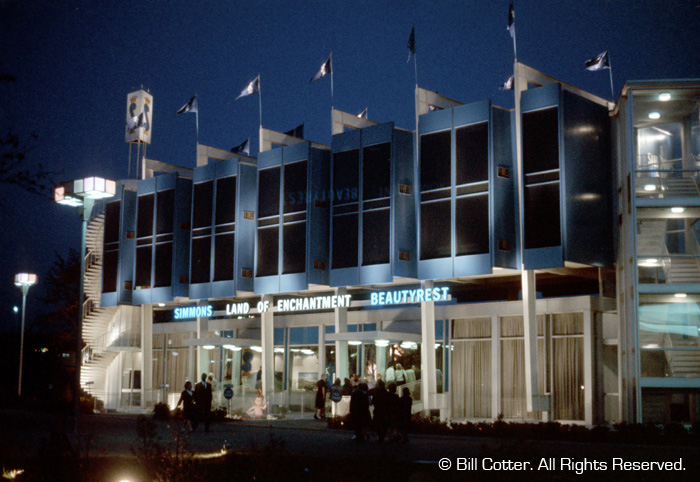 Like most of the Fair, the Simmons pavilion took on a special look at night. (CD #19 Set 101 #9)
---
Want more information on the Simmons pavilion?
---
Industrial Area pavilions