Boy Scouts of America
The Scout Service Corps, composed of a different group of 130 boys and 13 leaders each week, demonstrates scouting skills in an open-air pavilion. In canopied booths Scouts and Explorers put on exhibitions of knot-tying, map and compass reading and fire making - and invite onlookers to try their hand. Within a 300-seat Council Ring, visiting scout units join the Service Corps in various special shows developing the pavilion's theme "The Wonderful World of Scouting." Programs include seamanship, signaling and rope spinning. Members of the Service Corps, wearing distinctive red jackets and Unisphere armbands, are also stationed about the fairgrounds. They form honor guards for distinguished dignitaries and take part in other Fair ceremonies.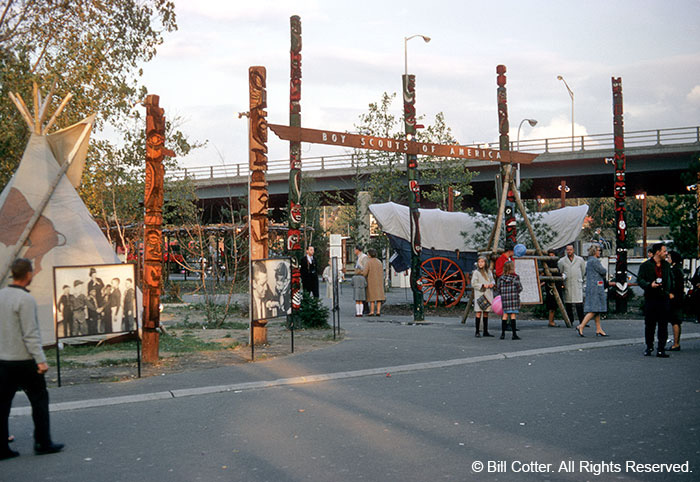 The entrance to the open-air Boy Scout exhibit was flanked by colorful totem poles carved by troops from across the country. (CD #TBD Set 306 #29)
---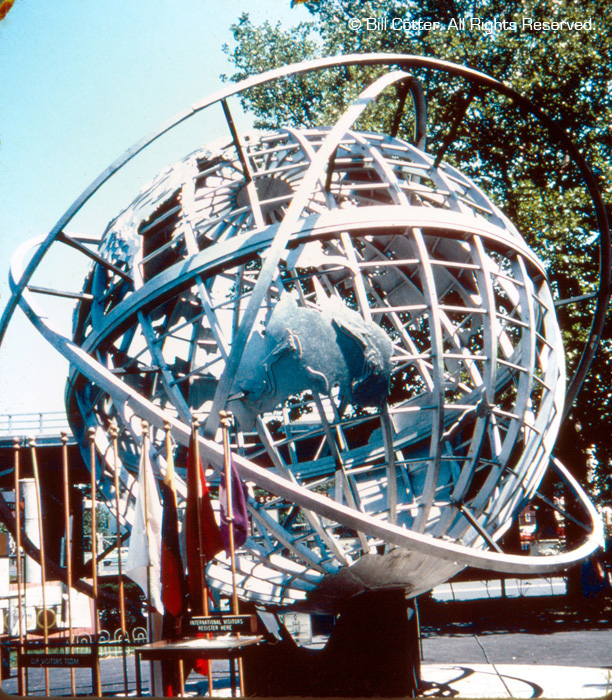 This miniature version of the Unisphere was located on the grounds of the Boy Scout display. Guest books were available for visitors to record their impressions of the Fair. (CD #12 #19)
---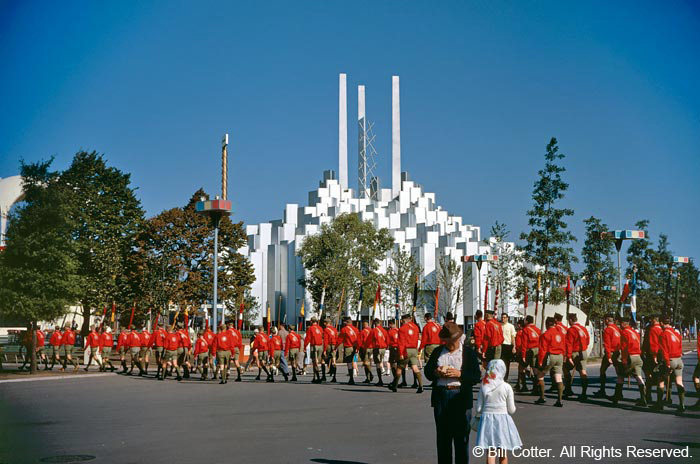 Members of the Scout Service Corps are seen marching past the Tower of Light pavilion. Assignments varied, and could include duties such as passing out flyers at the Pennsylvania Exhibit, guarding the United States Seal at the United States Pavilion, or simply answering questions about the Boy Scouts or the Fair. Those jackets got hot in the summer sun, but serving at the Fair was a wonderful experience. (CD #60 Set 259 #26)
---
Want more information on the Boy Scouts of America exhibit?
11-12-63 - "Start of Construction" booklet
Scout World's Half Acre
1965 Scout Service Corps brochure
Instructions to members of the Scout Service Corps
Souvenir post card
Recruiting post card
Souvenir Wallet Card
---
Industrial Area pavilions