Tower of Light
The world's most powerful searchlight beam rises from the center of this unusual building, whose exterior walls consist of 600 aluminum prisms fitted together to form an eye-catching pattern. Sponsored by investor-owned electric utility companies throughout the nation, the building is entered by a moving ramp that carries visitors over a reflecting pool and deposits them on a giant turntable. The turntable rotates past seven chambers, stopping at each for a new episode of a musical presentation called "The Brightest Show on Earth."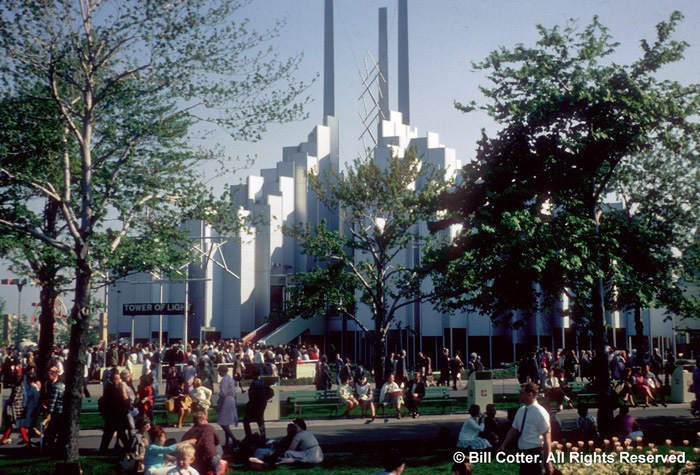 It's a busy day during the 1965 season, and there is quite a line waiting to get inside to see the show. The pavilion looks much like the "Fortress of Solitude" from the Superman movies! (CD #14 Set 70 #30)
---

Around the Theater. Inside the show chambers, three-dimensional animated figures and special audio-visual effects and songs illustrate the wonders of electric power and light. The scenes include a research laboratory of flashing lights, whirling turbines and sparking coils; a "beauty parlor" in which an animated "Madame Cow" extols the pleasures of warm electric milkers on icy winter mornings; a house filled with modern electric appliances; a barrage of 4th of July fireworks; and a dazzling Christmas sequence.
The show featured Ben Franklin, shaped like a light bulb, who took the audience on a historical tour of electrical achievements and projections about the future. (CD #16 Set 81 #6-8)
---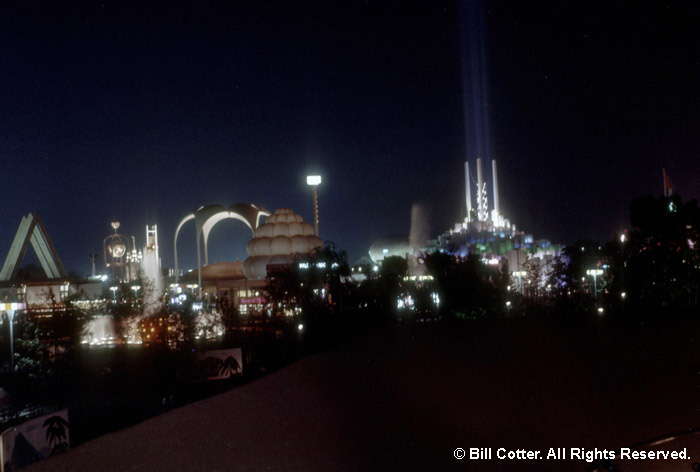 The Source of Light. In the center of the pavilion, visitors may examine the 12 one-billion-candlepower searchlights - equal to 340,000 automobile headlights - that create the central beam, which points straight up and is visible for miles around.
At night, it was easy to find the Tower of Light from anywhere on the Fair grounds. A brilliant beam of light shot straight up from the center of the structure - at least when the New York weather cooperated. (CD #23 Set 123 #24)
---
Want more information on the Tower of Light?

9-26-62 - Groundbreaking booklet
12-63 - Scale Models of 'Tower of Light' Available from EP≤ Pavilion Lauded in Time Booklet
1-64 - "First Pictures - Complete Preview of the Industry's Show at the 1964-65 N.Y. World's Fair"
Business Screen magazine #1
Business Screen magazine #2
---
Industrial Area pavilions