Du Pont
Show business and science are artfully combined in this big, circular pavilion. A musical revue called "Wonderful World of Chemistry," written and produced by Broadway composer Michael Brown, is presented simultaneously in two theaters by two casts. After the show, audiences watch a modern-day alchemist perform feats of wizardry through chemistry.
Du Pont was a very popular show at the Fair, with audiences lining up for a spectacular chemistry show - and an entertaining stage production. (CD #15 Set 75 #6)
---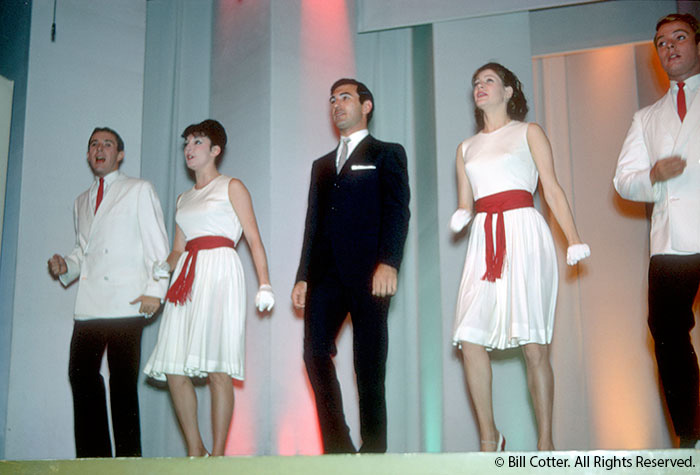 Chemical Comedy. Bright music and technical tricks (for example, conversations and stage business between filmed actors and live ones) help make "Wonderful World of Chemistry" a lively show. The revue traces in song and dance the evolution of chemistry, from ancient Greece to today. It includes an excursion into the world of fashion, featuring clothes made of Du Pont fibers and created by some of the nation's top fashion designers. (CD #31 Set 161 #2)
---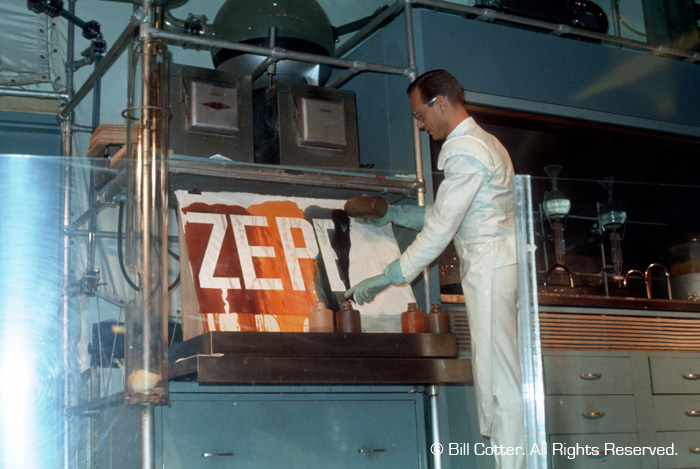 Molecular Magic.In the demonstration following the show, a performer holds a piece of red-hot metal with his hand protected only by a thin sheet of material; dips a piece of cloth in a dye and pulls it out striped; tosses paint on fabric without staining it. In all, there are about two dozen demonstrations of startling uses for products made by Du Pont.
One of the experiments showed how Du Pont's Zepel would prevent staining. The product name was spelled out on a white sheet, then revealed when various liquids were poured across it. (CD #10 Set 54 #27)
---
Want more information on the Du Pont pavilion?
Business Screen magazine
Du Pont Magazine - September-October 1964

Listen to the complete Du Pont show, as presented on July 4, 1965
Click here to download - it's a large file (14 MB)
Thanks to Ray Dashner for recording this and sharing it with us.
---
Industrial Area pavilions