International Business Machines (IBM)
The world of the computer and the methods both man and machine use to solve problems are on display in a startling white egg-shaped theater, 90 feet high and covered with the letters IBM, repeated nearly 4,000 times. The structure towers above 45 rust-colored metal trees; located in this artificial grove are exhibit courts, a maze of walkways suspended above a reflecting pool, and a pentagon of little theaters where mechanical puppets perform. The exhibit was one of the last projects on which the late architect Eero Saarinen worked. The wonders inside the ovoid building were wrought by the noted designer Charles Eames.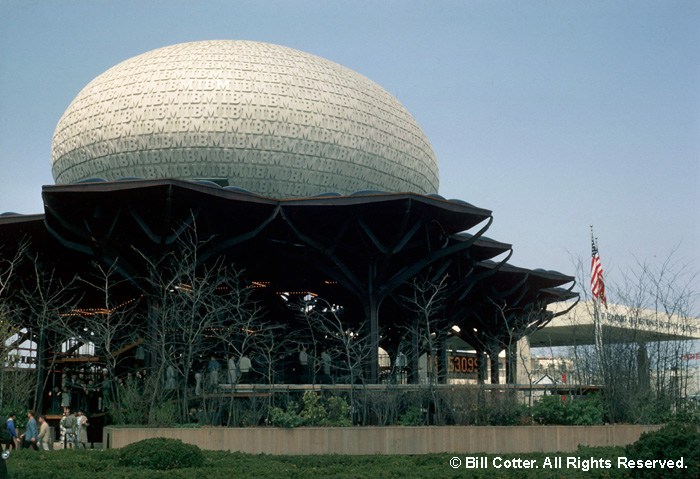 Said to have been inspired by the typing ball in the new IBM Selectric typewriter, the pavilion was a striking sight from any angle. Here the metal tree-shaped structures can be seen beneath the main building, which held a large theater. (CD #18 Set 94 #21)
---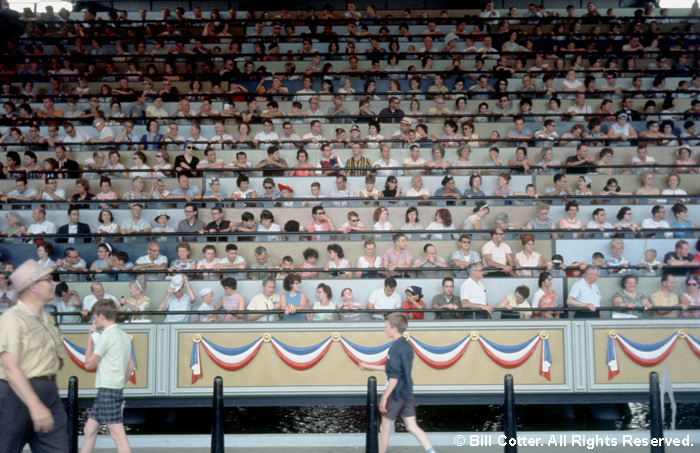 The People Wall. A steep grandstand entered from ramp level below the theater is one of the features of the exhibit. After the audience of some 500 is seated, the "People Wall" is drawn swiftly and smoothly up into the theater.
The audience entered the theater in a most unusual way. After taking their seats on what looked like a giant set of bleachers, they were to discover that the entire wall of seats would rise into the theater. Attendants had to be stationed on the wall to calm nervous riders who were surprised by the experience. (CD #10 Set 49 #5)
---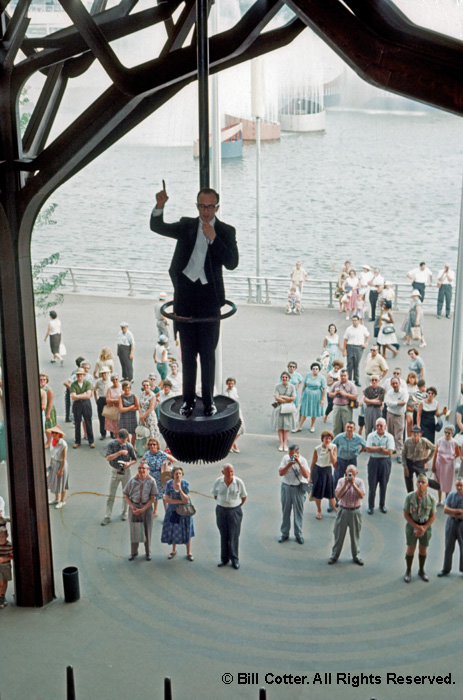 Before the People Wall went into action, there was another surprise. A tuxedo-clad host made a startling arrival, descending from the roof above on a slender pedestal that lowered and raised hydraulically. (CD #10 Set 49 #13)
---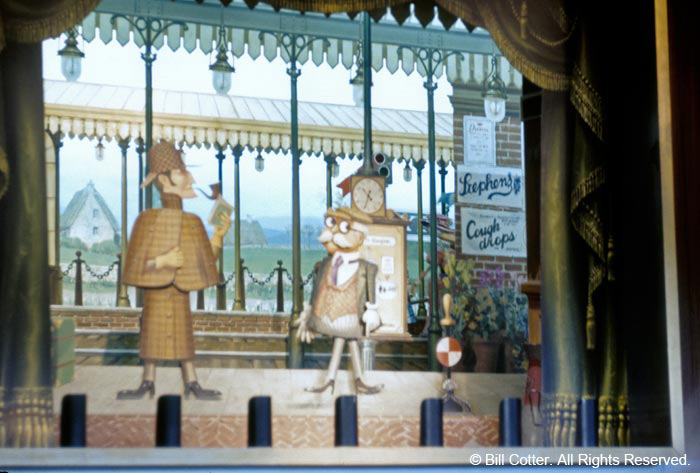 Theater Pentagon. On the little stages under the trees, mechanical figures act out playlets four minutes long about such topic as speed, computer logic and information handling systems; in one, Sherlock Holmes uses computer logic to solve "The Case of the Elusive Train." (CD #TBD Set 326 #32)
---
The Probability Machine. In a demonstration of the law of averages, held every 17 minutes, thousands of small plastic balls are dropped one by one through a maze of more than 450 pins. Below the pins are 21 pockets. At the end of every experiment, each pocket contains approximately the same number of balls it held the last time. (CD #TBD Set 336 #14)
---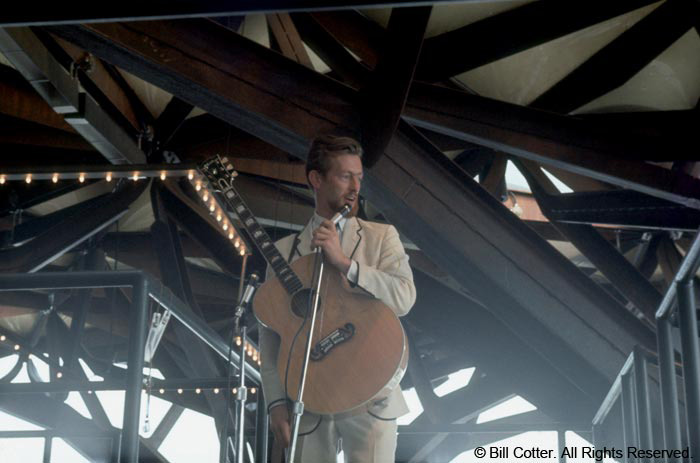 Songs From the Trees. Perched on ramps in the metal trees, musicians entertain the crowds on the elevated walkways. (CD #10 Set 49 #3)
---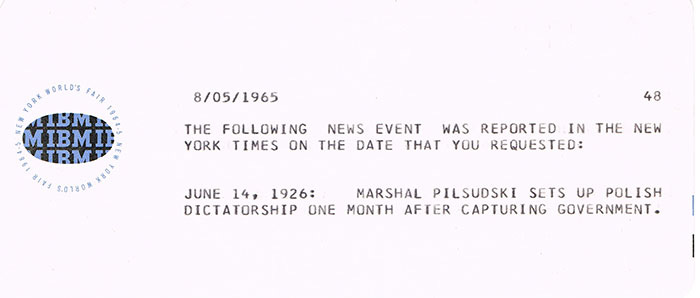 A demonstration of Optical Character Recognition (OCR) technology allowed guests to search through a computerized history database by writing on a card that was then scanned. Click on the sample printout for more cards and an explanation of how the process worked.
Please let me know if you have more of these cards to share.
---
Want more information on the IBM pavilion?

Business Screen magazine
IBM System Gives Visitors a Fair Shake
Inside IBM's World's Fair 'Egg'
The IBM Pavilion - booklet available at the Fair
Visitor brochure - Version 1
Visitor brochure - Version 2
IBM Press Releases
Computer Applications Area
Designers' Statement - Charles Eames and Eero Saarinen Associates
Probability Machine
The Information Machine
The Pentagon Theaters
Typewriter Bar
---
Industrial Area pavilions