Japan
Rockets for space research, model trains and tea ceremonies, and an array of consumer products are part of a presentation which emphasizes the differences between the new Japan and the old. Side by side with some of the world's most advanced microscopes, cameras, automobiles and industrial machines are charming evidences of the quiet, cultured but totally nonindustrial Japan of only 100 years ago. The pavilion buildings combine the graceful architecture of ancient Japan with contemporary designs. On an outdoor stage, fireworks, Judo tournaments, fashion shows and dance programs are scheduled. There are two Japanese restaurants, an American-style snack bar, and a roof garden serving Japanese beer.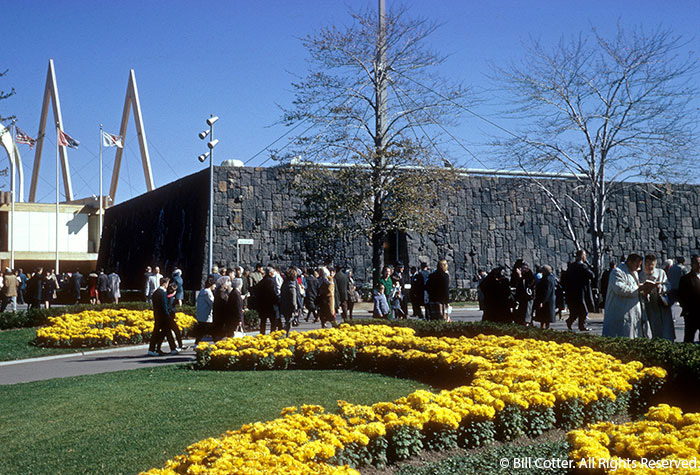 A Century of Progress. Japan's rapid emergence as an industrial nation is shown in photographs of Tokyo as it is now and as it was 100 years ago, just after U.S. Commodore Matthew Perry opened the nation to trade with the West. Examples of current scientific and industrial progress are shown in many exhibits.
The imposing stone wall of the main building of Japan provided an interesting contrast to the graceful soaring arches of Johnson's Wax and Austria, visible on the left. (CD #64 Set 259 #14)
---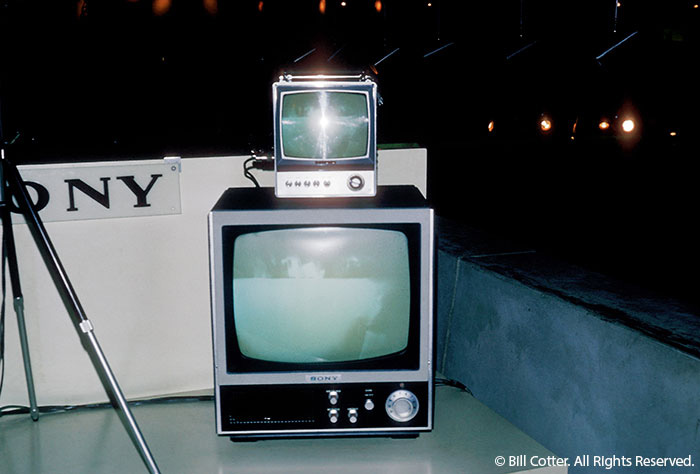 The New Japan. The second building, reached by a ramp from the first, offers an array of consumer goods - sports cars, motorcycles, frozen foods, sewing machines - plus demonstrations of flower arranging and the ritualistic Japanese tea ceremony. A model rocket gives the visitor who steps inside it the sensation of space travel. At the press of a button, an electronic computer provides information on how to get almost anywhere in the world. A stand sells Japanese made products, including color TV sets.
This Sony display may not have been impressive, but it was a harbinger of things to come. In 1964 Japanese goods were generally viewed as cheap copies of American or European products. Things were definitely going to change. (CD #14 Set 72 #16)
---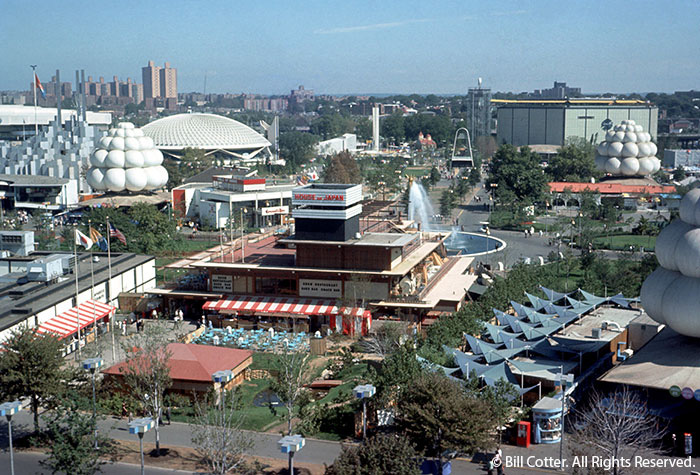 Restaurants. In the third building, called the House of Japan, are the two restaurants, which serve foods such as sukiyaki and tempura. The first, on the main floor, caters to diners who prefer Western tables and chairs. The second, on a mezzanine, serves meals the Japanese way - on low tables with the diners sitting on straw mats. Diners at both may see stage shows which present glimpses of Japanese theater and dance.
This view from the Swiss Sky Ride shows how large the Japan complex was. The rectangular structure in the lower left was a teahouse used for the ancient Japanese tea ceremony. (CD #51 Set 224 #10)
---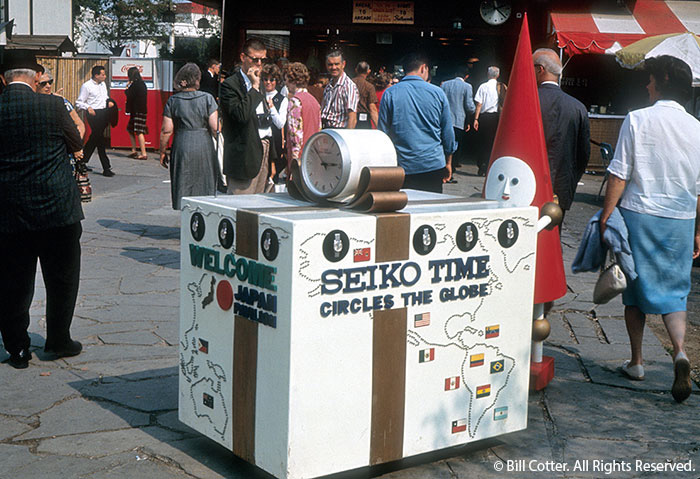 Most pavilions didn't have any mascots or readily identifiable symbols, but Tic-Toc, a remote controlled robot, was often found entertaining the crowd outside the pavilion. (CD #48 Set 215 #44)
---
Want more information on the Japan pavilion?
4-15-63 - Groundbreaking booklet
5-4-64 - EM Week Reports on appliance-tv
4-17-64 - Thieves Hit Pavilion
Souvenir booklet
---
International Area pavilions