Pool of Industry
Every night as darkness falls a spectacular display of synchronized water, fireworks, color and music at the Pool of Industry caps the day and launches the evening at the Fair. The largest fountain in the world, the Fountain of the Planets, sends roughly 10,000 tons of water into the air in shifting patterns, sometimes as high as 150 feet. Rockets are released from 464 launchers, lights casting close to 150 million candle power throw color effects on water and sky, and the music of a 60-piece symphony orchestra sounds over loudspeakers - all with coordinated timing and effects. The fountain, covering 25,000 square feet, composes its patterns through 2,000 nozzles and is completely automated - allowing split-second timing so the water can be synchronized with the fireworks, lights and music. Each night, one of five different musical programs is presented.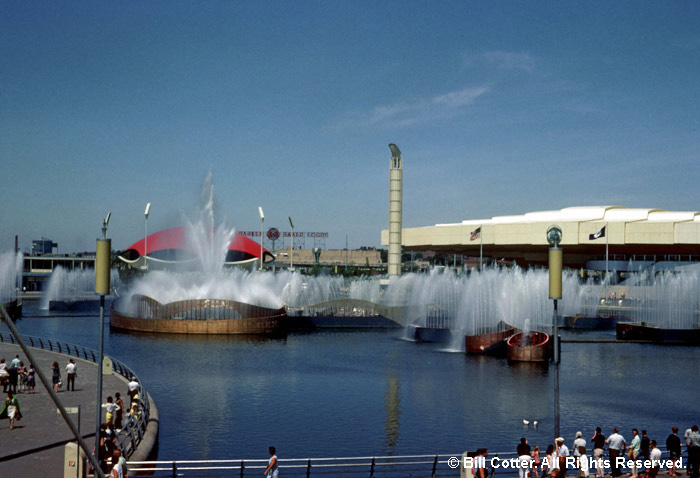 This daytime view of the Pool of Industry shows some of the structures used to house the fountains, lights and fireworks. The fountains were usually off in the morning hours as the fireworks were loaded, so visitors returning to the area in the afternoon saw a different view indeed. (CD #19 Set 102 #2)
---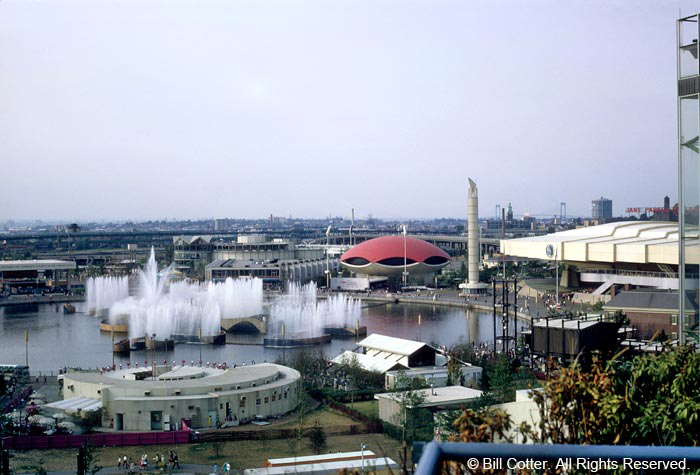 This view of the Pool of Industry from the Better Living Center shows the Fountain of the Planets in full operation. This area had previously served as the Lagoon of Nations at the 1939-1940 New York World's Fair. Sadly, today it is little more than a stagnant pond. (CD #5 Set 19 #53)
---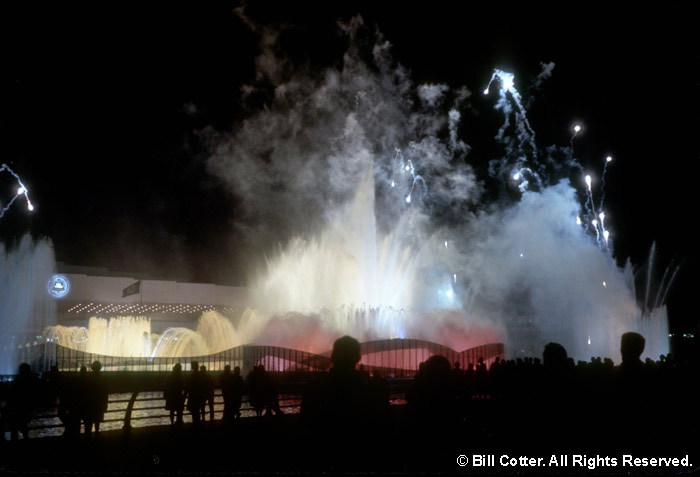 At night the fountains really came to life, for the colored lights made the water look truly alive. The size of the fountains can be appreciated when one compares the heights of the crowd watching at the railing. (CD #27 Set 148 #4)
---
Want to hear the music played at the Pool of Industry?

Soundtracks for the Fountain of the Planets shows
---
Industrial Area pavilions