Protestant and Orthodox Center
In this pavilion sponsored by the Protestant Council of the City of New York, many religious denominations and societies have taken space to explain their beliefs and their work, with the common theme, "Jesus Christ, the Light of the World." A court honoring Protestant and Orthodox leaders is outside the building and a 41-foot contemporary stained-glass screen on religious themes stands in the reception area. Exhibitors have individual booths in the large hall, and their presentations use a number of vivid audio and visual techniques to stress the Center's theme. The booths display a wealth of religious and artistic artifacts. Among them, the Greek Orthodox Church displays two intricate wooden panels carved over a period of 25 years by a monk of Mount Athos. During the season, a number of churches take turns acting as host for a day, welcoming visitors to the pavilion. The Center also offers a chapel, a theater, a garden, a child-care center and a lounge.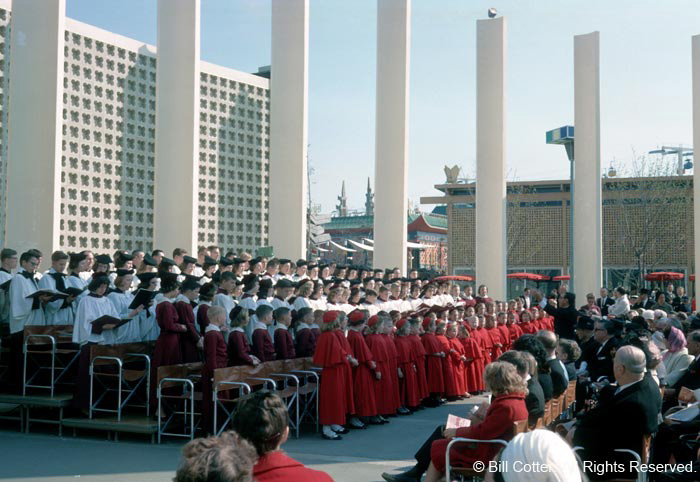 Court of the Christian Pioneers. Standing in an elliptical outdoor court are 34 pylons, each with a plaque giving biographical information on sectarian leaders, among them Martin Luther, St. Andrew and John Calvin. Near one end of the ellipse stands an 80-foot tower with a cross.
The entrance court proved to be a perfect setting for the colorful festivities of the Fair's Opening Day. (CD #21 Set 109 #1).
---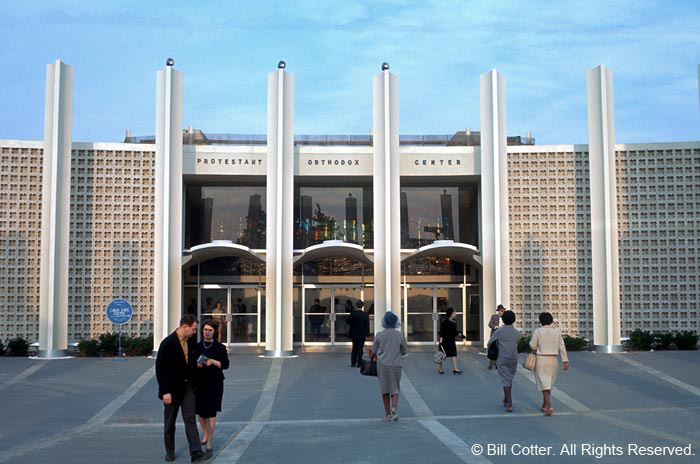 The building itself was clean and modern looking. This view across the entrance courtyard was taken from the Avenue of Europe. (CD #7 Set 36 #5)
---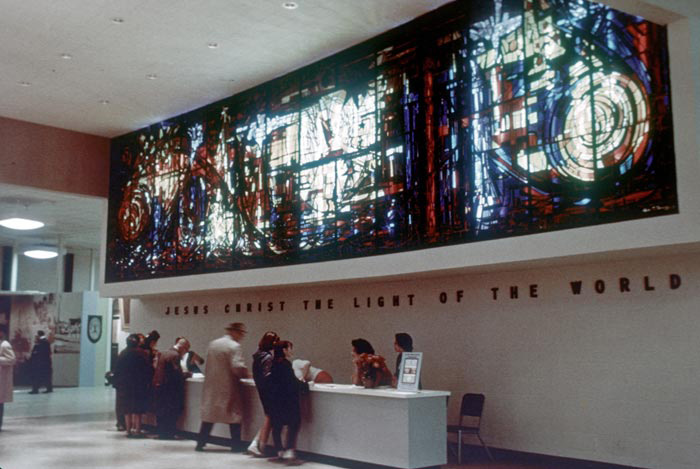 Inside was an information desk under a large stained glass window. The window had been paid for by the members of St. Stephen's Lutheran Church in Granada Hills, CA. After the Fair closed the window was shipped back to California and installed in the church, where it can still be seen today. Click here for a copy of the church's brochure about the window.
---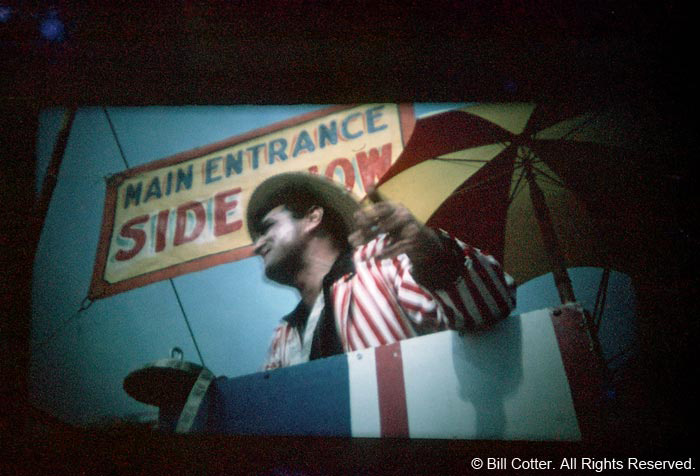 The Theater. "Parable", a 30-minute film in pantomime, with a musical background, uses a stylized circus setting to convey in allegory several basic Christian beliefs. The film is shown several times daily in a 370-seat theater. Other films and concerts are presented from time to time. (CD #21 Set 109 #32)
---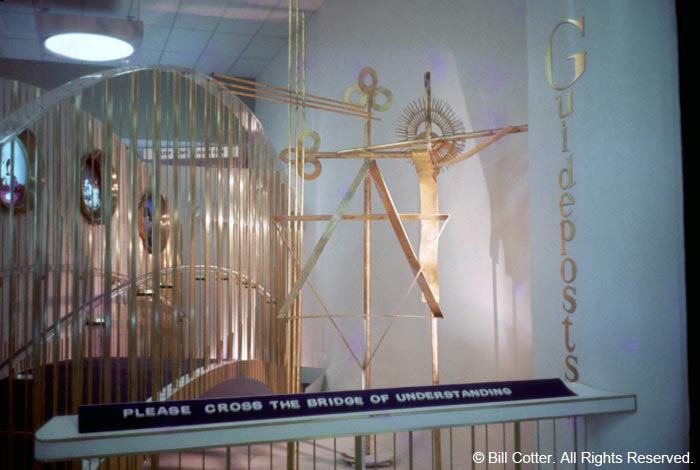 A variety of exhibits by the different denominations that sponsored the pavilion were available to entertain visitors waiting to see the film. (CD #8 Set 38 #12)
---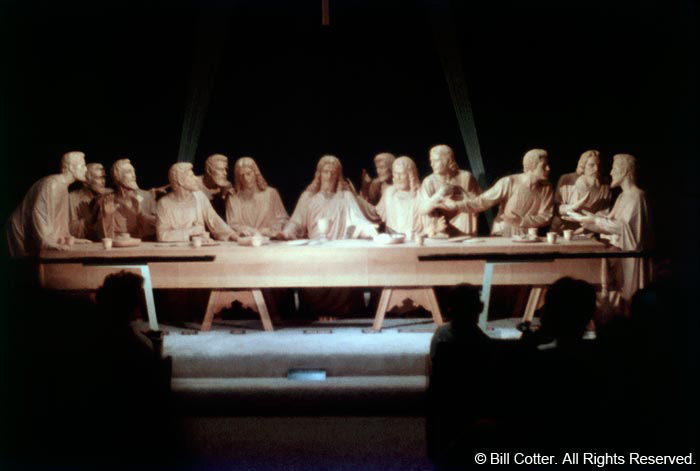 The Chapel. The contemporary black and white chapel is for meditation and individual prayer. Throughout the Fair seasons, the sponsoring denominations periodically conduct services. (CD #60 Set 252 #2)
---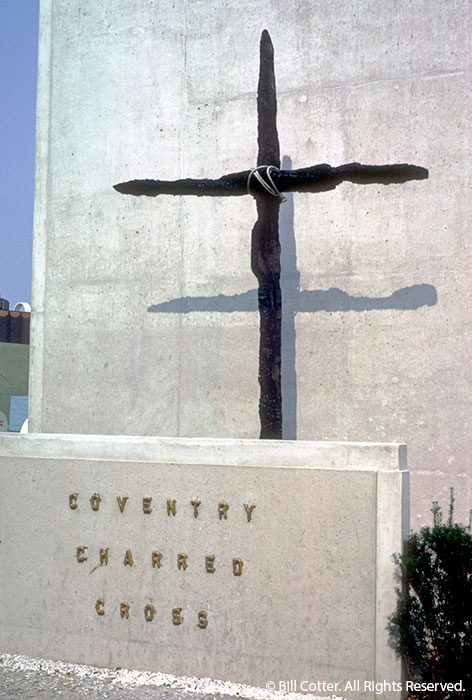 The Music Garden. Outside the chapel is a garden where recorded music plays. Here stands a charred cross made from the roof beams of the Coventry Cathedral, destroyed by bombs in World War II. The cross is loaned by the new Cathedral of Coventry, England. (CD #19 Set 102 #10A)
---
Want more information on the Protestant and Orthodox Center?

11-11-62 - Groundbreaking booklet
Press Releases
Parable - A Review
"Parable", Featured in Protestant and Orthodox Center
The Protestant and Orthodox Center
Wood Sculpture of Last Supper at Protestant and Orthodox Center
---
Industrial Area pavilions