Travelers Insurance
In this pavilion, which seems to float on jets of water, the two-and-a-half billion-year story of life on earth is portrayed, beginning with the earliest cell and culminating in modern man's leap into space. Under the red dome that symbolizes the Travelers umbrella of protection, 13 dioramas use life-sized models, stage sets and sound and lighting effects to re-create the most significant eras and events of the exhibit's theme, "The Triumph of Man."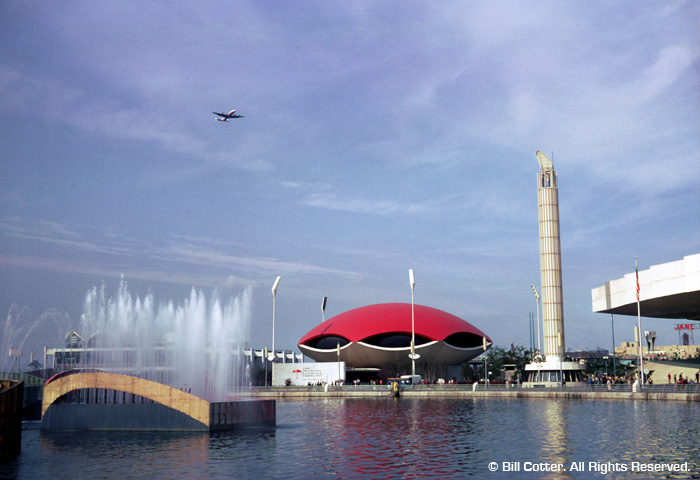 The red roof of Travelers Insurance is seen across the Fountain of the Planets. The microwave tower of the Bell System Pavilion is on the right. (CD #21 Set 109 #74)
---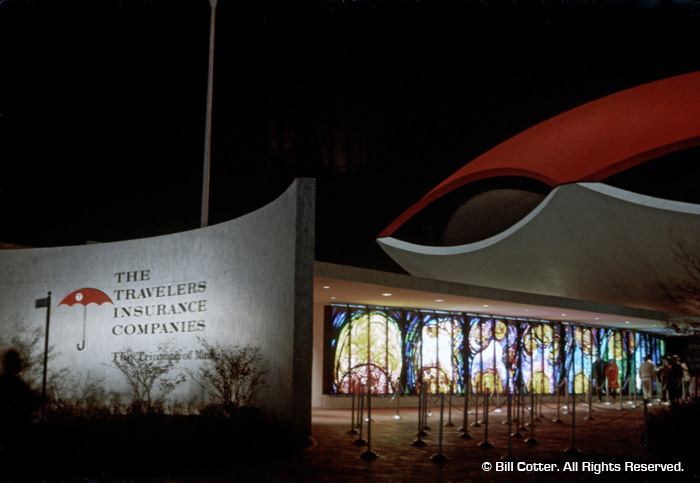 Birth of the Earth. The approach to the pavilion is through an 80-foot covered walkway, which has along its length a glass-and-plastic mural depicting the origins of our planet.
No one is waiting this late at night. It would have been a short wait indeed to get one of the infamous red records from Travelers that are offered on eBay as "rare" souvenirs. (CD #18 Set 91 #23)
---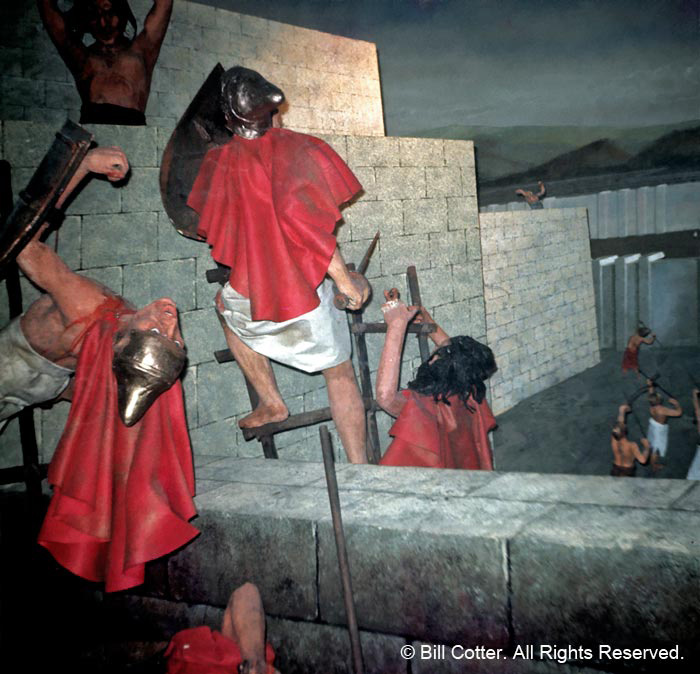 The Progress of Man. One and a half million years of human progress are reviewed in a 21 minute tour of the 13 dioramas that cover the second floor.
Here visitors could view an attack on the ancient city of Ur. (CD #41 Set 11 #5)
---
Want more information on the Travelers Insurance pavilion?

7-27-62 - Groundbreaking booklet
Business Screen magazine
Pamphlets
A New Concept in Space Structures
The Travelers at the New York World's Fair
Your Guide to the Fair - 1965 Edition
Press releases
1965 Update
Education at the Fair
Pavilion score
---
Industrial Area pavilions